| | |
| --- | --- |
| Super Bowl 50 Fan Express | |
Event Details
**All Ticket Sales Close Saturday, February 6, 6:00PM, PST
**Any adjustments to time or pick-up location will be sent to you by email.
What if I have ADA requirements? 
Each pick up location will have ADA accessible vehicles.  
Please contact fanexpress@sfsuperbowl.com to notify us about any ADA or special assistance requirements.  
Do the buses have 
seat belts?
Yes. For safety purposes we recommend that all passengers use the seatbelt for the duration trip.
What will the bus be like? 
You will be riding on a full-size motor coach, with restrooms, air conditioning &  leather seats.
Are children allowed to ride the bus?
Children are allowed to ride the bus, and are required to pay the full fare.  Children not requiring a seat are allowed to sit on his/her guardian's lap. 
Car seats are not compatible with the bus. 
Can I leave my belongings on the bus?
No. We will not assume responsibility for your belongings. 
Are tickets round-trip?
Yes!  Your Fan Express ticket covers transportaiton to and from the stadium.
Can I buy tickets on site?
No.  Only pre-purchased tickets will be accommodated.
What if I forget my bus ticket?
Please speak the Lead Attendant at the pick-up location, who will be able to validate your purchase. 
Do I need the paper ticket?
No. 
We will accept electronic confirmations via your mobile device and printed tickets.
Are tickets refundable?
No. Tickets are non-refundable.
Pick-up Location Map:
 https://www.google.com/maps/d/edit?mid=zOpqtHd6-v9c.kZg-gvLVAxzM&usp=sharing
Can I change my pick-up location?
No. Departure locations are non-transferable.
Can I change my pick-up time?
No. Departure times are non-transferable.
Can my friends & I sit next to each other?
We cannot guarantee assigned seating.  
If you and your friends purchase tickets for the same departure time and same departure location, make sure to line up in the boarding area together, and you will be on the same bus.
Can I reserve a particular seat?
We cannot guarantee assigned seating. Should you have a medical issue, please see the Lead Attendant on site.
What if I miss my bus?
Departure times are non-transferable.

  If you miss your departure time, we will make our best efforts to accommodate you on the next scheduled bus departure. 
Should we not be able to accommodate you on any subsequent departure times, you will

not

be refunded.
Alternative transportation options from your boarding location are available on the Host Committee website and app. www.sfsuperbowl.com 

How early should I arrive at the pick-up location on Super Bowl Sunday?
Boarding will begin (30) minutes prior to departure time. 
Where do I board the bus after the game?
After the Super Bowl, you will board the bus in 
Blue Lot 1
, the same parking lot location in which you are dropped off.
Fan Express wayfinders will help you find your bus.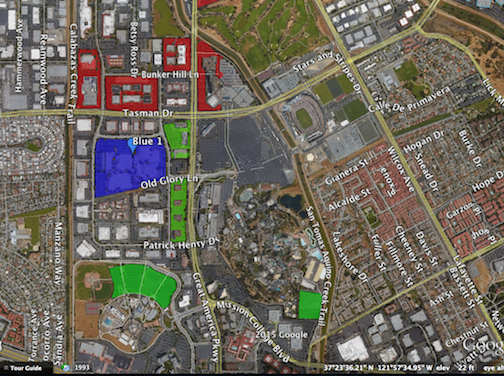 When will the first bus leave Levi's Stadium?
Buses will be ready to depart at the start of the 3rd Quarter. However, a bus will only depart once filled to capacity.
When will the last bus leave after the game?
The last bus will depart (60) minutes after the game.
Do I have to ride the bus back to my original pick-up destination?
Yes - 
If there is additional space, we will do our best to accommodate fans wishing to return to a different location.
How long will it take to get to Levi's Stadium?
Transfer time is dependent on the pick-up location. Estimated transfer time is 1.5 - 2 hours, based on pick-up location.
IV. Allowed & Prohibited Items:
Are food and beverage allowed on the bus?
Yes, snacks & beverages are allowed, as there is no food service provided.   
Alcoholic beverages are

not

allowed.
What is not allowed inside the stadium?
The NFL Clear Bag policy will be in effect. 
Should you bring an item not permitted into the Stadium, you will not be allowed to leave this item on the bus. Please check these items at an appropriate bag check stand.
Any bag larger than a small clutch (4.5" x 6.5")

Animals (unless service assist)

Banners

Beach Balls

Beverages

Camcorders

Coolers

Food

Footballs

Fireworks

Laser Lights & Pointers

Mace/Pepper Spray

Noise Makers

Poles/Selfie Sticks/Tripods

Umbrellas

Weapons, Knives or Explosives
What if I forget something on the bus?
Email the Fan Express at

fanexpress@sfsuperbowl.com
Where

Multiple Locations: See Ticket Descriptions for pick-up points




Organizer
San Francisco Bay Area Super Bowl 50 Host Committee
Super Bowl 50 Fan Express