Location
Musicians Choice Rehearsal Studio
3820 Hoke Avenue
Culver City, CA 90232
An indie filmmaker discovers his full potential by making a superhero movie with his brother, a young man with autism.
About this event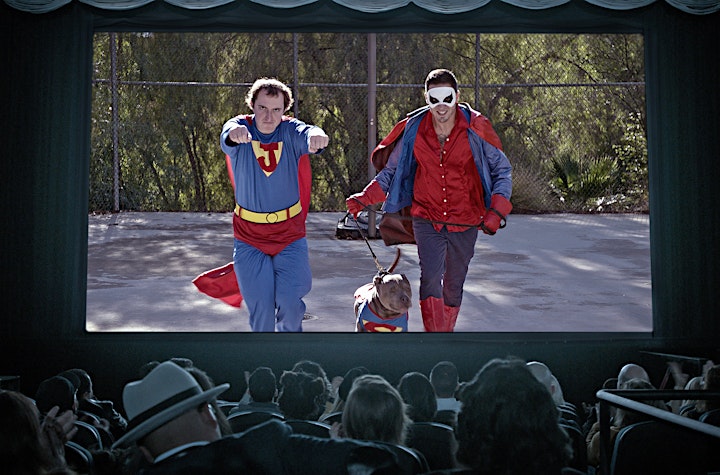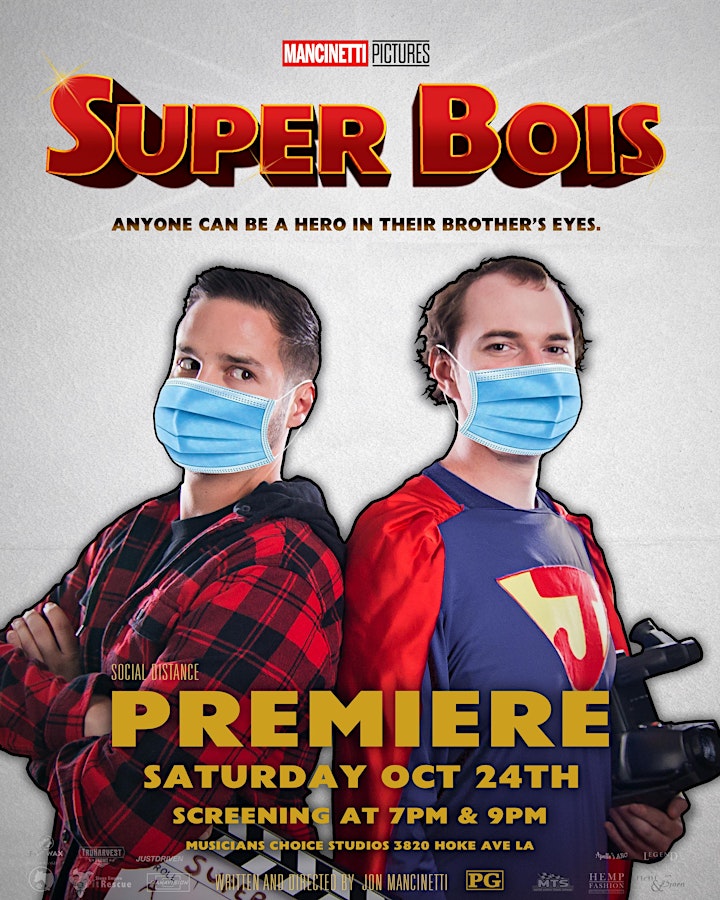 The world premiere of award-winning filmmaker Jon Mancinetti's latest short film, "Super Bois" IS FINALLY HAPPENING!!!
2 Screenings: 7pm & 9pm
After the success of his last film, Loss and Found (Streaming on Amazon & YouTube) writer/director Jon Mancinetti is BEYOND excited to finally premiere his latest film, Super Bois. This heartfelt comedy based on Jon's relationship with his brother Joel has already been accepted into a dozen film festivals! After a 7 month delay, Jon has found the perfect venue to safely host a socially distanced screening of his film.
Come join the party on the red carpet as Jon, his cast and crew premiere Super Bois on Saturday October 24th at Musicians Choice Studios, a large open-air warehouse in Culver City, Los Angeles. Guests are REQUIRED to wear a facemask. Hand sanitizer will be provided and the venue will be extensively cleaned. There will be a small cash bar with beer, wine, and FREE POPCORN!
We encourage you and your friends to dress in your finest red carpet attire or, wear your Halloween costume and dress like your favorite Superhero. Bring your lightsabers too!
Parking is available in adjacent lots as well as street parking all around the building.
Doors for the 1st screening open at 7pm for red carpet photo ops, the film will screen around 8pm. Following the film, a conversation will be hosted by director, Jon Mancinetti. All guests of the 7pm screening MUST exit the building by 9pm or buy an additional ticket for the 2nd screening.
Doors for the 2nd screening will open at 9 pm for red carpet photo ops. The 2nd screening will begin around 10 pm followed by a final conversation with Jon Mancinetti. ALSO, there will be a special opportunity to hang with the cast and crew after the 2nd screening AND enjoy a 90's themed DJ/VJ performance from Jon himself!
Aside from his talents as a filmmaker, Jon is an activist at heart. His last film, Loss and Found helped raise over $50,000 for non-profit organizations worldwide and helped save countless animal's lives. Super Bois aims to reach even further to raise awareness and advocate for people with special needs and animal rescues. All proceeds from the premiere will help fund the Super Bois tour and film festival run.
Don't miss this once in a lifetime opportunity to be among the first to screen a film that is destined to change countless lives!