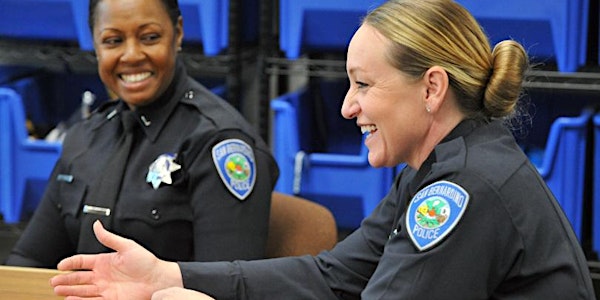 Sup-HER-Visor
This class will address the day-to-day challenges women supervisors face and provide tools to be the best supervisor you can be.
Refund Policy
Contact the organizer to request a refund.
About this event
TOPIC:
Female supervisors in law enforcement are faced with different challenges and wear many hats throughout the workday. This course will offer open discussions among all attending female supervisors and those transitioning into a supervisor role as a mentoring session. The class will address any day-to-day challenges supervisors face and provide tools to be the best supervisor you can be. BONUS – it is also an informative class for MEN!
Participants will learn proper techniques in the areas of communication, organization, managing a shift/unit, reviewing case reports, employees, composing emails & memorandums, and handling complaints. Participants will gain knowledge in the areas of proper documentation for disciplinary actions. Participants will learn to supervise with knowledge and confidence.
CLASS OBJECTIVES:
1. This in person class will help participants to either transition into the role of a supervisor and/or become a more confident supervisor.
2. Students will review and learn new tools for supervising road patrol and/or an investigative unit.
3. Conducting proper case report reviews.
A. Review of employee's cameras
B. Review of employee's speed
C. Review of employee's ethics
D. Reviewing employee's case report management
E. Completing employee evaluations and reviews
F. It goes uphill in Law Enforcement (failure to supervise)
4. Learn to manage different types of employees.
A. Other female employees
B. Difficult employees
C. Civilian Employees
5. Communication skills of a supervisor
A. Conducting squad and unit meetings
B. Talking with employees
C. Communicating with the public
D. Handing complaints
E. Communicating command orders
6. Awards, recognition and discipline.
7. Managing work, school home, husbands and families
8. Past helps the future.
A. Proper documentation
9. Policy and Procedures
A. Case Law
B. Statues and Codes
C. Elements of crimes
D. Never stop learning
10. Complaints
A. My level complaints
B. Next level complaints
C. IA complaints
11. Confident leadership
A. Decisions/Decisions
B. Dealing with higher ranked officers
C. Worry
TARGET AUDIENCE: Female members of the criminal justice community (sworn or non-sworn) in roles of supervisors. This is a more advance class and would be a great class for women in law enforcement.
INSTRUCTOR: Sergeant Jacqueline Lee Hearon is supervisor of the Economic Crime Task Force and Fraud Unit of the Brevard County Sheriff's Office. She heads a multi-agency task force and conducts fraud, supervisor, and investigative training classes. Jacqueline Hearon is now a twenty (20) year veteran of the Brevard County Sheriff's Office and has thirty (30) total years of Law Enforcement experience.
Sergeant Hearon graduated from Seminole College Police Academy in 1990, earned an (A.A.) degree in Criminal Justice from Brevard Community College and a (B.S.) degree in Organizational Management from Eastern Florida State College. She instructed for ten (10) years at the Brevard Community College Police Academy, teaching Investigations and Crime Scene. Currently, Sergeant Hearon is a Certified Fraud Examiner (CFE) and is a member of both the IAFCI and ACFE.
DATES & TIMES: Friday, August 5, 2022 - 12 Noon until 5:00pm (EST)
LOCATION: This is an ONLINE class
COST: $199.00 per person
PAYMENT OPTIONS:
• Check made payable to:
TRAINING FORCE USA, 3681 Loma Farm Road, Tallahassee, FL 32309
• Purchase Order
• Credit Card payment made online
Cancellations and Substitutions:
• Upon submission of this registration, participants are responsible for payment of this course. Please note that if you do not attend, you are still responsible for payment.
• Substitutions may be made at any time by phone, e-mail or online at the registration site.
QUESTIONS: Phone: 850-251-1223 E-mail: cpichard@trainingforceusa.com