Description
Immerse yourself in Finnish culture while celebrating 100 years of Finland's independence. This music filled Gala includes performances by Silver Ainomäe's quartet Cellissimo; Kari Sundström; Eric Peltoniemi; and the Finland 100 Chorus, led by Eeva Savolainen. Emmi Kainulainen, a Finnish designer and model, will be the Gala's emcee.
The Gala will be held in the Target Atrium and Grand Foyer areas of Orchestra Hall. Finnish appetizers and desserts will be served and there will be a cash bar. You will have the opportunity to mingle and meet new people, as you enjoy the food and music.
To conclude the evening, guests will be invited to dance to Finnish tunes from the 100 years of Finland's independence.

There is no dress code for this event. A suggestion is to dress as you would to attend a performance at Orchestra Hall. However, wearing a long gown or wearing something that is comfortable for you, are also good options.
Doors open at 6:30 pm!
Ticket Prices: Tickets are available here through 10 pm on December 5, 2017.
Adult Regular - $85 Student - $35
On the day of the event, they can be purchased at the door for the prices listed above, with cash payment only.
A block of rooms has been reserved for Gala attendees at the Hilton Minneapolis at 1001 Marquette Avenue. You can make reservations over the phone by calling 1-888-933-5363 or on-line at www.Hilton.com and referencing the three-letter code, SUO.
Suggested parking is at the 11th Street Ramp, which has skyway access to Orchestra Hall.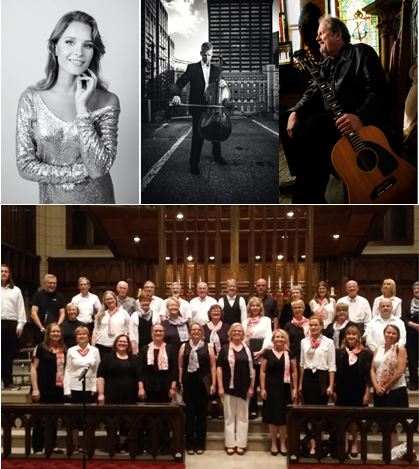 From left to right, top to bottom: Emmi Kainulainen, Silver Ainomäe (photo by Willie Petersen), Eric Peltoniemi, and Finland 100 Chorus