Description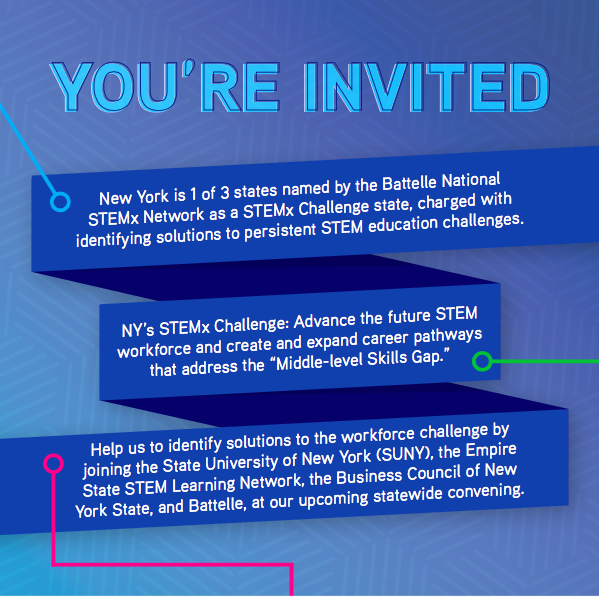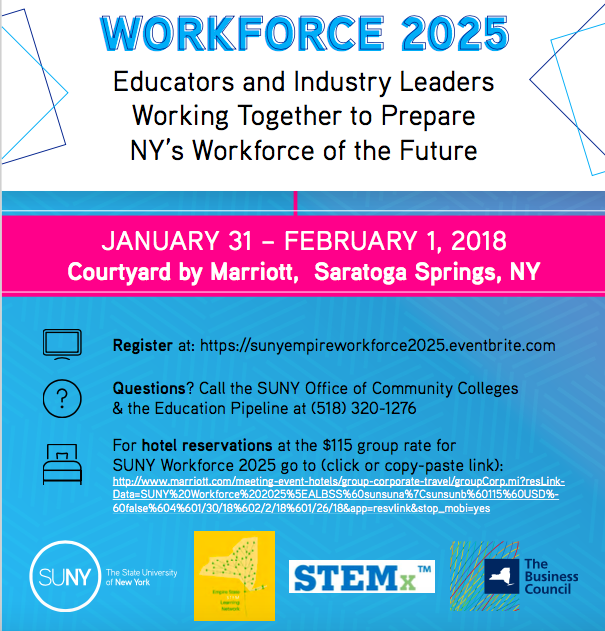 New York is 1 of 3 states named by the Battelle National STEMx Network as a STEMx Challenge state, charged with identifying solutions to persistent STEM education challenges.
NY's STEMx Challenge: Advance the future STEM workforce and create and expand career pathways that address the "Middle-level Skills Gap"
Help us to identify solutions to the workforce challenge by joining the State University of New York (SUNY), the Empire State STEM Learning Network, the Business Council of New York State, and Battelle, at our upcoming statewide convening.
Workforce 2025: Educators and Industry Leaders Working Together to Address the Middle-Level Skills Gap and Prepare NY's Workforce of the Future
January 31 – February 1, 2018
***REGISTRATION UPDATE
Please call 518-320-1276 to register based on availability
***LOCATION UPDATE:
The event has been relocated to the
Courtyard by Marriott Saratoga Springs
Reservations can be made by calling toll free 866-210-9325. Please identify yourself as a

SUNY Workforce 2025 attendee

to receive the Group Rate of $115/night.
All reservations or rooming list must be received by the cut-off date of Friday, January 26, 2018. Any reservation requests received after this date are subject to availability and your group rate may not be available. Additional hotels with similar rates nearby include the Pavillion Hotel ($119), Hampton Inn ($119), Embassy Suites ($139), and the Holiday Inn Saratoga Springs ($109).
Also, please see your online booking information below
CLICK HERE to Book your group rate for SUNY Workforce 2025***
Questions? Call the SUNY Office of Community Colleges & the Education Pipeline at (518) 320-1276.
For information about dining in Saratoga, visit: https://www.discoversaratoga.org/suny-workforce-2025/?guid=62832c94-1ac9-4a42-8a04-dc49c020a6e6&preview=true
Event Partners:

Working Agenda: