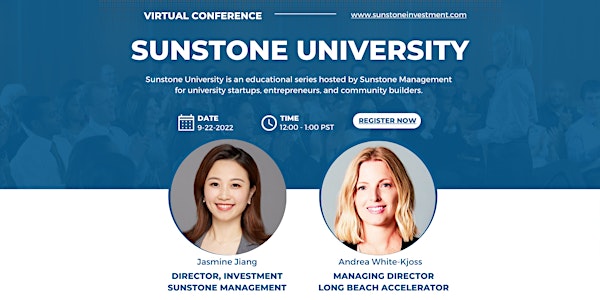 Sunstone University
Sunstone University: Calling all university students, startups, entrepreneurs, and community builders
About this event
Sunstone University is now virtual!
Sunstone University is an educational series hosted by Sunstone Management for university startups, entrepreneurs, and community builders. As a diversified private capital firm that invests in diverse early-stage tech entrepreneurs, we believe in investments that center on founders, market-modern technologies, and sustainability. This is why we've been a key sponsor behind student entrepreneurial events like the Stella Zhang New Venture Competition at UCI, Sunstone CSU Startup Launch Competition, Sunstone Innovation Challenge at CSULB, and Born in California.
On Thursday, September 22nd, from noon-1pm, Sunstone Management will be hosting a virtual educational event for entrepreneurial-minded university students and alum. This month you'll hear from guest speakers like Andrea White-Kjoss, Managing Director of the Long Beach Accelerator (LBA) and Jasmine Jiang, Director of Investment at Sunstone Management.
Sunstone University is your opportunity to meet founders, expand your network, and learn more about the world of venture capital. Each speaker will provide insight and advice into their fields of expertise. For instance, what does a venture capital firm look for when investing in startups? What is due diligence? What makes a founder stand out when applying to an accelerator? There will also be an open Q&A at the end for any questions you may have for these investment experts!
Last Sunstone University sold out quick so reserve your spot today. Tickets are FREE.
Hope to see you there!
AGENDA
I. Welcome 12:00 pm to 12:05 pm
II. Opening Remarks: John Keisler 12:05 pm to 12:10 pm
III. Showcase: Sunstone Investment Team 12:10 pm to 12:20 pm
IV. Founder Focus: Andrea White-Kjoss 12:20 pm to 12:25 pm
V. Founder Interview 12:25 pm to 12:40 pm
VI. Community Discussion / Q&A 12:40 pm to 12:55 pm
VII. Closing 12:55 pm to 1:00 pm
*Agenda subject to change.