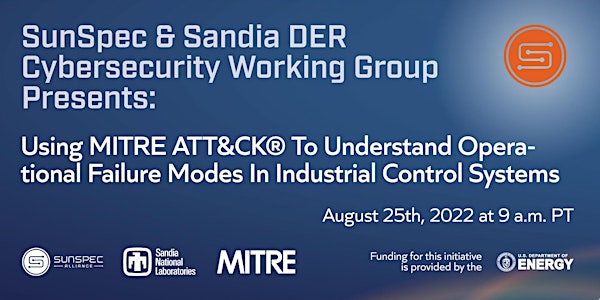 SunSpec & Sandia DER Cybersecurity Webinar
Using MITRE ATT&CK® To Understand Operational Failure Modes In Industrial Control Systems
About this event
Abstract
Understanding how your systems can fail is a vital component in protecting them and knowing which adversarial Tactics, Techniques, and Procedures (TTPs) are most closely tied to ICS failures is key to this. In this webinar, Adam Hahn and Nik Urlaub of MITRE Corporation will demonstrate how MITRE ATT&CK and MITRE's Threat-Informed Failure Scenario methodology can be used by cybersecurity professionals to understand ICS operational failure modes and how to link these failures modes to adversary TTPs.
Speakers
Mr. Nik Urlaub, Cyber Physical Engineer, MITRE
About The Presenters
Dr. Adam Hahn is the Lead Critical Infrastructure Security Engineer at The MITRE Corporation where he supports ATT&CK for ICS development, along with numerous research projects funded by DOE, EPRI, and DHS. He is also Associate Professor at Washington State University where he teaches courses on Network Security, Computer Communication Networks, and Critical Infrastructure Security. Adam graduated from Iowa State University with a Ph.D. and a Master's Degree in Computer Engineering.
Mr. Nik Urlaub is a Lead Cybersecurity Engineer for MITRE. He comes from an electrical engineering background having spent 7 years working for Power Engineers, an engineering consulting firm, as a SCADA engineer. For the past 4 years, Nik has been working on the cyber security of industrial control systems at MITRE. Nik graduated from the University of Idaho with a Master's Degree in Electrical Engineering.
About MITRE ATT&CK®
MITRE ATT&CK® is a globally-accessible knowledge base of adversary tactics and techniques based on real-world observations. The ATT&CK knowledge base is used as a foundation for the development of specific threat models and methodologies in the private sector, in government, and in the cybersecurity product and service community. With the creation of ATT&CK, MITRE is fulfilling its mission to solve problems for a safer world — by bringing communities together to develop more effective cybersecurity. ATT&CK is open and available to any person or organization for use at no charge.