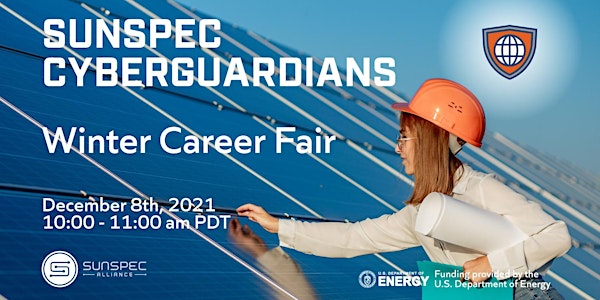 SunSpec Cyberguardians Winter Career Fair
SunSpec Cyberguardians Winter Career Fair
About this event
Join SunSpec Cyberguardians for a virtual career fair on December 8th, 2021 at 10 AM - 11 AM Pacific.
The event will feature presentations from leading employers in the Distributed Energy industry including:
Presenters will provide overviews of their companies and products, as well as share available job opportunities in the fields of cybersecurity, networking, software development, IT, and more.
We encourage job-seekers to attend this event and submit their resumes beforehand to sunspeccyberguardians.org/job-seekers.
Funding for this program is provided by the U.S. Department of Energy. Learn more about SunSpec Cyberguardians at sunspeccyberguardians.org.