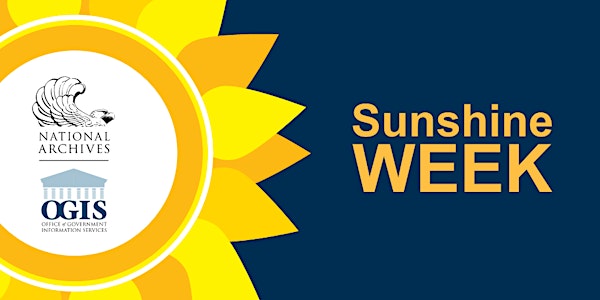 Sunshine Week 2021 at the National Archives
Registration for this event is closed. At 1:00 PM (ET) you can watch the program live on YouTube at https://youtu.be/J_KseJqhyUQ.
About this event
We are pleased to announce that Senior U.S. District Judge Royce C. Lamberth will join us on Monday, March 15th for a special event celebrating Sunshine Week at the National Archives. The first hour of the program will feature a conversation with Senior Judge Lamberth on open government and the legal landscape. The second hour will include a conversation with journalists and other users of the Freedom of Information Act (FOIA).
The event is free and open to the public. Members of the public are welcome to
Attend the meeting virtually though Webex.
WHEN: Monday, March 15, 2021 from1:00 - 3:00 PM (ET)
WHERE: Webcast online/telephone.
REGISTRATION INFORMATION: You do not need to register to watch the program via the National Archives' YouTube Channel.
There is a two-step registration process to virtually attend this meeting via WebEx.
1. You must register via Eventbrite by 11:59 EST on March 12, 2021.
2. Before the meeting, registrants will receive an Eventbrite message that provides information on how to join the meeting online and connect to the audio by calling in using your telephone. To hear the audio in the meeting, you must connect to the audio through your telephone.
To request additional accommodations (e.g., a transcript), send an email to ogisopenmeeting@nara.gov or call 202-741-5770.
Members of the media who wish to register, those who are unable to or prefer not to register online, and those who require special accommodations, should contact Kirsten B. Mitchell at the email address and telephone number listed above.
If you have difficulty registering for this event via Eventbrite, try the following:
Clear your cache and cookies.
Try a different web browser.
Contact your IT department to see whether there is anything the department can do on their end to assist you. Some agencies may have network security restrictions in place which may impact your ability to register using a government email address and/or view the video portion of the event from a government network.