Location
Sunshine Lavender Farm
4104 Millstone Road
Hurdle Mills, NC 27541
Refund policy
Refunds up to 7 days before event
Eventbrite's fee is nonrefundable.
Sunshine Lavender Farm's 20th Annual June Bloom! Get your tickets today. New workshops!
About this event
Sunshine Lavender Farm's June Bloom Experience. Register today. New workshops! Space is limited.
You've let us know how much you've missed the farm and June Bloom! You're invited to enjoy the farm. A private residence and a working farm since 2000, come to relax and inhale the sweet fragrance of lavender.
June Bloom is your opportunity to get out into the country, reconnect with your family and friends, enjoy the fresh country air, this charming farm - and just breathe. 
Outdoor experiences feel easier these days and we're excited to open the farm to you, your family and friends. Since there is still uncertainty around COVID, you must reserve a timed ticket to visit the farm. Choose General Admission to enjoy time on the farm as you wish. Picnics are fun! While you're here, maybe take a farm tour with the owners to learn how to plant, harvest and preserve this amazing, soothing and sweetly scented herb. Tours will happen throughout the day.
Come to craft with lavender with the assistance of farm Ambassadors. New this year, nab one of the limited spots to paint a barn quilt square for your garden or home. Also new, make a glass blown hummingbird feeder. Discover hundreds of lavender plants and proven varieties for southern gardens ready to take root in your yard or a favorite container. You may wish to visit the Lavender Garden Market which will be stocked with handmade lavender items lovingly made in small batches to soothe body & soul, for the, garden, gifts, home and weddings too. Lavender items are created from the crop grown using natural practices where no synthetic chemicals of herbicides or pesticides are used. You will find many one-of-a-kind items unique to Sunshine Lavender Farm.
Ideas are still swirling about with many loose ends to nail down. Our aim is to give you a bit of what to expect and what you have to look forward to:
New Workshop! Paint a barn quilt square! For your garden space, a porch or for indoors, when you join this 2-hour workshop, you will choose from a variety of designs and paint colors to create your very own quilt square art at the farm. With the guidance from a local expert, this workshop is suited for adults and for children who will be accompanied by an adult. Space is limited. Register TODAY. Your General Admission ticket is included in the workshop fee.
New Workshop!  Back by popular demand! A local master glass expert who led a very popular (and sold out) December 2019 ornament workshop will be on the farm again. During June Bloom, learn about glass blowing with three other guests, choose your color combination and create your very own hummingbird feeder. Space is very limited. Register TODAY. Your General Admission ticket is included in the workshop fee.
Create a fresh lavender wand, basket or mini wreath (fondly called a fairy crown by some) from various shades of sweetly scented fresh lavender stems and stuff a sachet with preserved lavender to take home. Your General Admission ticket is included in the workshop fee.
You're encouraged to pre-order farm fresh snack and lunch items created with lavender, courtesy of The Picnic Basket Catering.  Pre-order lunches as an individual or as a group on a single tab. Check out the June Bloom menu and to pre-order your picnic today.
Calling all artists! Painters, are you looking for a plein air experience? Need a place to share your music? Please consider joining in.
The farm is inviting other community partners and like-minded small businesses to consider returning to enhance your June Bloom experience. Follow updates here as plans evolve.
The Poultry Palace is home to a lovely flock of hens and will be clucking in celebration of your farm visit too.
You must get a timed ticket to reserve your spot for yourself, family and friends. You will be asked to check in upon your arrival. Your support of the farm is greatly appreciated.
The farm is quite small, and a truly humble home. In its second decade, there are some grandmotherly plants that are holding on (we don't have the heart for taking out plants until they are fully expired). You'll discover that the farm is feeling spry with oodles of young lavender plants, both in the front field and near the barn.
How did this event come about? The open farm weekend was originally planned as a thank you to the farm's loyal farm friends and a means to invest in those who help to harvest the lavender when the field is ready. The farm is open just a few days a year. In June, during June Bloom, while the lavender is in bloom, and just before the crop is harvested, then again in December for the Lavender Holiday Open Farm Day. (Stay tuned.) For your comfort, bring a quilt or lawn chair. A hat, water bottle (working hard to be a zero waste/no single use plastic event), sunscreen, garden shears and of course your camera too. No pets, please.
We look forward to seeing you on the farm soon!
FAQ's
What are parking options at the event?
Carpooling is encouraged since parking is at a premium on the farm. Drive slowly, look out for other farm guests on the property and make every effort to park your vehicle efficiently.
I require assistance walking. Is this an event for me?
Farm Ambassadors will help you with nearby parking. Most activities occur in a small area on the farm where the ground is mostly even. With assistance from a family member or a friend to offer support, you may experience the lavender farm too.
Is this a family-friendly event?
Kids of all ages enjoy the farm! While June Bloom is designed for adults to unwind and get away from the stresses of everyday life, of course, families are welcome to join in. KIDS up to age 5 are FREE. No pets, please.
Are there opportunities to help out during June Bloom?
You bet! Ambassadors are needed for June Bloom 2021. Help the farm create an amazing experience with memories to last a lifetime for our guests. From greeting guests to helping out fellow gardeners choose lavender plants to teaching folks how to craft with fresh lavender, please email mwradcliff@gmail.com, our Ambassador Coordinator extraordinaire, and let us know your interest. Thank you.
What should I bring?
Bring your lawn chair or picnic blanket. You will want your own comfy seat if you're participating in the Lavender Workshop. Bring your hat, sunscreen, garden shears, camera and water bottle (working hard to be a zero waste/no single use plastic event). If you have allergic reactions to plants, insect bites or stings, please bring any medications as a precaution. No pets, please.
How do I make purchases at the farm?
Cash, cards and mobile pay options accepted for purchases at the Lavender Garden Market.
What is the farm's refund policy?
For pre-purchased tickets, refunds will be honored up to 7 days in advance of the event. You may adjust your status through Eventbrite at any time if your plans change. SUNDAY, JUNE 6 IS THE INCLEMENT WEATHER DATE FOR THIS EVENT. All pre-purchased tickets will be honored that day. The farm will also be open on Saturday, June 12. Click here to get June 12 tickets.
What if my plans change and I'm unable to attend? We hope that this doesn't happen! In the event that you cannot attend, please update your status in Eventbrite so that another lavender lover may join in the weekend's festivities.
What else should I be aware of?
Your safety while on the farm is a top priority. The farm respects current COVID Governor's Executive Order expectations and CDC guidelines with regard to masks and social distancing. Please plan to wear a mask on the farm when social distancing is not possible. All workshops will limit the number of participants, activities will happen in outdoor spaces and will employ health and safety protocols.
While on the farm please look out for yourself and for one another. If handling plants or animals, please use the wash station before eating. Do not enter areas that have not been mowed or are sectioned off. You will find signs posted on the farm with the following:
WARNING
SESSION LAW 2005-236HOUSE BILL 329
Under North Carolina law, there is no liability for an injury to or death of a participant in an agritourism activity conducted at this agritourism location if such injury or death results from the inherent risks of the agritourism activity. Inherent risks of agritourism activities include, among others, risks of injury inherent to land, equipment, and animals, as well as the potential for you to act in a negligent manner that may contribute to your injury or death. You are assuming the risk of participating in this agritourism activity. 
How do I best get answers to other questions?
Since the farm family is busy preparing for the event, please refer to all of the details in this invitation. You may also wish to explore the farm's website: www.sunshinelavenderfarm.com or the farm's Facebook page to see if you can find your answer there. Because the event is limiting the number of guests this year, if you haven't already, sign up for the Lavender Letters on any page of the website to get the latest information about June Bloom 2021.
During the event, if you have questions, ask any of the Ambassadors helping out on the farm identified by their lavender bandanas.
Thank you!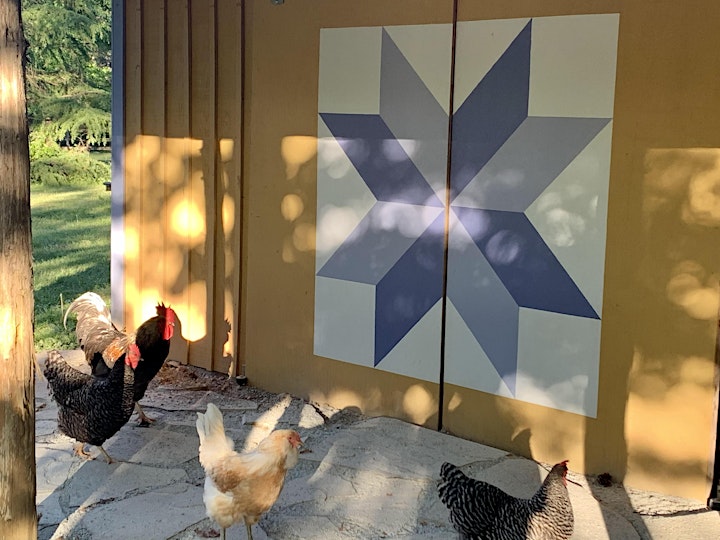 Sign up for the Paint a Barn Quilt Workshop! Choose from several patterns including the North Star that adorns the Lavender Garden Market doors.