Description
Hello and Welcome to the official launch of Yoga Outdoors!!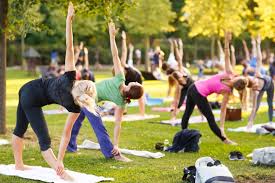 Sunset Yoga by the Lake
We will be having a 1 hour relaxing sunset yoga session with scenic views overlooking Lake Grapevine! This is an outdoor yoga session with a covered pavilion and a nice cool breeze. We provide all gear necessary for the session, just show up and get ready to be amazed by the beauty and relaxation that Sunset Yoga by the Lake has to offer.
BEGINNERS WELCOME!!
The sunset view from here is spectacular and mixed with some relaxing yoga is the best way to end a busy work week. Also a great way to kickstart the weekend!
About Yoga Outdoors
All of our Yoga Instructors are RYT Certified and have completed their certifications in order to safely teach students how to practice yoga. Yoga Outdoors has partnered with Lonestar Adventure Sports to offer a fun and safe yoga experience.
Yoga is a great way to relax and stay fit. There are many types depending on what you are looking to accomplish. We focus primarily on relaxation and fitness styles such as Vinyasa, Yin and Hatha.
You can read more about Yoga Outdoors here.
---
Helpful Details:
Parking is FREE, just let the gatehouse attendant know that you are here for the Yoga Outdoors event.
We advise anyone that is attending to arrive at 7:00pm. The session starts at 7:30pm to allow for a full 1 hour leading into sunset.
Join us for this relaxing experience by RSVPing in advance on here so we know how many people to expect. This is a free event to attend and will be one that you won't want to miss!