Join a 2-hour immersion into the world of horses and sound, where you will connect with horses, receive a sound bath, and play instruments
About this event
Join this truly unique Sedona experience for a delightful immersion into the world of horses and sound.
Come ready to meet our herd, join a group meditation, and co-create an orchestral delight as the Sedona sun sets in the western skies.
You will be met and welcomed by Michelle and the team,
​The herd offers a unique experience of belonging and effortless grounding that relieves anxiety and gives participants a sense of calm.
Musicians are welcome to bring your own instruments, or to borrow ours. (Bear in mind we are in a dusty field and we cannot take responsibility)
Age: All children under 16 must be accompanied by an adult. For safety reasons, we ask for no more than 2 kids per adult. ( Email Michelle for a special kids experience)
Time: Pay attention to start times. These vary week by week based on sunset time
Day: Friday
Place: West Sedona. You will receive directions upon registration.
This is an expereince in relating with horses on the ground. There will not any riding involved.
No horse experience is needed
Please wear closed-toe shoes
Bring water
All participants will be required to sign a waiver prior to entering the paddock.
Drums & rattles will be provided. You are welcome to bring your own instruments.
Note: there are no toilet facilities (yet).
Due to the small group sizes, tickets are non-refundable and non-transferable.
Contact Michelle for private groups on medicinehathorsemanship@gmail.com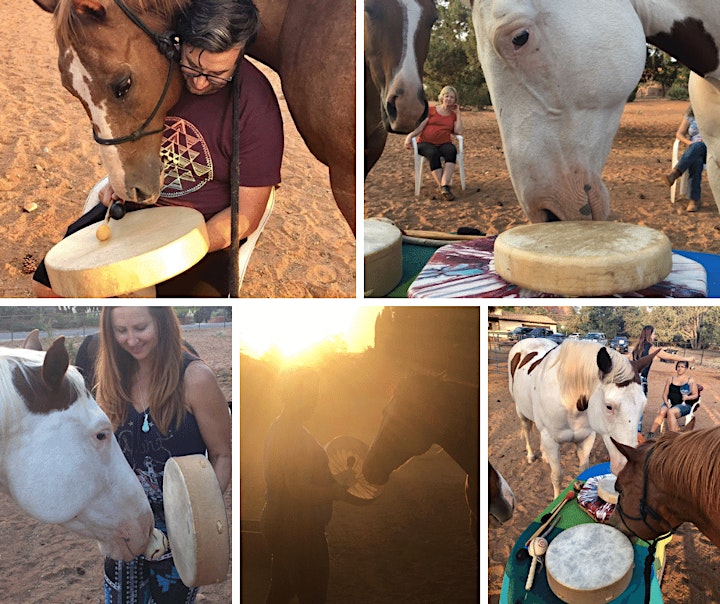 About Michelle
Founder of Medicine Horse Healing
Whether working on bettering your horsemanship or journeying more deeply into your life, the horse is a benevolent and wise teacher if we are patient and quiet enough to pay attention.
Michelle Peterson has been a student of the horse her entire life, and shares the teachings horses have shared with her through Medicine Horse Journeys, Horsemanship Lessons, Horse & Human Education (training) and Horse Care.
Michelle is a blend of extensive solid foundations, knowledge, patience, presence, and most of all Heart. She offers healing workshops and retreats with horses as the space holders and guides as well as horsemanship teachings for new horse students as well as horses and their humans. She is committed to helping humans forge a bond with horses based on the principles of clear communication, heart, and gentle leadership. She helps both beginner and experienced equestrians deepen their understanding of their horse and themselves leading to better horsemanship and self-awareness as well as journeying pilgrims garner a greater understanding within through the guidance of the wise medicine horses.