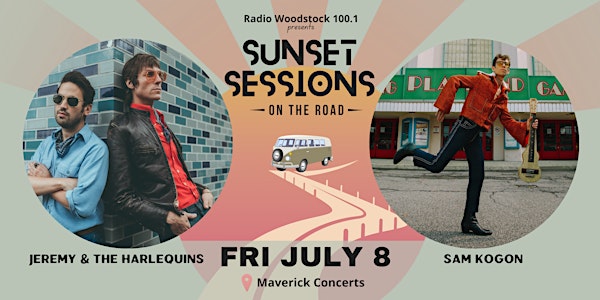 Sunset Sessions on the Road - Jeremy & The Harlequins | Sam Kogon
Radio Woodstock 100.1 presents
Performers
Jeremy & The Harlequins, Sam Kogon
Location
Maverick Concerts
120 Maverick Road
Woodstock, NY 12498
Sunset Sessions on the Road - Jeremy & The Harlequins and Sam Kogon - Friday, July 8, 2022 at Maverick Concerts
About this event
Radio Woodstock Sunset Sessions on the Road....
Jeremy & The Harlequins | Sam Kogon
Friday, July 8, 2022
Doors 5:00PM - Show: 5:45 PM
Maverick Concerts
Woodstock, NY
Sunset Sessions are back! This week's Sunset Session is at Maverick Concerts in West Hurley To learn more about this historic site and the Maverick Art Colony's Maverick Festival - the precursor to the 1969 Woodstock Festival, go to: www.maverickconcerts.org Bring a lawn chair, kick back, watch the sunset and enjoy delicious food from Ram's Valley, Ice cream from Caboose on the loose, and local brew, wines & cider.
Covid Policy: This is an indoor/outdoor event masks and vaccination cards are not required.
General Admission: $10
Season Pass: $30
Season pass gives you access to the entire series including the following:
July 8 - Jeremy & The Harlequins at Maverick Concerts
July 22 - Adam Falcon | Denitia at Opus 40
Aug 12 - Joelle & River | Megg Farrell at Stone Ridge Orchard
Aug 26 - Royal Khaoz at Walkway over the Hudson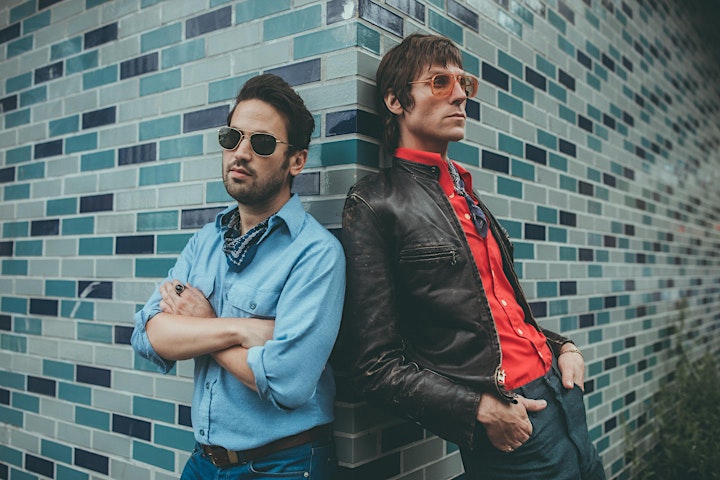 JEREMY & THE HARLEQUINS – ABRA CaDaBRA BRIEF BIO
It's easy to feel like there's not much magic left in the world, especially after the turbulence of 2020. In early March of that year, every member of Jeremy & The Harlequins got sick with Covid-19. Soon after, they parted ways with their record label. It would have been easy to be discouraged – or even throw in the towel – in the face of such devastating, world-altering circumstances, but that was never an option for the New York City band. Rather, frontman Jeremy Fury responded by making the band's new album an exercise in overcoming extreme adversity.
ABRA CaDaBRA, then, is the band's biggest and most important mission statement to date. It not only shows that there's always a path back into the light, but that you can also be that light yourself. They decided that they were going to make the best of a bad situation by writing the album they'd always wanted to make, matching the severity of the situation with the most grandiose and ambitious songs they'd ever written.
And that's precisely what they did. Yet while the band might have approached writing these songs as if they were for their first album, the acclaim and attention their previous records garnered – including support from Bruce Springsteen's longtime E Street Band guitarist Steve Van Zandt – helped them achieve that goal.
In fact, most of the album was recorded at Van Zandt's New York Renegade Studios by Geoff Sanoff (Bruce Springsteen, Little Steven, Jesse Malin), although the vocals were recorded, mixed and mastered – like 2017's Remember This – by Rick Parker (Lord Huron, Black Rebel Motorcycle Club, Scott Weiland) at Sandbox Studios in Hollywood. That's a dream combination in itself, but the band didn't just stop there. They also enlisted Hamilton on Broadway's lead violinist Jonny Dinklage to add strings.
The result is a lush, orchestral, widescreen vision of all of life's ups and downs, pandemic or otherwise. That Jeremy & The Harlequins have been able to infuse this album with that spirit, all on their terms, makes this album all the more impressive, powerful and – true to its title – magical.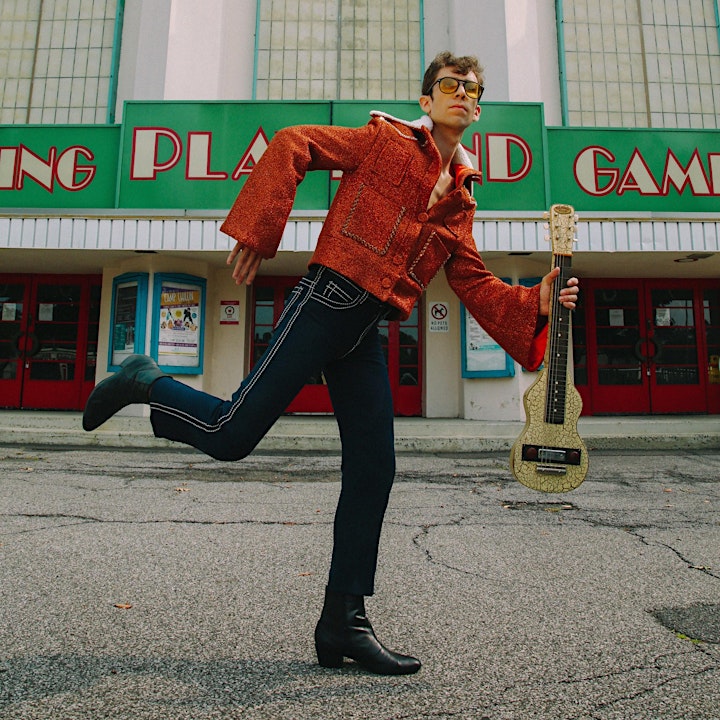 Sam Kogon Bio:
Sam Kogon describes his new approach as that of an "Upstate country rockabilly crooner," a sound he had once put off while playing in Brooklyn's psychedelic scene. Kogon lived and played in New York for several years, but nowadays lives in Westchester and spends more time in the Hudson Valley. He has always skewed a little older in his sensibilities, from an early affinity for Chopin and the Beatles to the session work he's done with Al Jardine of The Beach Boys, fronting the 1960's revived baroque pop group The Left Banke ("Walk Away Renee"), and songwriting with Grammy Award nominee Patty Smyth. He has recorded two albums of psych-adjacent power pop, including 2016's standout Psychic Tears (Beyond Beyond is Beyond), which was co-produced by Kogon and Sam Owens (aka Sam Evian) and features a duet with Frankie Cosmos on the track "I Was Always Talking." His latest release is a self-titled 4-track EP he made with Kurt Vile and Dinosaur Jr. producer, John Agnello. His partnership with Agnello came about in a somewhat roundabout way. After coming off three self-booked US/Canadian tours, Kogon was cast as a featured extra in Martin Scorsese's crime epic The Irishman as a backing musician for Jerry Vale, played in the film by Steven Van Zandt. He hit it off with music supervisor Stewart Lerman and, after sending some demos along, received a recommendation for working with Agnello. The songs were mastered by Steve Fallone (Arcade Fire, Angel Olsen, Big Thief). Little Steven aka Steven Van Zandt (from the E Street Band) has named Sam's first single, "Barbed Wire," as one of The Coolest Songs in The World and featured it on his Sirius XM show "Little Steven's Underground Garage."
"A student of 1960s pop, Kogon is paring down his previous psychedelic sound and exploring his country roots. On "Find Out," Kogon's winning falsetto gives the hopeful love song a winning charm." - The Boot
"Dusty guitar pop ...recalls late-'70s powerpop acts like Nick Lowe and Marshall Crenshaw" - Brooklyn Vegan
'Kogon's melody and vocals recall the glam-flavored rock of Bryan Ferry and Lou Reed in the best possible way." - Queerty
"Channeling the energy of The Beatles and The Beach Boys, the psychedelic pop act speaks about matters of the heart and navigating through society as a queer creative." - Playground UK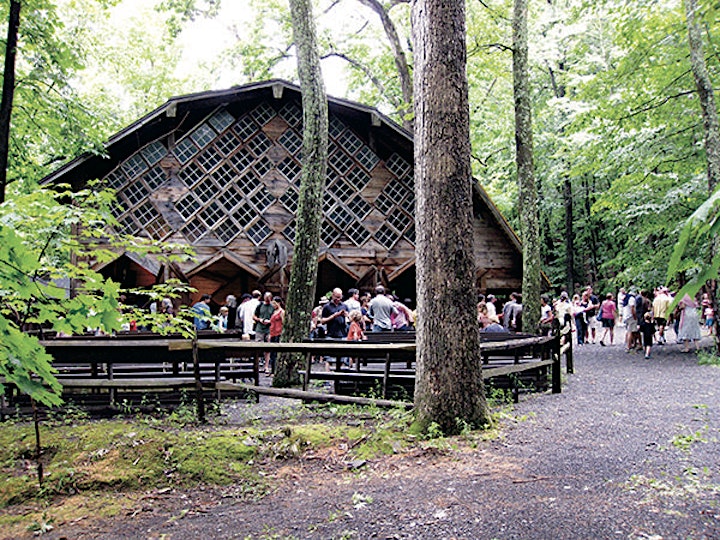 About Maverick Concerts
Maverick Concerts is located in Hurley, New York, on the outskirts of Woodstock, in Ulster County. The barn-like, rectangular building with its gambrel roof was built by hand as part of the Maverick Colony in 1916 by the utopian writer and philosopher Hervey White. With a roof of wood shingles and a frame of heavy timber, to which the walls—sheaths of wide planks—are nailed directly, the wooden construction and luminous acoustics create an environment perfectly suited to the intimacy of live chamber music.
Maverick Concerts, a multi-starred destination by the National Register of Historic Places since 1999, was awarded for Excellence in Historic Preservation by the Preservation League of New York State.