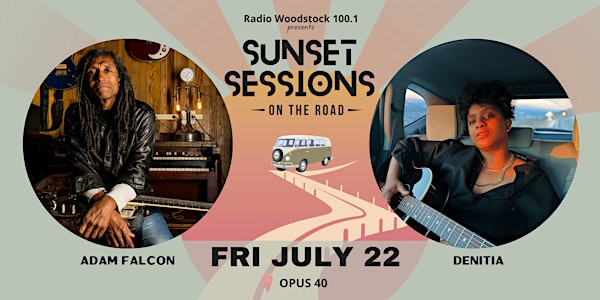 Sunset Sessions on the Road - Adam Falcon | Denitia
Radio Woodstock 100.1 presents
Location
Opus 40
356 George Sickle Rd
Saugerties, NY
Sunset Sessions on the Road - Adam Falcon | Denitia - Friday, July 22, 2022, at Opus 40
About this event
Radio Woodstock Sunset Sessions on the Road
Adam Falcon| Denitia
Friday, July 22, 2022
Doors 5:00 PM - Show: 5:45 PM
Opus 40
Saugerties, NY
Sunset Sessions are back! Bring a blanket, kick back, watch the sunset, play lawn games and enjoy delicious food from Brave the Flames, Ice cream from Caboose on the loose, and local brew, wines & cocktails.
General Admission: $10
Season Pass: $30
Season pass gives you access to the entire series including the following:
July 8 - Jeremy & The Harlequins at Maverick Concerts
July 22 - Adam Falcon | Denitia at Opus 40
Aug 12 - Joelle & River | Megg Farrell at Stone Ridge Orchard
Aug 26 - Royal Khaoz at Walkway over the Hudson
NOTE: We adore dogs and cats, but no animals other than dogs individually trained to provide a service for a person with a disability are permitted on site. ** We only cancel for weather in the event of ongoing rain or storms. In such cases, we offer full ticket refunds. ** We do not allow visitors to bring food or alcohol to our events but you can buy both on site. ** Whenever possible, we hope you will spare our lovely country entranceway and parking lots, not to mention our environment, and CARPOOL. ** If you have any further questions about an event, please email us at promotions@radiowoodstock.com
Adam Falcon Bio:
The music of singer-songwriter, Adam Falcon has been widely considered an absence of genre yet ranges from folk to rhythm and blues. As a sideman Adam Falcon has worked and shared the stage with some of the brightest names in music. These artist include Roberta Flack, Sophie B. Hawkins, Whitney Houston, B.B. King, Eric Clapton, Jim Lauderdale, Robert Palmer, Peter Gabriel, and Nona Hendryx. Stepping out on his own, he's opened for James Cotton Blues Band, Matt "Guitar" Murphy, The Wailers, Ruthie Foster, Jim Lauderdale, Stanley Jordan, and Tower of Power. Writing songs for George Benson and having songs on national television got Falcon noticed by The Song Writers Hall of Fame, which honored him with the Abe Olman Scholarship Award for Songwriting. For his composition, Woke Up Cryin', Falcon became an International Songwriters Competition, semi-finalist and also landed him a nomination for an Independent Music Award.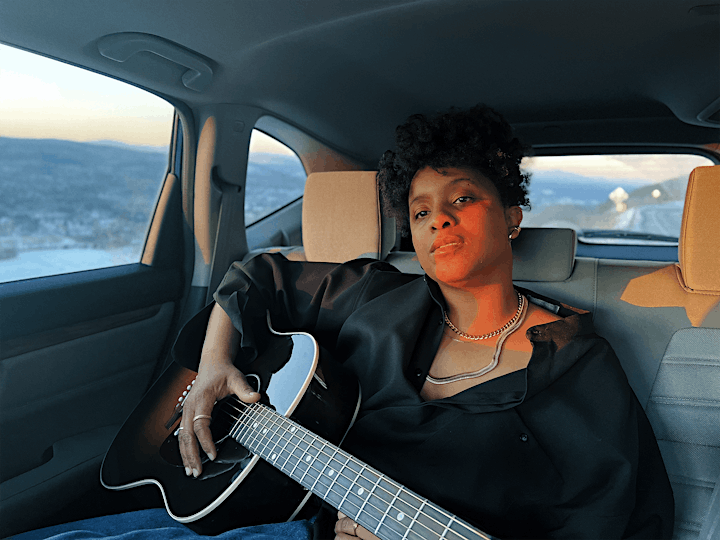 About Denitia:
Denitia Bio:
Denitia is a singer-songwriter who exemplifies American cultural enlightenment.
Born and raised outside Houston, Denitia's southern heritage forms a canvas for her evolving musical portrait. As a child, she performed in church choirs, and taught herself to play piano and guitar from her family's trailer in the woods. She carried those experiences with her as she made her way around the country, moving to Nashville for college, and Brooklyn thereafter.
Now based in New York's Hudson Valley, Denitia's portfolio of work reveals melodic stories spanning states, cities, and times. In her latest release, she takes listeners on a drive through the lanes of love and longing over the course of American grandeur. Fusing elements of country, folk and rock, Denitia establishes a newfound American utopia, ongoing and indefinite, uplifted by wistful vocals and the chimes of a tambourine.
With her songs as mantras, Denitia aims to reimagine what it means to be home.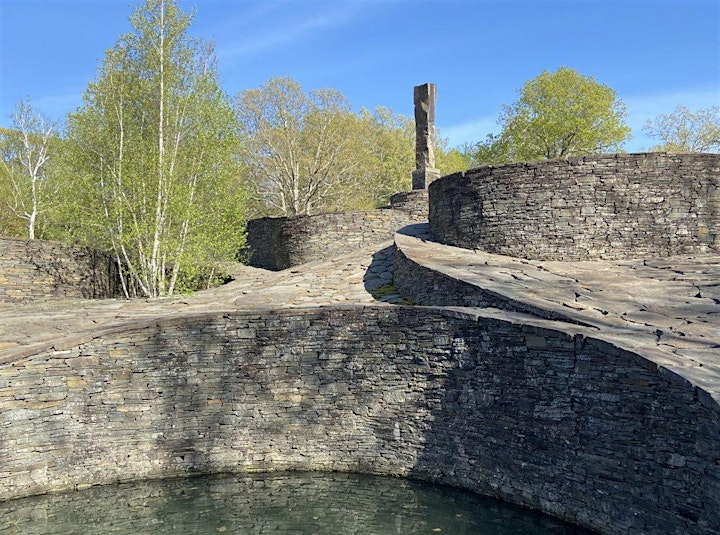 About Opus 40
Created by pioneering artist and professor Harvey Fite and founded as a nonprofit by his wife in 1978, Opus 40 is a world-famous sculpture park and museum with 55 acres of meadows, forested paths and bluestone quarries — centering on 6.5 acres of remarkable earthwork sculpture — in the heart of the Hudson Valley in Saugerties, NY.
We welcome guests five days a week from April through November, and are available for educational field trips, guided tours and weddings all year long. We also host nature walks led by Audubon educators, art workshops, and live music and theatrical performances — all with the majestic Catskill Mountains as the backdrop.
"In a culture of disposability," notes David Wallis in The New York Times, "not only does Opus 40 constitute what Architectural Digest described as one of 'the most beguiling works of art on the entire continent,' but stands as a monument to discipline and hard work." The Art Newspaper concurs, in 2019 calling Opus 40 "a testament to the wondrous and crazy things humans can create."
Considered by many to be the Stonehenge of North America, Opus 40 welcomes more than 35,000 visitors from the Hudson Valley, New York City, and throughout the state, country and world, each and every year. Our free community programs, including concerts, classes and fairs, reach another 4,000 annually; meanwhile, the "spectacular stone monument" (VICE) serves as a popular site for destination weddings, as well as photo shoots for the likes of Barneys NY, VOGUE, Nylon and famed photographer Nigel Barker.
In fact, Opus 40 can be seen equally as a sculptural tour de force, a showcase of natural beauty, an exploration of local history, and a premier outdoor performance venue, with Rolling Stone describing it as "the best outdoor performance venue in the Northeast."
It's through this kaleidoscopic lens that one truly glimpses the miraculousness of Opus 40; abandoned quarries are living artwork, quarrying tools are reassembled into sculpture in the Quarryman's Museum, and actors and musicians perform in, on, around and through the park, adapting their performance to the terrain, views and acoustics of the site.
Since its inception, Opus 40 has welcomed an array of acclaimed performers, including Richie Havens, Pete Seeger, Happy Traum, Sonny Rollins, the Felice Brothers, and Jimmy Cliff, as well as the Opera Ebony competition and theater stagings ranging from Macbeth to Hair. In total, the performers at Opus 40 have garnered 93 Grammy Awards, eight NEA Awards, an Academy Award, a National Medal of Arts, and a McArthur Genius Award.