Description
Leave work on Friday, September 22, for an excursion with Mixolo.
Come meet future Mixolo host and founder of Active Excursions, Steve Kopelman, at the organization's outdoor learning center,
Piedmont Learning Center,

in Gwynn Oak, Maryland,

only a few yards from the edge of northwest Baltimore City. It's an urban dweller's delight and getaway. As always, you can attend a Mixolo event with or without a plus-one. Come solo; you'll find your plus-some.


Couldn't get enough of the solar eclipse? Get out and celebrate fall's equinox, the moment the sun crosses the celestial equator – the imaginary line in the sky above the Earth's equator – from north to south. Maybe not THE moment, but we'll celebrate the first day of fall with a cider toast (alcohol content, your choice) and take a short hike to take in the grounds of this hidden gem right outside of historic Dickeyville and flanked by the beautiful 64 acre Gwynn Oak Park. The sun sets at 7:02 PM that evening. Perfect.

Steve, on the right, in beekeeping gear, as he instructs WMAR reporter, Megan Knight (left), in safety measures for exploration of the learning center's apiaries. He'll give us a peek!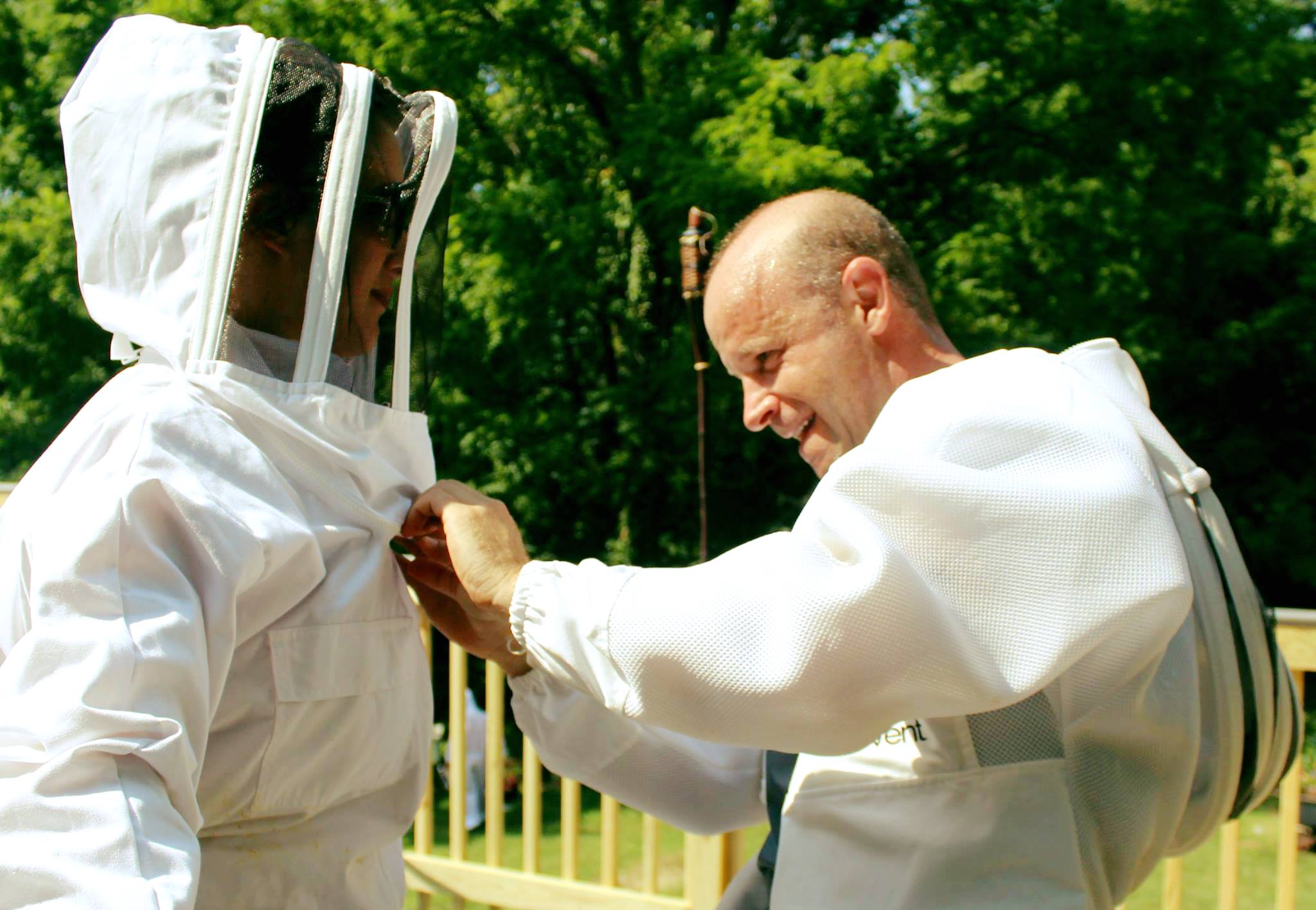 Active Excursions and Mixolo will be partnering on events for the adventurous and the curious. Steve's company organizes innovative and personalized local, regional, national and international excursions for groups, from local hikes and kayaking adventures to traversing the Appalachian trail, exploring the Chesapeake Bay and scuba diving in the Bahamas.
If you can think of it, Active Excursions can make it happen. Active Excursions promotes outdoor and environmental education and responsible stewardship of the environment and our valuable natural resources, through experiential and FUN workshops and trips where people can find connection with others and with nature.
Active Excursions goes indoors, too. We'll book DIY activities at cool maker spaces and tech-leaning immersive adventures and simulations. Steve's target market, until Mixolo, has been primarily "corporate" or connected groups. He's ready to bring those same exceptional services to our groups of solos connecting likely for the first time.
Our caterer and yet another future Mixolo host:
Copper Kitchen, the Baltimore region's premier farm-to-table caterer, will regale us with in-season cider and light snacks. We'll provide a few beer and wine choices as well. Copper Kitchen is committed to sourcing ingredients locally. While Copper Kitchen's commissary is located in southwest Baltimore City, they have a notable presence at the Piedmont Learning Center Campus with a herb garden, the on-site apiary where they harvest they own honey, and a refurbished 160-year-old on-site smokehouse where they smoke our own meats.


FAQ:
Is this event restricted to Mixolo early adopter members and interested event hosts?
Yes. in order to attend this free event, we ask that you register with Mixolo in mind as a social network that you will consider joining or hosting. We are a network of solo adults pursuing the things we love to do and sharing enriching experiences with other like-minded adults.
How do I become a member and attend this event with Mixolo?
Membership is free. Mixolo will soon debut a multi platform app. We do not yet have a formal login and profile option on our current pre-app Web/Mobile site. When you register for this event, we will ask for basic identifying information that will automatically qualify you as an early adopter member and subscriber.
For more information about Mixolo, please visit mixolo.io
Are there ID or minimum age requirements to enter the event?
Minimum age for this event will be 18. ID may be required, as alcoholic beverages will be offered. Please be prepared to present your state ID or driver's license upon request.
What are my parking options?
Piedmont Learning Center has on-site and additional parking that will be handled by a parking service, should the need arise.

How can I contact the organizer with any questions?
Please contact us at wecare@mixolo.io with any questions.
How will cancellations be handled?
Attendee cancellation:
This event is a significant logistical undertaking with advance financial commitments for MIxolo. We ask that you please register with the intent of attending the event. Please let us know as far in advance as possible if you need to cancel so that we can fill your "seat" with other interested members.
Mixolo cancellation:
Since this is an outdoor event, we will notify you of an alternative date or venue if weather conditions are prohibitive.
Do we accommodate for food allergies?
We will do our very best to avoid nuts and traces of same, however, we cannot provide any absolute guarantees.
Important Notice:
Photos may be taken for promotional purposes for our web, social media and marketing materials. Mixolo is a real life social network; we want to minimize the use of stock photos and reflect the true essence of our MIxolo community. Your registration and attendance will imply your willingness to participate and your release of all photos for use in marketing and promotions for Mixolo, Inc.