Sales Have Ended
Registrations are closed
Thank you for your RSVP. We look forward to seeing you at Sculpture Park for Coco!
Sales Have Ended
Registrations are closed
Thank you for your RSVP. We look forward to seeing you at Sculpture Park for Coco!
Outdoor screening of Raya and The Last Dragon with a preview of the 2021 Colorado Dragon Boat Festival
About this event
Sunset Cinema is back and moving to Sculpture Park!
This summer, we have a great lineup of films made possible by Denver Film and pre-show entertainment presented by some fantastic local groups.
All events are FREE and suitable for the whole FAMILY.
Doors open at 6 p.m. with local food trucks on site curated by Mile High Festivals.
Opening performances hit the stage at 7 p.m.
Films begin at dusk.
Bring your chairs, blankets, family and friends down to Sculpture Park at the Arts Complex and enjoy the show!
THE FILM:
PG | 1h 30min.
Walt Disney Animation Studios' Raya and the Last Dragon travels to the fantasy world of Kumandra, where humans and dragons lived together in harmony long ago. But when an evil force threatened the land, the dragons sacrificed themselves to save humanity. Now, 500 years later, that same evil has returned and it's up to a lone warrior, Raya, to track down the legendary last dragon to restore the fractured land and its divided people. However, along her journey, she'll learn that it'll take more than a dragon to save the world—it's going to take trust and teamwork as well. Raya and the Last Dragon features the voices of Kelly Marie Tran as Raya, a warrior whose wit is as sharp as her blade, and Awkwafina as the magical, mythical, self-deprecating dragon named Sisu. Characters also include a street-savvy 10-year-old entrepreneur named Boun, the formidable giant Tong and a thieving toddler Noi with her band of Ongis.
THE PERFORMANCE:
Colorado Dragon Boat Festival will preview elements for their upcoming event on September 25 & 26, 2021, including Shaolin Hung Mei King Fu performing the traditional Chinese Lion Dance and more.
Shaolin Hung Mei Kung Fu offers a comprehensive system of martial practices intended to cultivate the defense skills, health, knowledge, character and spiritual development of its students. SHMKF bridges Eastern and Western ideals and people by exposing the greater metro communities to a variety of Chinese traditions.
About the Lion Dance - The legend behind the Southern Lion Dance teaches us that many generations ago, a peculiar animal appeared in the Guăn Dōng (廣東) province of China on the eve of Chinese New Year. Since the New Year is a time for celebration, the residents did not want to be troubled by this strange animal. The villagers decided to construct facsimiles of the animal to chase it away. The heads were made by painting paper covered bamboo frames and the bodies by sewing triangles of cloth together. During the next New Year, two-man teams together with drum, gong and cymbal players, roamed the province and scared what had been called the "nián shòu" (年獸) away, never to return. The legend has grown to mean that the performance of the Lion chases away evil spirits and welcomes good luck and good fortune.
Denver Taiko has been in existence for 45 years and is a community based organization committed to honoring and sharing Japanese drumming through performance, and providing an engaging creative outlet for those with interest in the art of taiko. Denver Taiko is a dynamic and propulsive event, a combination of structured rhythms and improvisational solos that roll together like thunder to stir your soul.
Throughout the years, Denver Taiko has performed across the United States in many different venues. Each performance provides the group an opportunity to share the Japanese culture and spirit to those in attendance.
Please consider donating to Colorado Dragon Boat Festival. By donating, you are supporting a mission of building bridges of awareness, knowledge, and understanding between the diverse Asian Pacific American communities and the general public through cultural education, leadership development, and athletic competition.
THE FOOD TRUCKS:
Mac 'N Noodles
Charlies Smoked Meats
Chevys Tacos
and more!
More information about the series and upcoming dates at artscomplex.com/summer21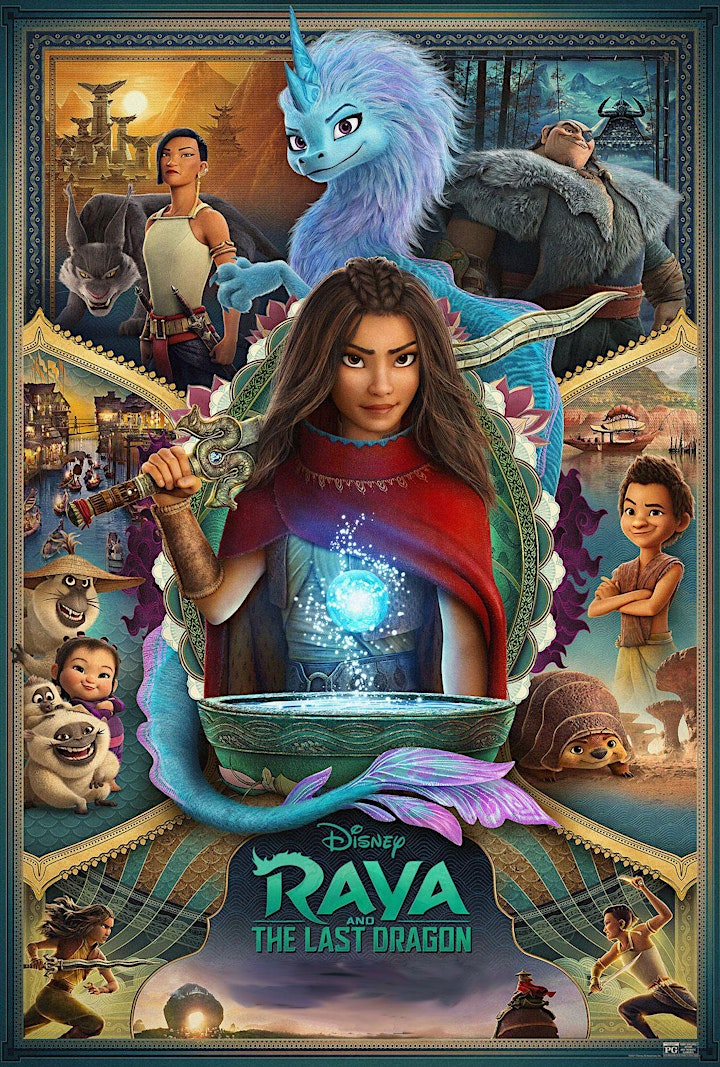 Organizer of Sunset Cinema: Raya and The Last Dragon
So that all may thrive, Arts & Venues enriches and advances Denver's quality of life and economic vitality through premier public venues, arts, cultural and entertainment opportunities.
Arts & Venues is the City and County of Denver agency responsible for operating some of the region's most renowned facilities, including Red Rocks Park and Amphitheatre, the Denver Performing Arts Complex, Colorado Convention Center, Denver Coliseum and McNichols Civic Center Building.
Arts & Venues also oversees the Denver Public Art Program, Create Denver, SCFD Tier III granting process, Arts Education Fund and other entertainment and cultural events such as the Five Points Jazz Festival, the Denver Urban Arts Fund, P.S. You Are Here and implementation of IMAGINE 2020: Denver's Cultural Plan.
Denver Arts & Venues is committed to diversity, equity and inclusiveness in all our programs, initiatives and decision-making processes.