Description
Red Newt Cellars is pleased to welcome back the Trilllium Trio (pianist Miri Yampolsky, Cellist Elizabeth Simkin and violinist Susan Waterbury)

Trilllium Trio musicians have been friends and collaborators for a decade. All three are active performers and teachers. Their charismatic playing style is full of expression and fine nuance. Come join them for a lovely early evening of music, food, wine, and company!

Trios for Piano, Violin and Cello
Beethoven C minor, Op. 1, No. 3
Brahms C minor, Op. 101

Pre-concert menu (served 4-5pm)
Butternut Squash Bisque cup 4 / bowl 6
Rememberance Farm spicy greens, toasted walnuts, Lively Run Chevre, and cider dressing 7
Potato and Cabbage Cakes topped with pickled ginger, maple soy sauce and spicy mayo 8
FLX Plate - Local cheeses and meats with seasonal condiments 14.50
Black Beans and greens over bulgur and leek pilaf with strained yogurt and chimi churi 12
Spiced chicken over chorizo beans and greens with cornbread 14
Bramley Apple Crumble 5

Doors open at 4pm (wine and food served), concert at 5pm
(Don't forget to turn back your clock Sunday morning!)
---
Miri Yampolsky made her orchestral debut as a soloist with the Israel Philharmonic Orchestra and maestro Zubin Mehta at the age of 16, playing Prokofiev Piano Concerto No.1.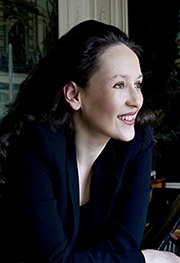 Since then, she appeared with the Jerusalem Symphony Orchestra, the Israel Chamber Orchestra, as well as the Mainz Symphony, Orquesta Sinfonica de Valencia, Chicago Chamber Orchestra, National Orchestra of Johannesburg, Cayuga Chamber Orchestra, the Peninsula Music Festival orchestra and Cornell Symphony and Chamber Orchestra. A first prize winner of the Valencia International Piano Competition Prize Iturbi in Valencia, and the ARD International Music Competition in Munich, Ms. Yampolsky is an avid and active chamber musician, with appearances in festivals such as Tanglewood; Ravinia; Davos; Berlin Festwoche; Tucson Winter International Chamber Music Festival; Olympic Music Festival; Icicle Creek Chamber Music Festival; Peninsula Music Festival; Hitzacker "Music Days"; Schwetzingen Festival; Sessa "Musica d'Insieme" ; Citta di Castelo; Klassikfest Kaisrstuhl; Lucena International Piano Festival and Salzburg's "Mozarteum".
Yampolsky's teachers include Hannah Shalgi, Michael Boguslavsky and Chaim Taub in Israel; Prof. Dmitri Bashkirov and Marta Gulyas at the Escuela Superior De Musica "Reina Sofia" in Madrid, and Leon Fleisher at the Peabody Institute in Baltimore. Yampolsky was a recipient of AICF scholarships between 1985-1996, and is on the faculty at Cornell University and is a co-artistic director of Mayfest. She lives with her husband, Xak Bjerken, and three children, Misha and Anna, and Maya.
Elizabeth Simkin joined the IC School of Music faculty in the fall of 1994. She has also served for seven summers on the artist faculty of the Bowdoin International Music festival. Prior to that, she was the teaching assistant and student of Janos Starker at Indiana University, Bloomington.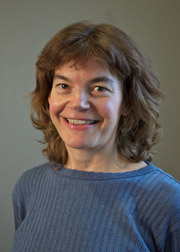 She received her Master of Music degree with the Performer's Certificate from Eastman with Steven Doane and her bachelor's from Oberlin with Richard Kapuscinski, where she won the John Katz prize in cello performance as well as the Oberlin Concerto competition.
As a United States Artistic Ambassador, Elizabeth has performed extensively in International recitals with pianist Karl Paulnack. She has held summer chamber music residencies at Tanglewood and at the Spoleto festival in Italy. She has been a returning guest artist at numerous chamber music festivals including: Olympic, Roycroft, Skaneateles, Chenango, Garth Newel, and Heifetz. As a founding member of Ithaca's New Music Group Ensemble X, she has toured to major concert halls and universities, and worked personally with many of today's leading composers.
Susan Waterbury, professor of Violin at the Ithaca College School of Music since 2000, teaches violin and performs as a recitalist and chamber musician. From 1995-99, Waterbury was Professor of Violin at the University of Memphis where she taught violin and performed with the Ceruti String Quartet.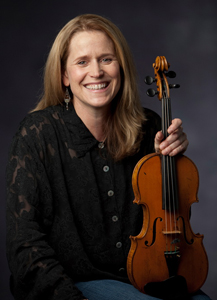 Previously, Waterbury was full-time Artist-in-Residence and Co-Artistic Director for the Garth Newel Music Center in Hot Springs, VA where she performed chamber music concerts year-round. She has also held positions with the University of California, Riverside Campus, and Oberlin Conservatory of Music.
Waterbury was a founding member of the Cavani String Quartet. The Cavani Quartet garnered many awards including first prize in the 1989 Walter W. Naumberg Chamber Music, and the Cleveland Quartet and Carmel Chamber Music competitions as well as earning prizes at the Banff International, Chicago Discovery, Coleman, and Fischoff competitions. As a member of Cavani, she performed and taught regularly for concert series and festivals throughout the U.S. and abroad for 11 years.
In recent summers, Waterbury taught and/or performed for The Quartet Program, Zeltsman Marimba Festival, the Adriatic Chamber Music Festival (Termoli, Italy), Deia International Music Festival, (Mallorca, Spain),Tuckamore Festival (Newfoundland, Canada), Bennington Music Conference (Vermont), and Garth Newel Music Center (Virginia).
Susan Waterbury earned a Master of Music degree from the Eastman School of Music and a Bachelor of Music from The Ohio State University School of Music which named her "Distinguished Alumna of 1995". She studied violin with Donald Weilerstein, Jens Ellerman, Michael Davis and Walter Levin and was coached extensively in chamber music by the Cleveland, Tokyo, Emerson, and Juilliard Quartets.

Waterbury also enjoys playing old-time fiddle and other improvised music with her banjo playing husband David Whiting, playing on her grandfathers fiddle.