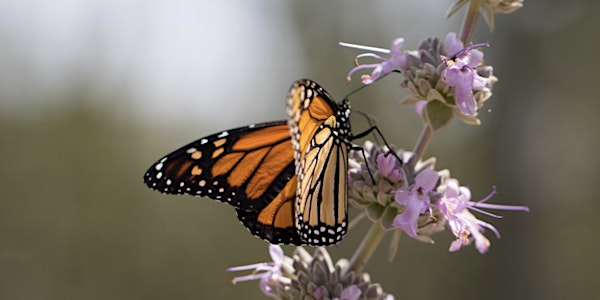 Sunrise Monarch Count Training with Richard Rachman and the Xerces Society
Location
Tongva Park
1615 Ocean Avenue
Santa Monica, CA 90401
Free training opportunity for those interested in learning how to count monarch butterflies for the Fall and Winter season
About this event
Western monarch butterflies are in trouble. These migratory monarchs have dropped from millions of individuals in the 1980s to just a few thousand in 2021. To keep tabs on how they are doing, we count migratory monarch butterflies that are "overwintering", or spending the winter in groups on branches in trees, on the coast of California.
Los Angeles County has over 25 sites where monarch butterflies cluster in groups on trees, most of the coastal cities in the county have sites. They survive through the Winter, occasionally feeding on nectar providing plants, waiting until Spring so they can find milkweed and lay their eggs of the next generation of butterflies.
Join Richard Rachman, the Los Angeles County volunteer coordinator for the western monarch count, for a sunrise monarch count training. The goal is to get more volunteers trained and ready to count monarch butterflies with the western monarch count this Fall and Winter. You will be trained on protocols, general ideas, and tips for monitoring migratory monarch butterflies. You will be learning how to contribute to community science and count overwintering monarchs for the Thanksgiving and New Years Count with Xerces Society.
Starting at sunrise, just like for an official count, you will need to bring binoculars and your cell phone. If you do not have binoculars, Nikon makes wonderful binoculars (Nikon Monarch Binoculars), but if you don't want to buy them immediately, your imagination is good enough for now. Please note that this will be a mock training demo in the middle of the summer, so don't expect to see any overwintering monarchs.
Please find the Xerces Society training video for monitoring overwintering monarchs (you are not expected to watch the entire thing), and instructions on how to download Survey 123, the app used to collect monarch data.
Those interested, please sign up and join us on June 18th, at 6:00 am in Tongva Park in Santa Monica. Please dress appropriately for weather and bring water.
https://www.westernmonarchcount.org/find-an-overwintering-site-near-you/
https://www.westernmonarchcount.org/training-videos/
https://www.westernmonarchcount.org/survey-123/