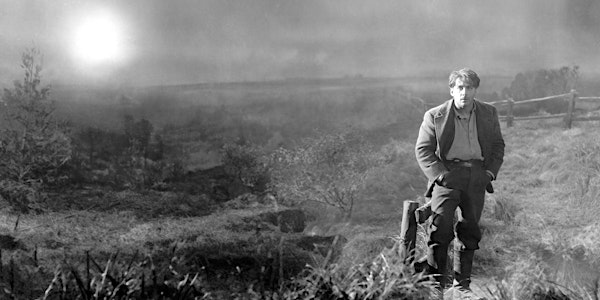 SUNRISE (35mm) + Live Score by JCD Ensemble @ The Million Dollar Theater
SUNRISE (35mm) + Live Score by JCD Ensemble @ The Million Dollar Theater
When and where
Location
The Million Dollar Theater 307 S BROADWAY LOS ANGELES, CA 90013
Refund Policy
Refunds up to 1 day before event
About this event
2 hours

Mobile eTicket

Paid parking
SECRET MOVIE CLUB presents
Part of our THE HEART WANTS Series, Saturday, February 25, 2022
LOCATION: The Million Dollar Theater, 307 S. Broadway, Los Angeles, CA 90013
*Please note we will be selling a limited number of parking passes for the Grand Central Market Parking Lot located on Hill Street between 3rd and 4th Street.
7:30pm SUNRISE (1927, dir. F.W. Murnau, Fox, USA, 95mns, 35mm)
Special Note: Tonight's 35mm screening in Los Angeles's very first movie palace will also be accompanied by a live original musical score by the JCD Ensemble! Come join us for our continued partnership of live musical accompaniment with a classic movie on 35mm in a movie palace!
We're thrilled to make our 35mm screening of one of the greatest movies ever made, F.W. Murnau's Sunrise, a yearly tradition. We return to the Million Dollar Theater Movie Palace (the very first movie palace built by Sid Grauman in Los Angeles) with live musical accompaniment by the Jack Curtis Dubowsky ensemble (who always put on a wonderful show).
Sunrise: A Tale of Two Humans revolutionized the way Hollywood made movies. German filmmaker Murnau had so blown away folks with Nosferatu and The Last Laugh that he was invited to come make movies in Hollywood. Murnau took full advantage of this opportunity to craft a movie that feels like the best of European art cinema and the best of classic Hollywood in one film.
Sunrise follows an estranged Man (George O Brien) and his loving wife (Janet Gaynor). The Man is having an affair with The Woman From the City (Margaret Livingston) who tries to use her powers of seduction to convince the Man to kill his wife and make it look like a boating accident.
Though the Man initially agrees to the murder when the moment comes on the lake, he. . .
Well, I always hate saying anymore because the movie suddenly takes such an unexpected, beautiful, miraculous left turn that the next sixty or so minutes leave you in a state of cinematic wonder.
Like his German made The Last Laugh, Murnau's Sunrise leans heavily into visual storytelling, cinematic use of atmospheric production design, shadows, depth to tell a relatively simple story with exhilarating cinematic style.
Like Citizen Kane would a generation later, Sunrise influenced an entire generation of moviemakers who now wanted to make movies that were both entertainments and joyously stylized.
At the heart of the movie though is a very powerful fable about human goodness, human love, and the forces and elements that challenge it.
Please join us for a night of cinema you'll remember your entire life.
Best always,
Craig Hammill
Secret Movie Club Founder.Programmer
*Please note that though we strive to always show titles on 35mm film if advertised, we may have to screen digitally if the print we receive is in such bad shape or if we don't receive the print in time because of a shipping delay. We will do our best to alert the audience. When this does occur, we will offer each ticket holder who chooses not to attend a complimentary ticket to a future event in exchange. (Disclaimer: Good for 90 days – Future screening must have available tickets, cannot be a fundraiser, and must be comparably priced)
FREQUENTLY ASKED QUESTIONS
REFUNDS:
We can offer refunds up to 24 hours before showtime. Please request a refund through Eventbrite and we will process ASAP. After that, no refunds. Sorry.
However if something last minute comes up and you can't make the screening, for whatever reason, just write to us before showtime: community@secretmovieclub.com and we'll offer you complimentary tickets to a future screening, good for 90 days. (Disclaimer: Future screening must have available tickets, cannot be a fundraiser, and must be comparably priced)
HELPFUL MILLION DOLLAR THEATER MOVIE PALACE PARKING TIPS:
If you are attending any or all movies on any given day, you can go to ADD ONS and pre-order an all day $6 Grand Central Parking Lot Pass (while SUPPLIES last). The Grand Central Parking Lot is at the corner of 3rd Street and Hill Street just 1 block from the Million Dollar Theater entrance on 3rd & Broadway.
HOW CAN WE STAY ON TOP OF NEWLY ANNOUNCED 35MM SCREENINGS, EVENTS, ETC?
You can follow us on Instagram/Twitter: @secretmovieclub or Facebook: @secretmovieclub35mm
You can also subscribe to our weekly email newsletter at secretmovieclub.com or by writing to us at community@secretmovieclub.com and using the header "SUBSCRIBE ME TO NEWSLETTER".
HOW CAN I CONTACT YOU IF I HAVE OTHER QUESTIONS/RECOMMENDATIONS:
You can always email us at community@secretmovieclub.com with any other questions, concerns, thoughts, recommendations.