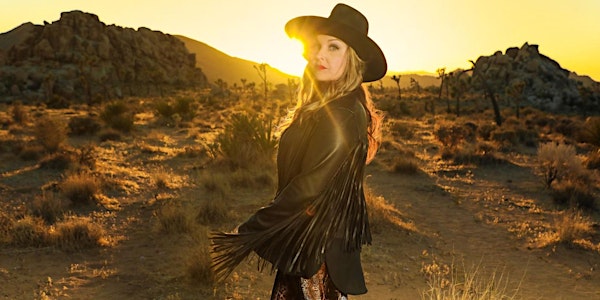 SUNNY SWEENEY
Sunny Sweeney at The Venue!
Date and time
Friday, July 7 · 8 - 11pm CDT
Location
THE VENUE 21 South Broadway Aurora, IL 60505
About this event
The Venue is pleased to present Sunny Sweeney , Friday, July 7 at 8pm. Doors open 7pm.
Advance Admission - Premium Seating - $20
Advance General Admission - $15
+ $5 at the Door   
ABOUT THE ARTIST
Sunny Sweeney, a genre-bending, songwriting spitfire who has spent equal time in the rich musical traditions of Texas and Tennessee, returns with Married Alone, the celebrated singer- songwriter's fifth studio album and the follow-up to 2017's critically acclaimed Trophy. Co- produced by beloved Texas musician and larger-than-life personality Paul Cauthen and the Texas Gentlemen's multi-hyphenate Beau Bedford, Married Alone is Sweeney's finest work yet, bringing together confessional songwriting, image-rich narratives and no shortage of sonic surprises for a loosely conceptual album about loss and healing.
Married Alone began as most of Sweeney's projects do: with a visit to her deep vault of unreleased songs. Since debuting with Heartbreaker's Hall of Fame in 2006, Sweeney has been a prolific writer, writing whatever is on her heart rather than with a particular project in mind. That habit afforded her a rich well of material for Married Alone, some of which is over a decade old.
"I have a lot of older songs that still make the cut of like, 'Am I gonna put this on a record?' And I always start with those songs, songs that have been important to me for whatever reason. And then I try to build around that. It doesn't necessarily have to be around a theme, butsometimes it turns out to be that there is one."
Opener "Tie Me Up" declares that, despite its loose theme, Married Alone is not a somber record, with Sweeney in full spitfire mode and cheekily declaring to a would-be suitor, "You can tie me up, but baby you can't tie me down." Cauthen's and Bedford's production especiallyshines on the track, which would sound at home at a roadside juke joint or in front of thousands of fans at a festival.
Cauthen joins Sweeney on "A Song Can't Fix Everything," one of the album's rawer moments. "That song can't bring my mother back to life," Sweeney sings at the song's start, before recounting the many ways that music may be able to transport us to the past but can never fix it. "Want You to Miss Me" is an honest take on the complexities of a difficult breakup, with Sweeney's nimble vocal wavering between defiance and doubt. "Easy as Hello" is Sweeney's writing at its finest, channeling the heartache that comes with the end of a treasured relationship, for a track that recalls — vocally and lyrically — the work of Stevie Nicks.
"Someday You'll Call My Name" reads as a break-up kiss-off — and it's a great one, at that —  but the song, pulled from Sweeney's vault, was originally inspired by her early days as a musician, longing to be recognized by major country institutions like the Grand Ole Opry. She and co-writer Brennen Leigh reworked their 10-year-old version of the track to better fit
Married Alone, and that session helped set the tone for what would become the full album. The full potential of the album really revealed itself, though, when a friend sent Sweeney a demo of what would become its title track, "Married Alone." Though she wasn't a co-writer on the track, Sweeney felt her own story reflected in its lyrics. The song, which features a particularly emotional guest vocal from living country legend Vince Gill, charts the painful moments sometimes experienced in marriages that have run their course.
About the organizer
At The Venue, we book nationally-recognized talent in all genres of music from blues and big band, to rock and world music, and everything in between. Frequently, our opening acts feature regional and local musicians and songwriters. Our listening room seats 200 with no obstructed views, and our outdoor stage area can fit several hundred festival fans.
The Venue is operated by the Fox Valley Music Foundation, a 501(c)3 non-profit organization dedicated to music education, promotion and preservation.
Please check our website for information about parking. Enter from Water Street Mall. No reentry through the Broadway Street entrance. (Reenter through Water Street.)