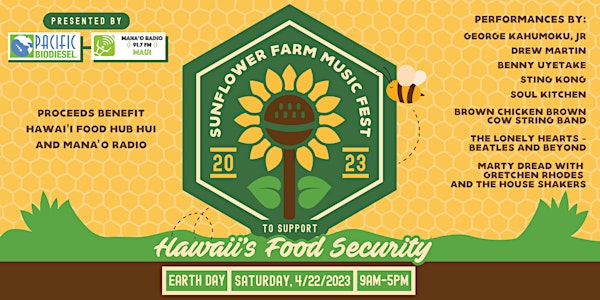 Sunflower Farm Music Fest 2023
This live music and farm tour event will support Hawaii's food security – featuring Maui musicians, healthy food and blooming sunflowers!
By Pacific Biodiesel + Mana'o Radio
Date and time
Saturday, April 22 · 9am - 5pm HST
Location
Pacific Biodiesel Technologies Sunflower Farm Hawaii 380 Wailuku, HI 96793
About this event
Pacific Biodiesel & Mana'o Radio are presenting the "Sunflower Farm Music Fest" to support Hawaii's Food Security on Earth Day – Saturday, April 22, 2023 – from 9AM to 5PM. This all-day live music and farm tour event will raise funds and awareness for Hawaii Food Hub Hui, which encompasses 14 food hubs around the state that work together to support Hawaii's small and mid-sized farms. The event will also raise funds for non-profit Mana'o Radio, Maui's only independent, commercial-free, all-volunteer radio station.
This benefit farm tour and festival event will take place at the family farm of Pacific Biodiesel founders, Bob and Kelly King, in Maui's Central Valley where a 35-acre field of sunflowers is planned to be in bloom.
Tickets are $100 each* and must be purchased online in advance. Parking will be a $5 minimum donation per car at the gate (cash only).
To learn more and watch video performances of the Maui musicians scheduled to perform, visit the Mana'o Radio website here.
During this event, attendees will be able to view the sunflowers, take part in farm tours, and visit the on-site Farm Stand to purchase products manufactured from local sustainable farming operations, including Maiden Hawaii Naturals culinary oils and Kuleana® cosmetic (including CBD) products. Booths will be hosted by participating non-profits to share information about their organizations. Food partners, including Moku Roots and ʻĀina Tacos, will sell menu items prepared with Maiden Hawaii Naturals culinary oils and other local ingredients; unique food experiences during the event will showcase the food hub model.
Even if you are not planning to attend the event, you can still support the cause by making a one-time donation of any amount. Select the red "Get Tickets" button and follow the instructions.
100% of ticket sales and donations from this site, as well as a portion of the proceeds from farm stand and food sales during the event, will benefit Hawaii Food Hub Hui with a portion of proceeds going to Mana'o Radio.
At The Event: Seating under the event tent will be provided. To minimize waste, please bring your water bottle to refill at complimentary water stations on site. No alcohol or coolers. Visitors to the farm are encouraged to wear comfortable, closed-toed shoes. Please use caution while walking on site; this is a private, working farm with uneven ground and rocks. Wearing hats and reef-safe sunscreen is also recommended at the farm site, which can be hot and windy. No pets or strollers, please.
Farm Tours on biodiesel-fueled vans will be provided by Hawaii Tours at scheduled times throughout the event. Due to limited availability, these complimentary tours must be reserved in advance and are on a first come, first served basis. When purchasing your ticket, please indicate your interest in making a farm tour reservation and our team will be in touch with you to coordinate those details.
Festival T-Shirts: By popular demand, we are selling t-shirts featuring the event logo! Shirts sold online in advance are $20 each and are ONLY available when purchased with an event ticket. Select the red "Get Tickets" button to buy your ticket and scroll down to order your shirt. Shirts are only available for online purchase before 9AM HST on Sunday, April 2 and must be picked up by the ticketholder at the Mana'o Radio booth at the event (bring your e-ticket shirt receipt). All sales are final; no refunds will be offered for shirts purchased online in advance. A limited supply of shirts will also be available for purchase at the event for $30 each. Proceeds from shirt sales will go to Mana'o Radio.
Parking: Parking will be a minimum $5 donation (cash only) per car at the gate; donations go to American Red Cross whose volunteers are helping to staff the event and medic tent. Due to limited parking at the farm, carpooling is encouraged. A complimentary cut sunflower bloom will be given with each parking donation. Vehicles must enter the farm through the main gate located on Honoapiilani Highway just north of the Kuihelani Highway intersection (look for the yellow gate near the silver farm silos). As a reminder, the State has posted no parking signs on both highways along the perimeter of the farm. The farm gate will open at 8:15AM.
For more information, call Pacific Biodiesel at 808-866-5101 or info@biodiesel.com.
To learn more about Hawaii Food Hub Hui, the nation's first and only food hub group of its kind, visit the Hawaii Good Food Alliance website here or watch this Empowered Hawaii feature on KHON2.
Mahalo to our Sponsors: Hawaiian Electric, Maui Tropical Plantation, Fairmont Kea Lani, King Power, Michael and Deborah Rybak, Pacific Current, Gay & Robinson and Maui Screen Printing.
We would also like to recognize these community-minded businesses and individuals for their support: Maui Brewing Company, Kihei Ice, Justin Morris, Inspired Success Magazine, Lisa Chappel/Posterchild Productions, Artistry8, Sugarcane Dane, HI Spice, Horovitz & Tilley LLLC, Brain Performance Maui of Galler Rimm Behavioral Health, Manawai Farm, Lowenthal & Lowenthal, and Harmer Communications.
*$100 ticket price excludes Eventbrite service fees, which will be added onto the ticket price at checkout.
All sales are final. There are no refunds or exchanges for purchases or donations made on this site. This benefit concert's lineup of musical performances and/or performance times are subject to change. If the event must be canceled due to inclement weather or other unforeseen circumstances, buyers of event tickets will have the option to receive a full refund, excluding Eventbrite fees. Ticket proceeds will be donated to the 501(c)(3) non-profit Hawaii Good Food Alliance (for its Hawaii Food Hub Hui) with a portion of proceeds donated to 501(c)(3) non-profit Mana'o Radio; your email receipt will serve as a record of your tax-deductible donation.
The 2023 Sunflower Farm Music Fest is presented by Pacific Biodiesel and Mana'o Radio. Pictured above are Michael Elam (left), Board President of Mana'o Radio, alongside Kelly and Bob King, founders of Pacific Biodiesel. The field of blooming sunflowers shown here is at the King's family farm in Maui's Central Valley where the all-day benefit concert will be hosted.
Agenda
9:00 AM - 9:45 AM
Lei'ohu Ryder blessing & George Kahumoku, Jr.
10:00 AM - 10:45 AM
Drew Martin
11:00 AM - 11:45 AM
Benny Uyetake
11:45 AM - 12:15 PM
Intermission; Remarks by Event Hosts and Special Guests
12:15 PM - 1:00 PM
Sting Kong
1:15 PM - 2:00 PM
Soul Kitchen
2:15 PM - 3:00 PM
Brown Chicken Brown Cow String Band
3:15 PM - 4:00 PM
The Lonely Hearts – Beatles and Beyond
4:15 PM - 5:00 PM
Marty Dread with Gretchen Rhodes & the House Shakers