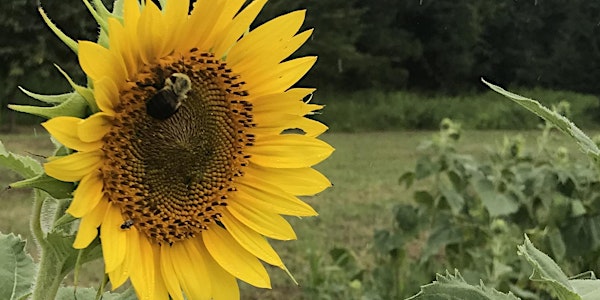 SunFest at Dix Park
When and where
Location
Dorothea Dix Park Flowers Field 2105 Umstead Drive Raleigh, NC
Description
Information for Saturday:
We are looking forward to seeing you at SunFest tomorrow, July 14, from 2-7 p.m. Feel free to come and go as you please.
Here is what to expect:
Sunflowers! There are still plenty of good-looking sunflowers in the field, just waiting to have their picture taken with you!
Food Trucks! Seven delicious food trucks are cooking up sunflower themed menu items.
Music! Local bluegrass band Shiloh Hill will bring their catchy melodies to the park and take the stage at 5:30 p.m.
Beer! Trophy and Bull City will be bringing their unique, tasty beverages to this event.
Crafts! We have amazing arts & crafts artists who will have the perfect item you have been looking for!
Fun! From performance artists, to crafts for the kids, to cornhole, to fun educational activities, we will have plenty to keep you busy.
Here's what you should bring;
A filled, reusable water bottle.
A blanket or chairs to sit on.
Picnics are welcome, but we do encourage you to visit the food trucks.
Friendly, leashed dogs are welcome to attend, but please bring a water bowl for Fido. It will be crowded and hot, so please use your best judgement to determine whether Rover enjoys festivals as much as you do, or if he would rather stay home in the A/C!
Your patience! We are expecting a large crowd. Please carpool or take alternative methods of transportation to the park. Please DO NOT park in the grass or in the fields. You may need to park on the hospital side of the park and walk to Flowers Field.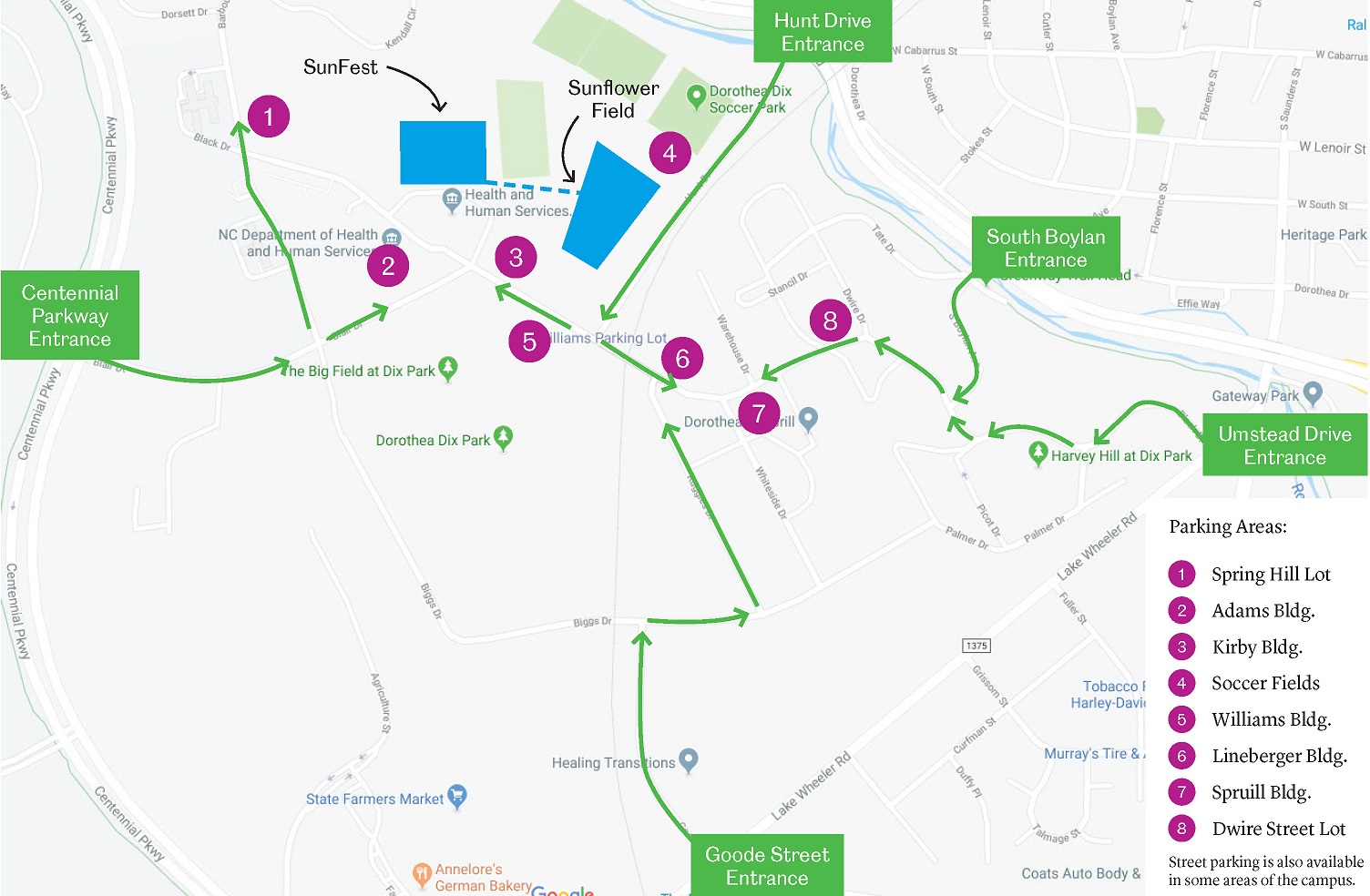 Get outside and celebrate summer at Dix Park!
We will have something for everyone to enjoy at this event, including live music, arts and crafts, performance artists, vendors and amazing food trucks! There will also be a special surprise!
SunFest runs from 2-7 p.m. Arrive anytime and stay as long as you like.
Food trucks are cooking up special menu items that you can only find at SunFest! Come dine at Sarge's Chef, Curry in a Hurry, Gussy's Greek, Rare Earth Farms, Poblano's Taco, Lumpy's Ice Cream, and Cocoa Forte! Trophy Brewing and Bull City Cidery will be pouring their brews, too!
Bring the kids and make some fun arts and crafts, sponsored by Parks, Recreation and Cultural Resources, Scrap Exchange and Home Depot!
Shop the local arts, crafts and artisan food product scene as we bring 25 creative businesses to the park! You're bound to find the perfect item for yourself or a fun gift for a friend.
We'll even have a photo booth on site so you can capture a snapshot of the day!
Finally, join us for a bluegrass concert featuring the hit band Shiloh Hill from 5:30-7 p.m.
Please note, this program will involve walking on grass, on uneven surfaces, across all forms of terrain.
Registration is not required, but it does help us to know how many guests to expect.
Liability Waiver
City of Raleigh - Parks, Recreation and Cultural Resources Department
Release, Covenant Not To Sue, and Indemnity Agreement
I understand that participating in Discover Dorothea Dix Park – Program (hereinafter "Program") involves risk of injury. These risks include, but are not limited to, inclement weather, accidents while traveling, equipment problems or failures, contacts with and actions of other participants, spectators, or volunteers, slips/trips/falls, and musculoskeletal injuries, among others. I choose for myself, for my child, or for another participant who I am enrolling, to participate in the Program despite these and other risks. Pictures or video may be taken of participant for use in program publicity. My email will also be used to keep me informed of Dorothea Dix Park communications.
By signing this form, I acknowledge all risks of injury, illness, and death, and property damage, and affirm that I have assumed all responsibility of injury, illness, death, and property damage relating in any way to the Program. I also agree for myself and for any child or other participant who I am registering herein to follow all rules and procedures that may apply to the Program and to follow the reasonable instructions of City employees and other supervisors of the Program. In return for the opportunity to participate in this Program, I agree for myself and for the child or other participant I am registering, and for our heirs, assigns, executors, and administrators to release, waive, and discharge any legal rights that any one of us may have to seek payment or relief of any kind from the City of Raleigh, the North Carolina Department of Health and Human Services, and the State of North Carolina, their employees or their agents for injury, illness, or death relating in any way to this Program.
If I am registering a minor for the Program, I agree that I am a parent, legal guardian, or am otherwise responsible for the minor whose application I am submitting and that I release, waive, and discharge any legal rights on behalf of that minor. If I am registering an adult, I agree that I am authorized to do so and do hereby release, waive, and discharge any legal rights on behalf of that adult participant. I, along with any participant I register herein, also agree not to sue the City of Raleigh, the North Carolina Department of Health and Human Services, or the State of North Carolina, their employees, or their agents and agree to indemnify the same for any and all claims, damages, losses or expenses, including but not limited to medical expenses and attorney's fees, if a suit is filed concerning an injury (to person or property), illness, or death to me or to any participant I am enrolling that relates to, or results from, participation in the Program.
I have read this document thoroughly and understand that by registering for this program I am waiving legal rights.