Location
India Basin Shoreline Park
950 Galvez Avenue
San Francisco, CA 94124
The SF Bicycle Coalition and the SF Parks Alliance are teaming up for a special bike ride edition of Sundown Cinema!
About this event
Join us as we'll be giving out free bike lights and blue and green bike accessories while offering a safe, guided, and leisurely bike ride from India Basin Shoreline Park and back for a free screening of the Disney motion picture, Encanto. Why blue and green bike accessories? Nothing says a bike ride through the Blue Greenway more than having your bike being decked out in our favorite color-combo (extra points if you come dressed up in all blue and green as well)!
This family-friendly ride will stop at a few sites along the Blue Greenway showcasing San Francisco's southern waterfront and network of parks. The San Francisco Bicycle Coalition will also be issuing complimentary memberships for participants on behalf of the San Francisco Parks Alliance (see tickets for more information). Arrive at 6:00 pm to check in and enjoy an assortment of snacks and refreshments provided by the SF Parks Alliance. The ride will kick off at 6:30 pm.
About the Blue Greenway: In collaboration with local organizations and public agencies, SF Parks Alliance is revamping efforts around the Blue Greenway: an initiative that will connect the13 mile long by a mile wide worth of waterfront parks, public spaces, and communities along San Francisco's southeast waterfront, from Oracle Park south to Candlestick Point.
Route, Map, and Details: ~ 5.5 miles
Bike Route will begin at India Basin Shoreline Park at the roundabout on Hawes St., travel north to Crane Cove Park and will end back at India Basin Shoreline Park for the screening of the movie (screening begins at about 8:00 pm). If you're unable to join us at the beginning of the ride, you're more than welcome to join us at Crane Cove and continue onward for the second half of the event.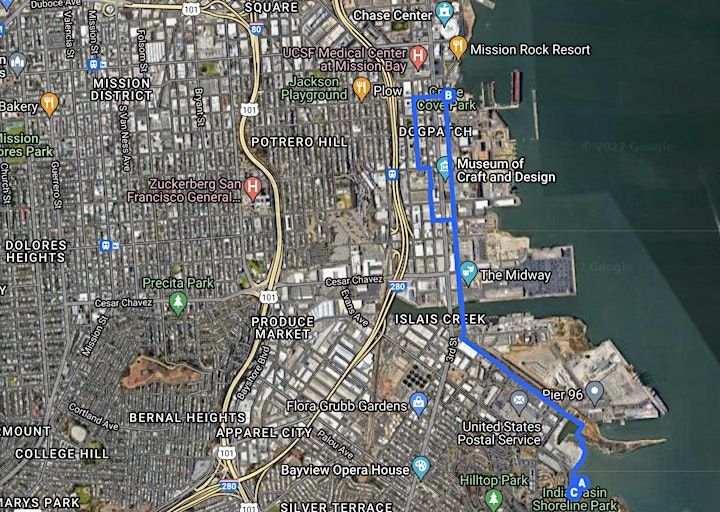 Need a bike? Bay Wheels is offering a limited number of classic bikes for registered participants. If interested, email Chris at christian@sfbike.org to secure your FREE Bay Wheels bike code.
Bike Parking: Please note that bike parking at India Basin Shoreline Park can occasionally be difficult to find. You're more than welcome to bring your bike onto the grass for the screening of the movie and are encouraged to find bike parking wherever available.
COVID Protocols: We encourage everyone to take the safety measures they find most appropriate while participating. Wearing a mask is not required, however, participants may choose to wear a mask for added protection from COVID-19. For more information please reference the guidelines provided by the San Francisco Department Public of Health.