Description
Slow Art Day is an international celebration aimed at encouraging the public to engage with art at a more relaxed pace. The National Glass Centre has put together a series of events to accompany the art works on view, which you will be able to enjoy at your leisure, and for free.
At 1pm you can join artist Simon Pope to hear about his work involving walking and memory, and at 3pm there will be a screening of Michael Snow's 16mm film Wavelength in the University's Media Centre Cinema, next to the National Glass Centre.
You will also have the chance to take a longer look at The National Glass Centre's current exhibition, Mirror Neurons. The exhibition includes works in a range of media; digital video and animation, electronics, glass, and fibre-optics, by established and emerging visual artists.
UK artist Simon Pope will talk about his work Recall from Memory the Space of Another Gallery, which is part of Mirror Neurons. The artist's work – an empty gallery space - does not 'exist' until you participate in it.
Simon Pope will also discuss other of his works including a project with the BBC's digital archive, his Webby award for a piece of web-browsing software, and his experiences of walking 26 miles with hundreds of different people while they remembered Olympic moments for a film called Memory Marathon.
Michael Snow is a Canadian visual artist, filmmaker, musician, composer, writer and sculptor, and is recognised as one of the world's most highly acclaimed experimental filmmakers. His work is held in the collections of Musée National d'ArtModerne (Paris), National Gallery of Canada (Ottawa), and the Museum of Modern Art (New York).
For Slow Art Day, curator Sarah Cook will present a one-off screening, in collaboration with Lux, the London-based distributor of artist's film and video, of Michael Snow's important 1967 film Wavelength. This original avant-garde structuralism film is the basis for Snow's more recent work WVLNT: (Wavelength for those that don't have the time) Originally 45 minutes Now 15!! (2003) which is currently on view in the Mirror Neurons exhibition.
There will also be a family workshop from 10am-noon, where participants can create artworks using light-sensitive paper exposed in the sun, inspired by the work of Joe Winter, visible in the Long Gallery. To book contact the National Glass Centre on 0191 515 5555.
Also as part of Slow Art Day an education film project created by young people from Sunderland, called Slow Marathon, will be screening throughout the day in the National Glass Centre's Pod.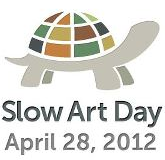 Slow Art Day is a worldwide celebration of art that encourages people to look at art SLOWLY – and thereby experience art in a new way. You can see more about Slow Art Day and the mission behind it on our website: http://SlowArtDay.com.
Host: Sarah Cook, contact Sarah via e-mail
Organizer of Sunderland Slow Art Day - The National Glass Centre - April 28, 2012
The Fresno Art Museum is located in the heart of Fresno, near the intersection of Clinton and First Streets, next to Radio Park. 
Exhibitions include contemporary and modern art and photography and ethnographic and cultural exhibitions which reflect and celebrate the diverse population of the San Joaquin Valley. The Museum is also home to very large and impressive collection of Pre-Columbian artworks from Mexico and what is now modern-day Peru. It is the only museum in Fresno accredited by the Americian Alliance of Museums.
In addition to thought-provoking and exciting exhibitions, the Fresno Art Museum provides the region's 1.6 million residents with a forum for contemporary and modern issues as they relate to art and culture, films, concerts, lectures, docent tours, and symposia to enlighten, educate, and entertain its visitors.
Over 14,000 people from across the Valley and around the world visit the Museum each year.