"SUNDAYS AT CAFE TABAC" GAY PRIDE 2015 FUNDRAISER EVENT

Wednesday, June 24, 2015 from 6:00 PM to 11:59 PM (EDT)
Event Details
#back2tabac
A SPECIAL GAY PRIDE SOIRÉE
Sponsored by  

 WANDA ACOSTA & KAREN B. SONG
 INVITE YOU TO A FUNDRAISER FOR
"SUNDAYS AT CAFÉ TABAC"—A Documentary Feature Film    www.cafetabacfilm.com
HOST COMMITTEE: Hilton Als, BETTY, Alan Cumming, Lea DeLaria, Patricia Field, Catherine Gund, Kelly Gunn, Jean-Marc Houmard, Michael Musto, Meshell Ndegeocello, Eve Salvail, Julie Tolentino, Patricia Velasquez, K8 Hardy & Pati Hertling, Leslie Cohen & Beth Suskin, Edris Nichols & Toni Weeks, Mickalene Thomas & Racquel Chevremont
 WHEN: WEDNESDAY, JUNE 24TH 2015; 6PM – 12AM; 6-7PM VIP Early Access Admission
 WHERE: UP & DOWN, 244 WEST 14th ST. NYC
ADVANCED TICKETS: $75 GENERAL, $250 VIP  
TICKETS AT THE DOOR: $100 GENERAL, $300 VIP
 EVENT WEBSITE: cafetabacfilm.com/pride2015 (check for latest updates)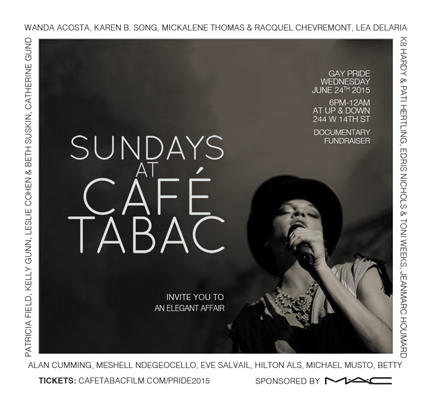 THIS ELEGANT SOIRÉE will bring together a multi-generational, diverse, creative and influential community of lesbians, celebrities 
and their allies in the LGBTQ and art communities, and beyond. It will be a celebration of the documentary film "Sundays at Café Tabac," which honors the STRONG BOLD BEAUTIFUL FASHIONABLE WOMEN, and the VIBRANT CULTURE OF DOWNTOWN NYC IN THE EARLY '90s.
Guests will be transported to a sultry salon 
where they can imbibe, lounge and dance 
the night away to the soulful music provided by the original Café Tabac DJ SHAREE NASH and celebrity DJ BELINDA BECKER. The evening's  FEATURED ENTERTAINMENT will be provided by the titillating DUANE PARK BOUDOIR 308 DANCERS, hosted by SOPHIA URISTA and guests. This uninhibited performance is sure to generate a buzz.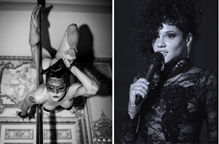 VIP's have early access to the event, exclusive prime lounge seating with the best views of the room and performance, as well as other exclusive offerings to be announced. Hors d'Oeuvres will be provided by INDOCHINE.
A SILENT AUCTION will be featured in-venue and online. Artist included are: MICKALENE THOMAS, FRANCESCA GALLIANI, LOLA FLASH among others. Goods and services include hotel packages at: TRIBAL HOTEL, NICARAGUA, TRES SIRENAS BEACH INN, PUERTO RICO, and THE VAGABOND HOTEL, MIAMI, plus much more.
Title Sponsor

Media Sponsor 

   Event Sponsor 

Event Partners 


Participants to date  





Photography Courtesy of Suzanne Abramson
*
The event is a fundraiser for the documentary feature film "Sundays at Café Tabac."  The film is about an unforgettable weekly salon that ran on Sunday nights between 1993-1995 for a community of some of the most distinguished lesbians around then and now, in New York's East Village at Café Tabac, notorious for the caliber of its celebrity clientele on any given night. The salon ran during a new and heightened era in lesbian visibility and empowerment, and AIDS, LGBTQ and feminist activism. The film tells the story of this community and its relationship to an era that has not been historically or narratively documented from the point of view of lesbian women. This event aims to continue to build a community around this film, announce the project to a wider public, generate dialogue around the film and the themes/issues it addresses, as well as raise funds to complete the film.
Why is it important to support this documentary film?  Until LGBTQ history is taught in schools and in the history books that schools use, we rely on and thus must support documentaries and all forms of art, literature & media by and about LGBTQ people. It is crucial to preserve and tell LGBTQ history from an LGBTQ point of view as diverse as it is; otherwise it will all be forgotten or told by others with outsider perspectives and/or agendas. Time forgets so quickly and then poof, we disappear and so does our place in history, unless you take action with this simple step… come party with us! And/or donate now at the link on top of this page.
Click here for a work in progress TRAILER for the film.
Tax-Deductible Donations to the project can be made at cafetabacfilm.com/donate
 FOR MORE INFORMATION ABOUT THE #backtotabac EVENT AND THE FILM
 CONTACT: info@cafetabacfilm.com
   www.cafetabacfilm.com
    Find us on Facebook & Twitter as "CafeTabacFilm"
FINALLY, AN ELEGANTLY IMAGINED PARTY FOR LESBIANS DURING PRIDE! DON'T MISS OUT. BE ABLE TO SAY YOU WERE THERE!
When & Where

Up & Down
244 West 14th Street
New York, NY 10011


Wednesday, June 24, 2015 from 6:00 PM to 11:59 PM (EDT)
Add to my calendar