Sunday Supper - Community Dinner - Block Party! | Montclair's Antioch Court...
Description
Sunday Supper - Community Dinner Al Fresco

Montclair Village Village Plaza - Antioch Court Beautification Campaign

Meet & Greet with Neighbors and Local Officials

April 7, 2019, 4:30-7:30pm (Free Parking in the Montclair Garage on LaSalle Garage)

Antioch Court and Mountain Blvd. in Montclair Village

Ticket includes one drink ticket and a dinner plate with gluten free and vegetarian options.
Family Style Spaghetii Dinner with sauce options [ red (vegan), bolognese (meat), pesto (vegitarian)]; fresh garden salad (vegan); buttered La Farine Bakery garlic bread (vegitarian); + some extra treats
(Adults 21 and over have a choice of beer, wine, or soft drink included. 21 and under soft drink included)

Full bar on the street for additional beverages to purchase.

Join local leaders and representatives, fellow Brick Supporters, School and Community Groups, Montclair Merchants, Montclair Village Association, Montclair Safety and Improvement Council, and Sponsors.

Dinner will be seved from 4:30-7:30, Sit and eat anytime with friends, neighbors, and members of the community
Event Agenda:
- Community Dinner Buffet with live music from Skyline Jazz Band,, Pacific BoyChoir Academ, Montera Cheer Team
- Live performance from the Beat Seekers
- Remarks by Representatives Councilmember Sheng Thao, School Board Member Gary Yee, Event Chair Nina Senn, and Montclair Village Association Director Daniel Swafford
Antioch Court Improvement Project Update - Campaign Leaders Pat Harden, Toni Mikulka - How To Support Montclair's Beautification Efforts

Culinary Selections Sponsored by Kouzina, Lucky's, Le BonBon, and Safeway, La Farine Bakery
Beverage Selections Sponsored by Oakland United Beer Works and Urbano Cellars, Q Craft Soda
Flower Decor Sponsored by Flower Outlet
Community Tables Sponsored by Bay Alarm, Nina Senn, the Omand Family, Flair Travel
___________________________________________________________________

MORE PROJECT DETAILS:
Montclair Village's Antioch Court Streetscape Project Update

1) SUMMARY:

The Antioch Court Improvement Plan Campaign is construction ready and working to secure $700k to the goal of approved City of Oakland funding beginning in the July 2019 Budget.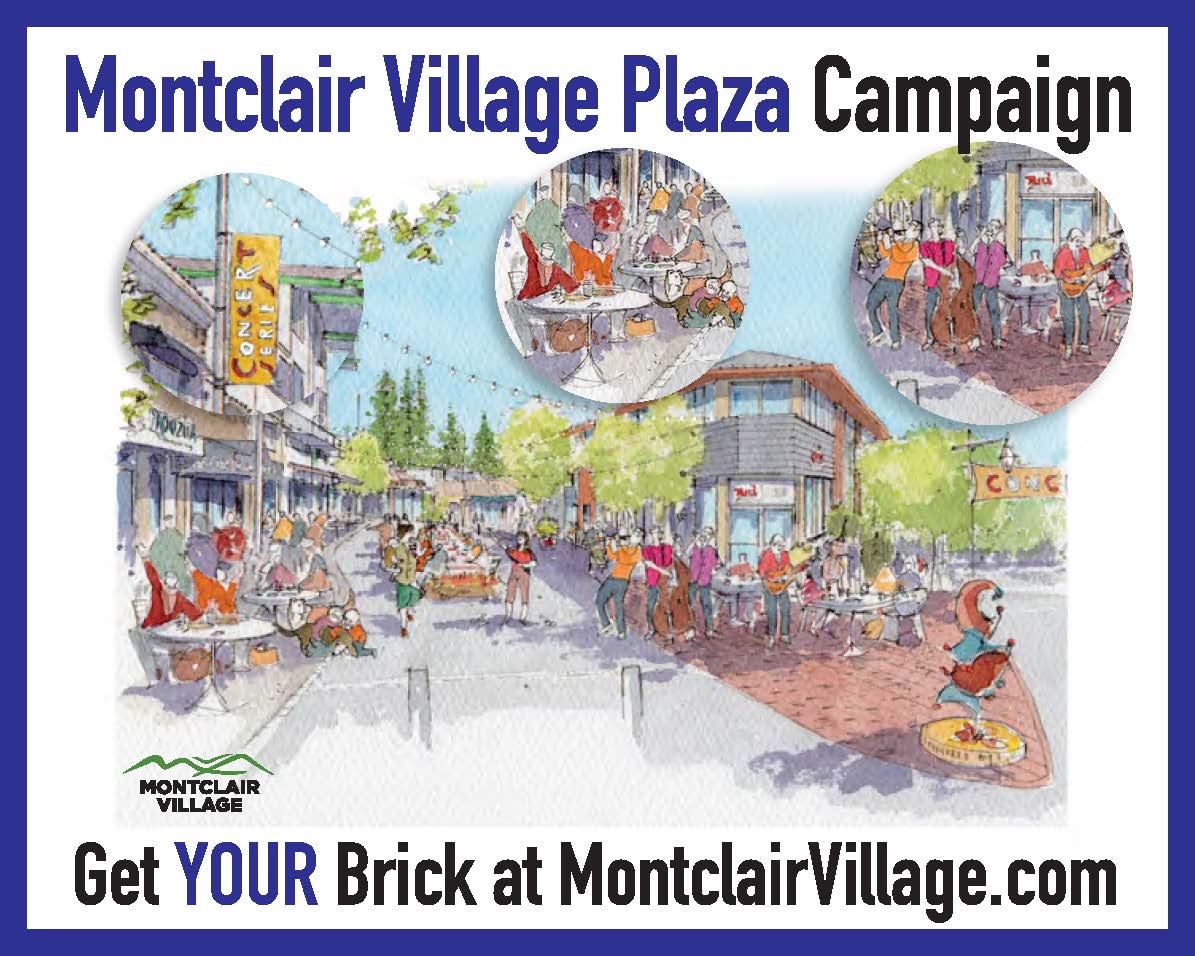 2) UPDATE:

In 2011 the Montclair Village Association (MVA) launched a necessary campaign to rebuild Montclair's beloved Antioch Court to address pedestrian, bicycle, and transportation safety issues and build a public destination, showcase venue, and community event space to become a popular haven, featuring locally owned shops, art galleries, restaurants, cafes, and boutiques. The Antioch Court streetscape over the past decade has deteriorated to a dilapidated and structurally challenged section of urban infrastructure.

With an initial fundraising goal of $700,000, the MVA, local Montclair merchants, concerned citizens of Oakland and elected officials, seek to:


Ameliorate a dangerously sharp blind turn from Mountain Blvd. onto Antioch Court and calm traffic

Beautify and repair Antioch Court's crumbling walkways rife with tripping hazards

Repair deep gauging pothole trenches and unlevel roads for pedestrian and cyclist safety

Increase bike safety on the city bike route with improved access to bike racks

Improve street crossing for seniors, youth, and all mobilities

Create a pedestrian plaza to serve as a dynamic community and cultural junction benefiting all of Oakland and drawing patrons from across the East Bay.

In 2017, the MVA successfully completed a Phase 1 "shovel ready" Construction Plan. With $28,000 secured in sponsored sidewalk brick sales, and a generous $90,000 grant from the City of Oakland's Bicycle and Pedestrian Advisory Commission, the shovel ready and ready project is completed and ready for construction bids, with a newly assessed development cost setting the fundraising goal to $750,000.
Seeking In 2019-2020 Budget:

Now, with an expanded fundraising goal of $750,000 for construction costs, the MVA is setting a Phase II Community Fundraising Challenge for an additional $250,000 to elevate the social impact of Antioch Court with a celebratory event and festival series upon ribbon cutting in late 2020.

Funds raised will go directly to ensuring the successful build of the new streetscape and a lively community event showcase featuring programming for all ages, art and cultural activities, culinary expos, safety fairs, and This benchmark goal will be achieved via local business sponsorships, individual contributions, and sponsored brick donations. It is an excellent opportunity to further engage local Montclair residents and merchants with a vested interested in improving village streetscapes for patrons, clients, and service providers.
Brick by Brick supporters helped the project get this far and we can not thank our donors enough for their patience and understanding as we moved closer to making this dream a reality over the last five years.

We are in process of securing much needed construction funding from the City of Oakland Department of Transportation, and may call on you to put your voice behind this vision as we compel Oakland Mayor Schaaf, the City Council, and our DOT to invest in Montclair and build Antioch Court! Thank you for supporting the vision to create a delightfully safe magnificent community hub on Antioch Court!

3) WHAT'S NEXT:

It is in YOUR Court, help reach the Community Fundraising Challenge, formally launched on April 7th with a family style dinner banquet buffet on Antioch Court. We invite you to join, participate, and engage! Stay connected to the project and become more involved as a sponsor, email: Toni@MontclairVillage.com


4) SUPPORT ANTIOCH COURT:
Make a tax deductible contribution online, become a "Brick by Brick" supporter or leave a lasting legacy in Montclair by becoming a major sponsor of Antioch Court. Share a message that will last for decades for your family, or your brand. To become a sponsor of the Anitoch Court Streetscape and Montclair's Beautification Campaign, please e-mail Toni@MontclairVillage.com See the full list of sponsor options here: montclairvillage.com/antioch-court-improvement-plan

"Brick By Brick" Supporter Options:
4 x 8 Brick with up to 3 lines of personalized text: $125.00

8 x 8 Brick with up to 6 lines of personalized text: $225.00

8 x 8 Child Art Brick with up to 2 lines of personalized text: $400.00

8 x 8 Custom Logo Brick with up to 2 lines of personalized text: $400.00
5) COMMONLY ASKED QUESTIONS:
Q: Will Antioch Court be permanently closed to traffic?
A: No. The option to temporarily close the court for special events will be available with retractable bollards.
Q: Will we be losing parking spaces?
A: The Antioch Court Streetscape Project removes one parking space on Antioch Court however increases two spaces on the Mountain Blvd. side in front of Starbucks. Thus a net gain of one spot.
Q: How will this impact traffic?
A: The Antioch Court Streetscape Project increases safe traffic flow by preventing a left turn from Antioch Court to Mountain Blvd. and instead continues onto Mountain Blvd. to La Salle for your left or right turn.
Q: How does this project increase pedestrian safety?
A: Antioch Court Streetscape Project increases the crosswalk visibility by shortening the crossing length, adding a more contrasting surface treatment and better pedestrian lighting. The plan also levels the crossing surface and moves the crosswalk between Starbucks and Tutti Frutti Yogurt to provide visibility for motorist.
Q: How do I keep up with Antioch Court news?
A: Send an email to info@MontlciarVillage.org with your name, level of interest in the project, and any specific information you would like to share with the committee.

6) READ ALL ABOUT MONTCLAIR VILLAGE AND ANTIOCH COURT:

MERCURY NEWS ARTICLE ABOUT ANITOCH COURT 9/2014

EAST BAY TIMES ARTICLE ABOUT ART, FOOD, AND WINE FESTIVALS IN MONTCLAIR 6/2018

EAST BAY TIMES ARTICLE ABOUT LUCKY'S IN MONTCLAIR 12/2018

EAST BAY TIMES ARTICLE ABOUT MONTCLAIR CLEAN UP DAY FOR EARTH DAY 4/2017

MERCURY NEWS ARTICLE ABOUT MONTCLAIR'S HOLIDAY STROLL 11/2017