Location
Spaces Queen West
180 John Street
Toronto, ON M5T 1X5
Canada
Sunday Showers is Canada's first ever business Shower, one that celebrates all of the major milestones in a woman's life.
About this event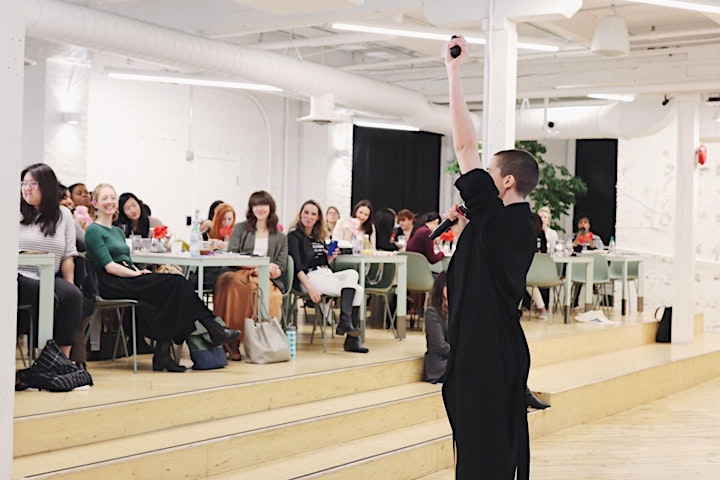 Join us for new kind of Shower, one that celebrates all of the major milestones in a woman's life.
Don't get it twisted: this is NOT your typical Shower. Whether you're considering taking your side-hustle full-time, you're neck deep in your life as an entrepreneur, or you are looking to level up in your career this event is for those entrepreneurial folk who are ready to level-up their business, invest in themselves, and celebrate their milestones.
Join us for an all-day intensive development workshop where you'll walk away knowing how to start something from nothing, how to nail product-market fit and how to price accordingly, how to maximize your company's growth potential, how to build community around your movement, and how to prep yourself, your fine mind, and your finances.
Expect the standard Shower fun, minus the cheesy shower games. More luxe than cucumber sandwiches, fruit trays, and there will definitely not be homemade flower hats.
We can't wait for you to join us for the Sunday Showers workshop series!
Theme:
We will be talking about the importance of leaning into you: How to Build a powerful personal brand that's authentic and true to you and your audience 〰️ We know personal branding can come off icky 〰️But there is nothing icky about the day we have created just for you. We have selected the best group of women to facilitate this conversation as well as teach us their ways.
Speakers:
Tracy Moore - TV Host at CityLine
Sage Franch - CTO and Founder of Crescendo
Kenzie Brenna - Actress and Speaker
Morgan Eliz - Founder of Wifi Warriors Mastermind
Erin Leydon - Photographer
Jennifer Singh - Founder at She's Newsworthy Media
Rebecca Perrin - Chief Writer and President at Brand Editor
Chanéle McFarlane - Founder of Do Well Dress Well
Kat Gaskin - Founder of The Content Planner
Additional Information
Sunday Showers is a day to celebrate YOU and celebrate you and shower you with knowledge. All of the workshop sessions, meals, and refreshments are included when you RSVP to Sunday Showers. After attending Sunday Showers, you'll be invited to the Sunday Showers slack channel where you can continue to connect, learn and celebrate with our growing community.
Sunday Showers Community
Thanks to our Shine Sponsors we are able to offer 5 tickets at 50% off for people from underrepresented groups. If you are interested in learning more about this please reach out to us directly at joinsundayshowers@gmail.com
RSVP Ticket Purchase
Prices are in Canadian dollars and 13% Harmonized Sales Tax will be charged on top of the ticket price. Sunday Showers tickets are non-refundable.