Multiple Dates
Sunday Mass at Transfiguration of Christ Parish
Sunday Masses are open! Seating is open for all communities.
About this event
Masses for 6:30 AM, 8:30 AM, 10:30 AM and 5:00 PM.
Seats are open for all communities on a first come, first serve basis. Walk-in and online registration are both accepted.
Because of the recent quarantine restrictions, attendance is limited to 10–30% (60–180 persons) of total capacity.
This online registration closes at Sunday 12:00 MN.
Coordinators
8:30 AM - Srs Ditas Tanyag and Venus Duran
10:30 AM - Srs Jo Yanga and Glo Alejo
5:00 PM - Sr Mitch Judan and Bro. Boy Lerit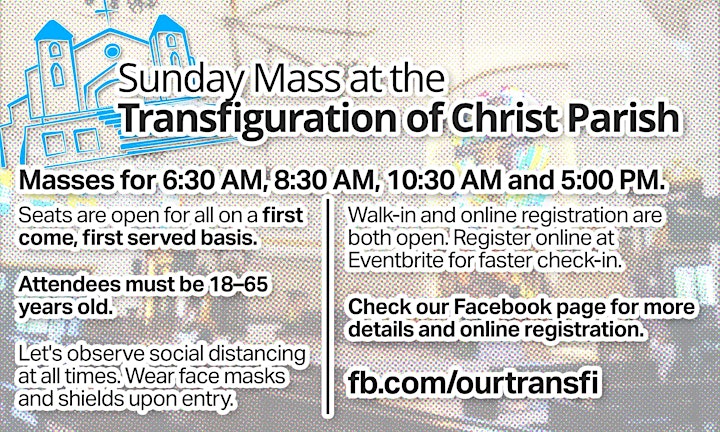 Safety Protocols
To be able to attend mass, you must qualify with the safety protocols of the Parish and the rules laid out by the IATF.
All attendees must be 18–65 years old.
Wear your face mask and face shield at all times.
Upon entry:
Temperature should not exceed 37.5℃.
Sanitize your hands. Sanitizers will be provided at the premises.
Step on the foot bath upon entry.
Once you're inside the church, occupy the front-most unoccupied seats, and observe social distancing at all times.
Registration
Here in Eventbrite, you can register ahead of time to speed up the process of getting inside the premises. The health disclosure form will be answered here instead, and you'll only need the temperature check on arrival.
Please note that registration is not reserved seating, nor does it guarantee a seat — seats are on a first come, first serve basis.
If all of the above are met, attendance is okay and the instructions are as follows:
Register through Eventbrite. Tap Register to get started. You will need an email to register.
At the start of registration, choose the time of mass that you want to attend. Please choose only one timeslot.
Press Checkout.
Enter your Contact Information (the registrant) and the Registration Information for each attendee. All attendees have to answer the provided health disclosure form. (TIP: If you cannot Checkout, make sure all fields are all filled up. (ex: Prefixes as Mr. Mrs. or Ms. is easy to miss))
Please note that the ticket/s will be provided to the email indicated in the Contact Information section.
You're done! Check your email for the Registration Confirmation and present it upon entry in the premises. (A digital copy in your phone, or a paper printout are both accepted).
At the Church
If you have registered here: tell the coordinators in-charge that you've accomplished the Eventbrite form, simply go inside, have your temperature checked and take a seat.
If you have NOT registered here, you will need to accomplish the health disclosure form in addition to the steps described above.
Organizer of Sunday Mass at Transfiguration of Christ Parish