Experience Afro-Peruvian Jazz Music Every Sunday!
About this event
Our guests have asked to bring back our brunch, and we have, better than ever!
Minton's Playhouse is the legendary landmark jazz spot in Harlem, New York City. Hosted by Gabriel Alegria and his Afro-Peruvian Sextet, this jazz brunch is the perfect Sunday experience you've been waiting for!
If you enjoy fun food, drinks, jazz, and world music, this is a New York City "must see" experience!
There is nothing like this anywhere else. Harlem guaranteed. If you want to impress friends, significant others, family and co-workers, this is the place for you to enjoy yourself and your company. It'll be like everyone's birthday is happening at the same time every Sunday!
Our Jazz Brunch has two shows starting at 12PM and 2PM.
BUY YOUR TICKETS NOW!
1st Performance:
Doors Open at 11:30AM
Show Starts at 12PM
2nd Performance:
Doors Open at 1:30PM
Show Starts at 2PM
Presale Tickets: $30 (include complimentary welcome Peruvian Pisco Drink!)
Tickets: $35
($20 Minimum Spend Per Guest)
(Notice: We enjoy promoting on our social media pages. You may be seen in our promotions!)
About Afro-Peruvian Jazz Music:
The Gabriel Alegria Afro-Peruvian Sextet
Minton's carefully partnered with a pioneering Latin American artist in New York City to create this authentic Jazz Brunch Experience!
Highlights from the Press:
"The Afro-Peruvian Sextet knows its mission well and has the execution down to a science."
--The New York Times
"to be loved by progressives and block-party dancers alike"
--Downbeat Magazine
"a well conceived and perfectly executed celebration of culture through music."
--The New York City Jazz Record
"rhythm-saturated, orchestrally-enticing performances that are the definition of sonic joy."
--Latino Magazine
"the visceral excitement is as palpable as the listener's own racing heartbeat"
--The Latin Jazz Network
"An immersion in the black music of Peru's coastal regions."
- Time Out New York
"a fascinating glimpse into how jazz is fusing with regional music around the world"
- LA Weekly
"A new chapter in the history of Latin Jazz"
- Rifftides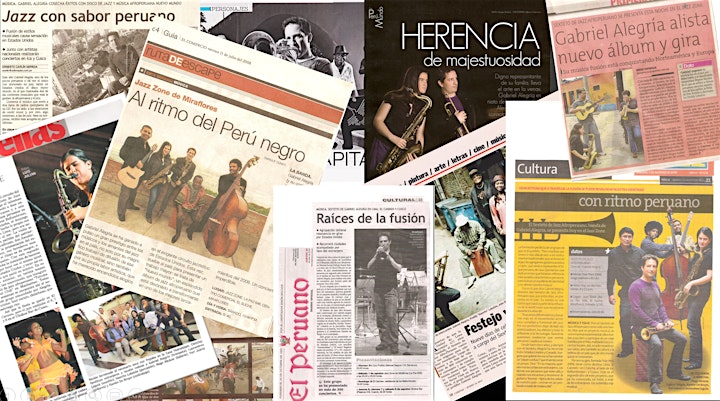 The Afro-Peruvian Sextet was established in 2005. The ensemble's insistently inventive program of traditional Afro-Peruvian music transformed by Gabriel Alegría's highly personal synthesis of folkloric Afro-Peruvian rhythms, jazz, and other musical strains has led to a signature accomplishment: developing the band's patented blend of deep scholarship and playfulness into a touring experience that conveys a vast knowledge of the music and, perhaps more importantly, transmits black music from coastal Perú as a way of life to its audiences.
The Afro-Peruvian Sextet has produced seven CDS, one documentary film and one vinyl record to date. Their audiences come from all over the globe.
During your Jazz Brunch experience, you may even be invited to participate in Tour Perú, an innovative concept by which fans of the band literally join the musicians on the road on tour in Peru for 10 days!
With home bases in Lima and New York City, the band has been embraced by both cities. Hot House Magazine awarded the band New York City's "Best Ensemble of the Year" award and the New York City Jazz Record "Best Latin Jazz Album."
The band has successfully developed and consolidated a thriving "scene" around Afro-Peruvian jazz music. The Latin Jazz Network described the band in this way:
"Every once in a while there comes a musician who, when playing his or her chosen instrument, seems to carry within a vital life-force that is irrepressible."
All we need now is you...
Can't wait to see you at our jazz brunch!