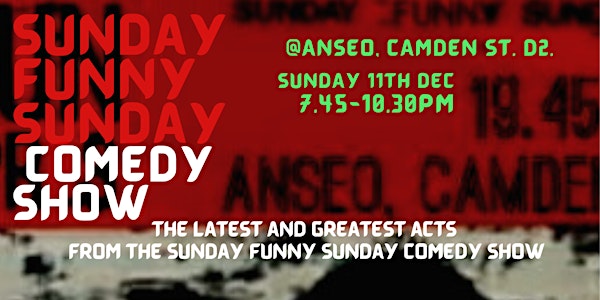 Sunday Funny Sunday Comedy Show 11th December
Come and see the best and up and coming stand up acts on the Dublin comedy scene - trying out new material.
When and where
Location
Anseo 18 Camden St Dublin 8 Ireland
Refund Policy
Contact the organizer to request a refund.
About this event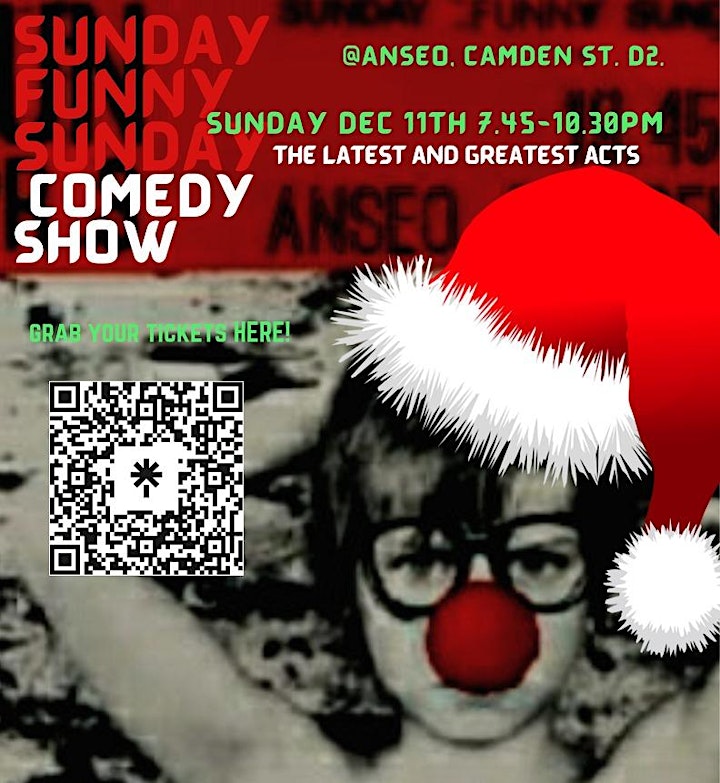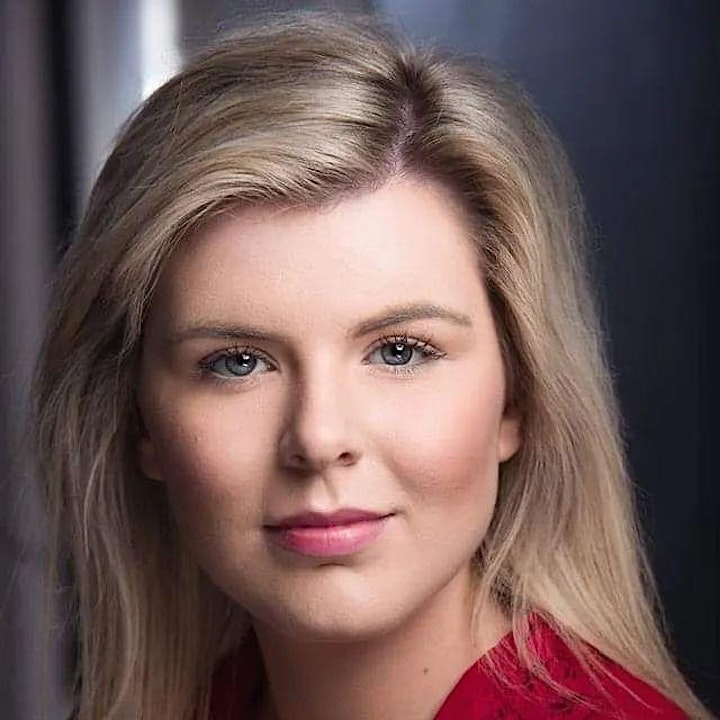 Our show on the 11th of December is really taking shape and taking the stage on the night will be...
Taran O Sullivan started comedy in 2019 and was a 2020 funny women semi finalist. She also recently appeared in Oliver Callans show Callans Kicks the year and came third in this years Bray New Comedy Act of the Year
Don't miss out on this great gig!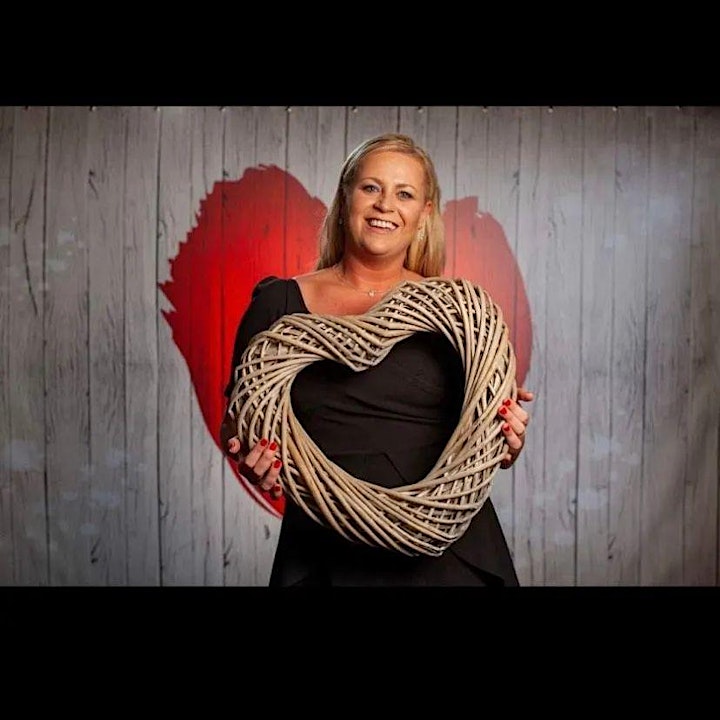 Guess what? @jesscollinscomedy will be there! Recently returned from her debut performance at Wiseguys Comedy Club in Las Vegas, Jess is enjoying her stand up journey with each gig she does. She feels privileged to share the stage with some of the comics she has seen perform over the past 5years, and she is thoroughly enjoying her comedic journey. Hosting at this years Galway Comedy Festival, having made her debut last year, Jess loves a room full of strangers as, as she likes to put it "you never know who will create the humour out there beyond the stage, people are hilarious!"
Another brilliant line up on the way - Stay Tuned!
We will be posting the acts as we confirm them.
Get your tickets fast before they sell out!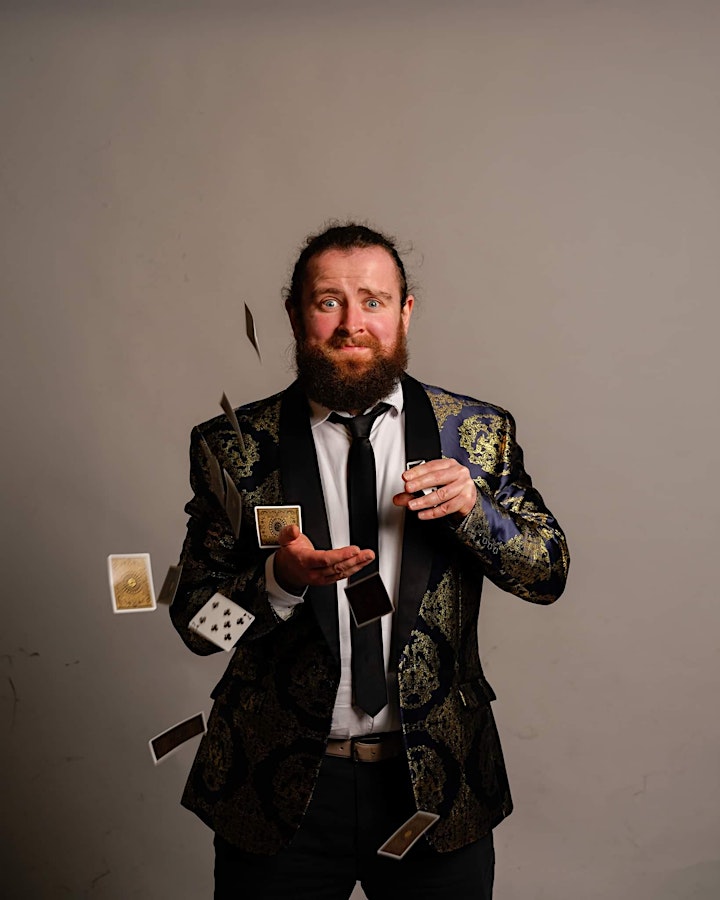 Alex J. Byrne (Edinburgh Fringe Festival, Lucan Festival, Night and Day Festival) is a comedian from Dublin, Ireland.
He has performed comedy around the world and has headlined comedy clubs in Ireland, the UK, Canada, Germany and the US.
Alex also creates comedy sketches on Instagram with fellow comedians Jack McKenna and Betsy Speer with their sketch "Frank and Paudie: The American Cousin" being nominated for best sketch and this year's Dublin International Comedy Film Festival.
Instagram: @alex.j.byrne
"Absolutely incredible act. Go check him out!" - 3 Bucks Left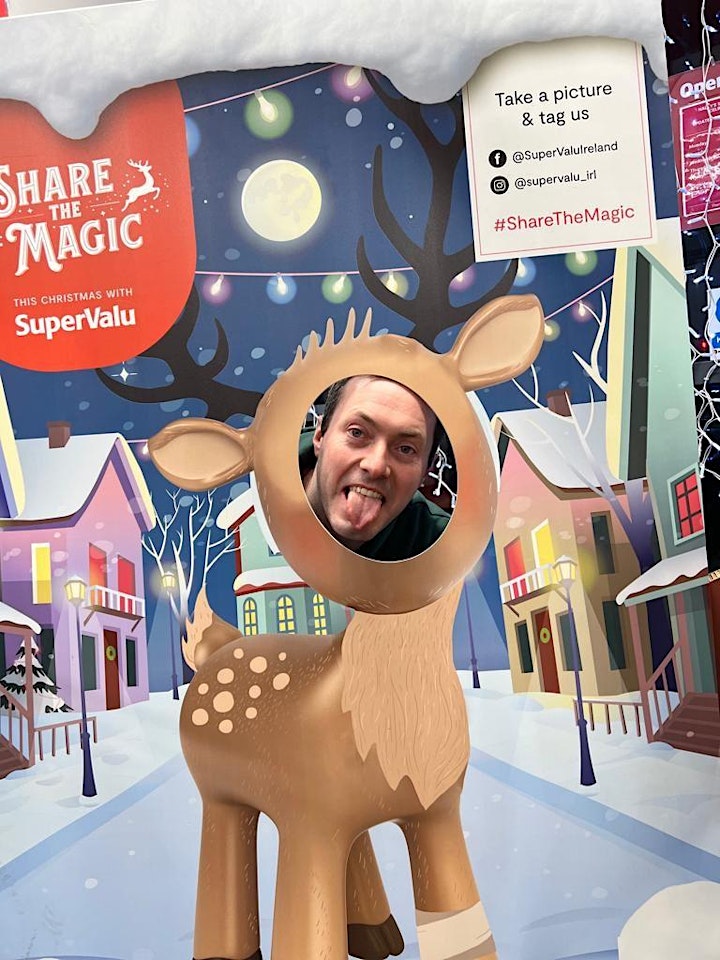 Co-creator Colm Denham will be MCing on the night. Colm is unknown throughout the country for no appearances on late night television. His meandering style of dark stand up comedy disgusts and delights audience on occasion. Most of his opinions are derived from antiquated texts such as Will by Will Smith. He also runs a Sunday Funny Sunday and has been performing comedy for several years.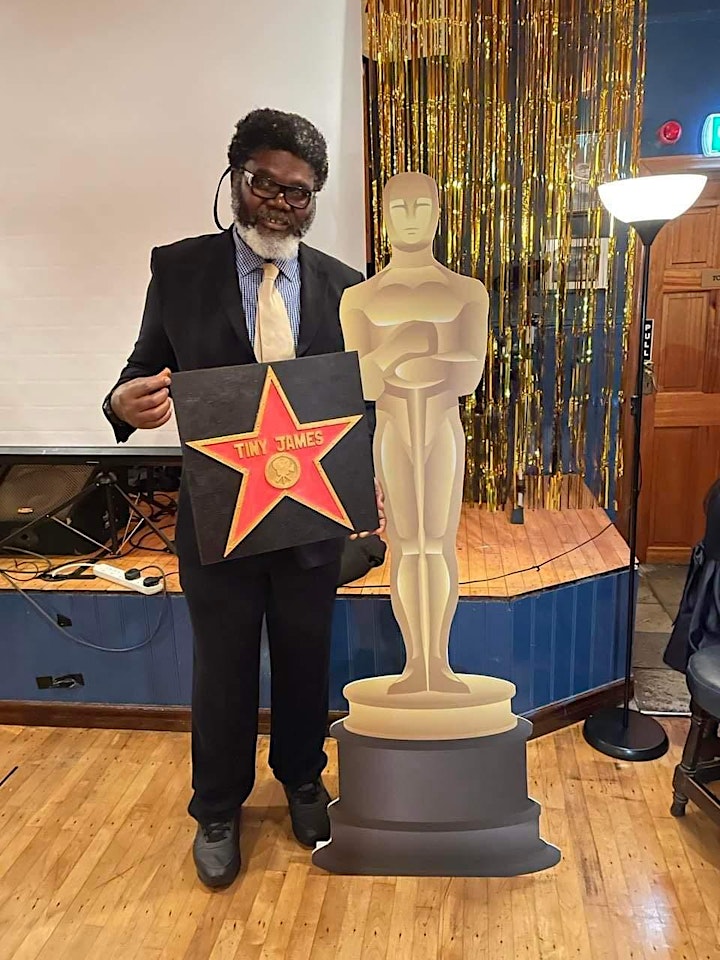 Our Speial Guest just added to the bill!
It's...Tiny James!
- Hailing all the way from Africa, Tiny James. Is an actor and a stand up comic. Tiny James has performed stand up comedy in places such as Vicar St. with Des Bishop, Ha'Penny Bridge Inn bar, International Bar, The Woolshed, appeared on PJ Gallagher 2008 and 2009 stand up DVD and many more. He did his first stand up comedy in hospital in front of doctors and nurses when he was just one minute old. He came to Ireland just eleven days ago, to hunt the Celtic Tiger, only to find that the tiger is wounded and dying!
- as a past graduate of the You Talk Funny workshops he is only too glad to come back and show them how it is done!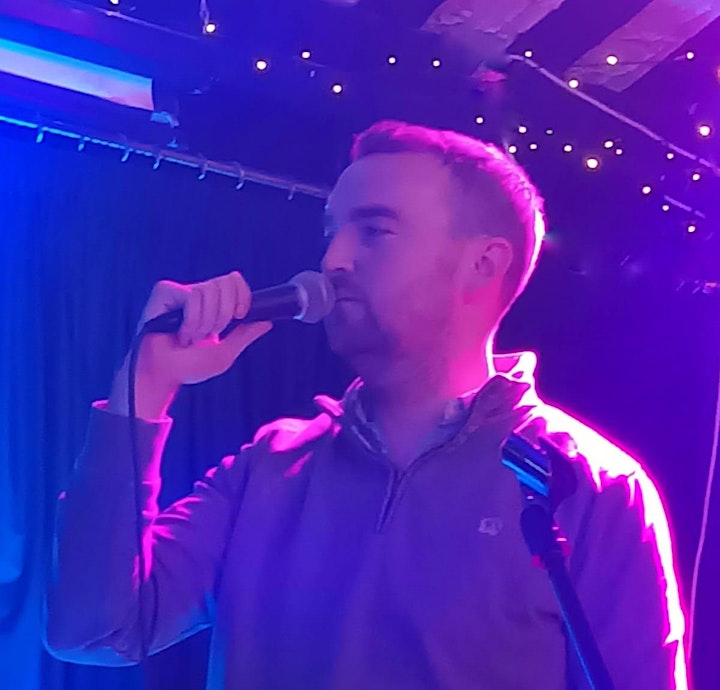 John Joe Jacobs is a comedian from Monaghan.
He has performed in Germany, Austria, Hungary and all over Ireland. He recently won the H'penny Bridge Box Comedy competition and the Bray Good Craic competition.
His comedic style is dry and dead pan.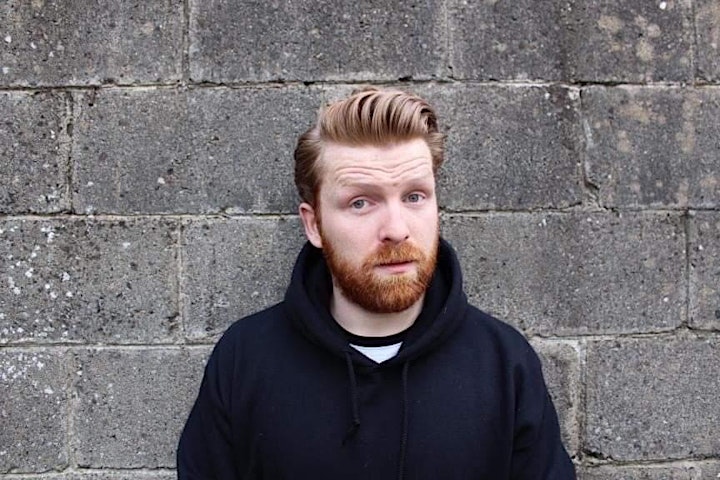 Another day, another great act announcement. Returning on the 11th in Anseo will be high flying Dubliner @redsaucecomedy. Craig Moran is Irish Comedian that started doing stand up late in life at 27 in the year 2018. He was the funny kid in a family of seven, he was the class clown in school and was always the funny friend in in his circle. All of this prepared him to do stand up comedy when he finally quit his bar management job and pursued his dreams of being a comedian. Craig is a regular in all the major comedy clubs in Ireland, gigging with some of the best acts the country. On stage he is ridiculous, silly and has a lot of energy when he tells stories or he gets into a bit. He also hosts weekly Quiz and Bingo events in the city centre.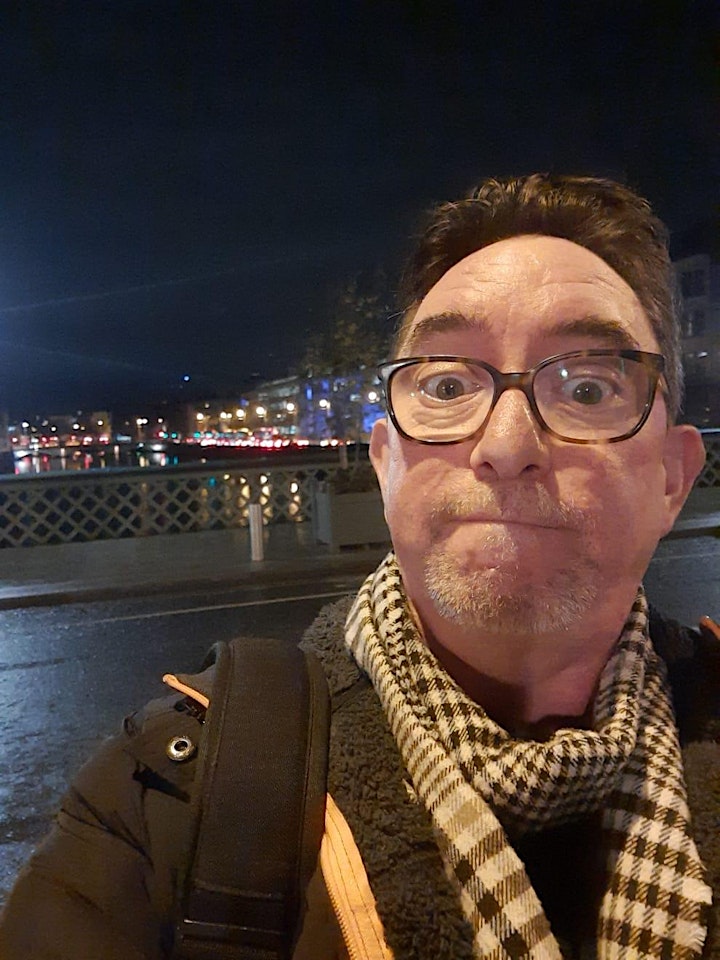 Ciaran McMahon co founded this club with Colm Denham and Padraig Ormsby. In a lifelong pursuit of comedy and creativity Ciaran runs his legendary You Talk Funny comedy workshops and wanted a place where new acts could perform and grow their style on stage alongside some experienced ones doing new material so that everyone is taking risks.
Ciaran enjoys seeing people express their inner lunatic, while battling to keep his from a hostile takeover!
Come see his battle take place on stage!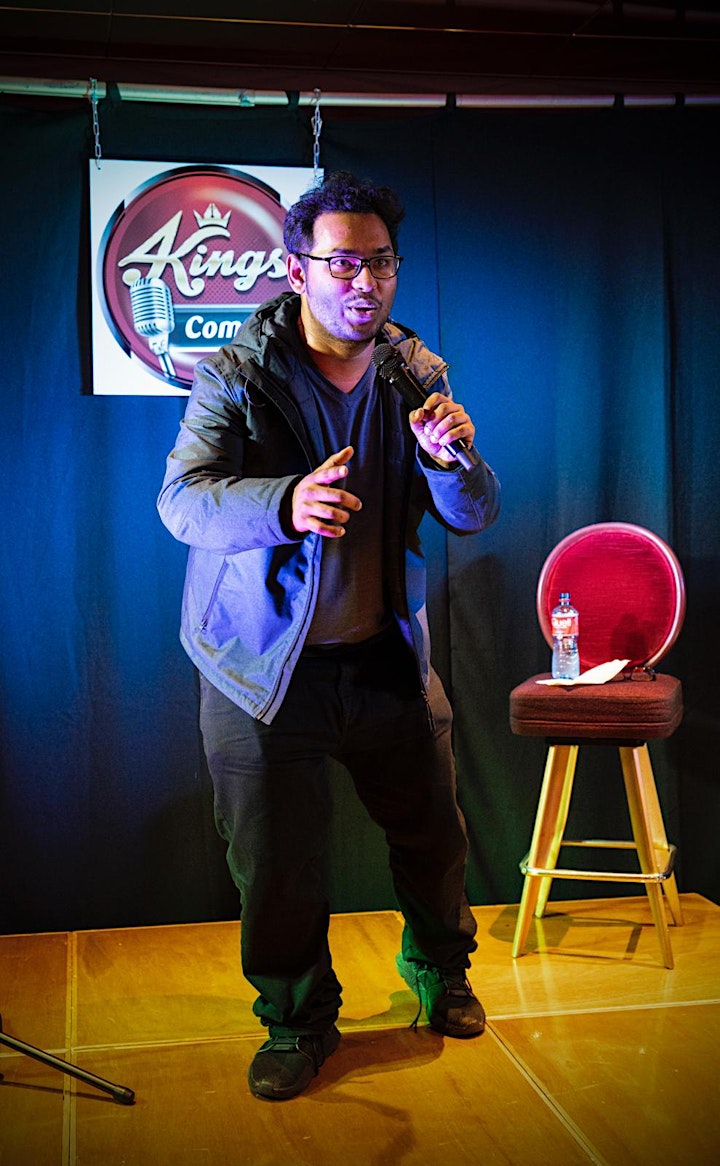 We have a new addition to the line up!- : Turjo! is an adorable giant teddy from the mysterious lands of South Asia diagnosed with a severe condition of laughing at his own jokes all the time. During his day job as a scientist he works on developing ways to wipe out the whole of humanity and at night, he makes people laugh to make the world a better place… before he destroys it all!
Overall he is real nice dude till you ask him about his sex life."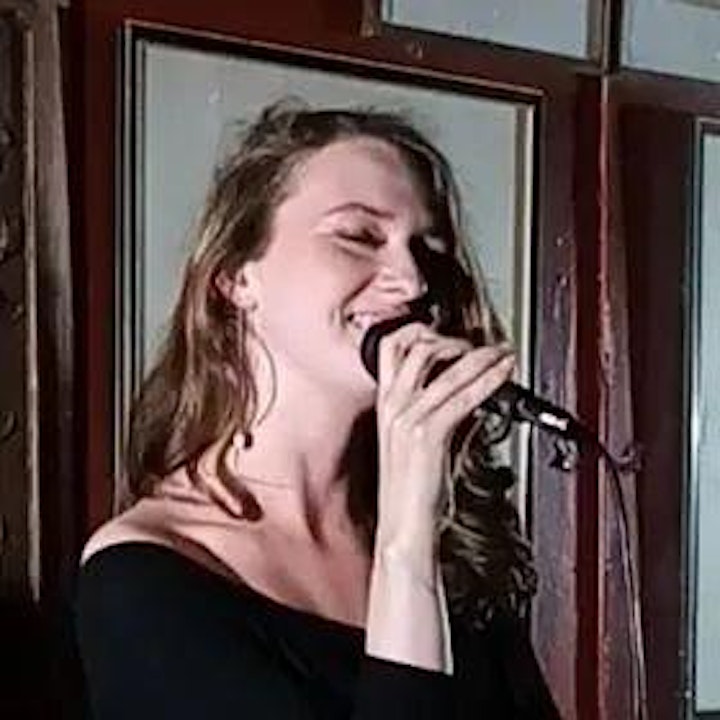 Can you believe we have space for another act at our Christmas show on the 11th of December...well we do because @annahumphreyscomedy will be joining us!
A (slightly offensive) dark- humoured funny lady, who's set mainly focuses on West Cork and its differences to city life, a gay boyfriend, college, growing up on an island, sexuality religion, mental health and awkwardness..."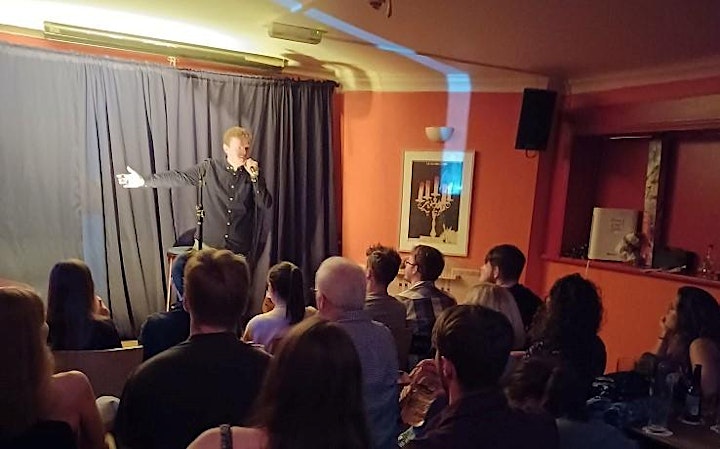 Padraig Ormsby is a manic depressive, but when he is up he is up! He'll be talking too much about murder for it not to be an issue and baffles on about his multiple intestinal disorders yeno 'lowering the standard, for the comedians to shine'. Sympathy laughs are encouraged....but he has somehow managed to win the much coveted audience voted Lucky Duck Award at the battleoftheaxe and the inaugural hapenny bridge inn comedy competition after starting comedy right before the pandemic (yep good timing) and recently opened for Joe Rooney in Sligo! You are in very good hands on the night...he says writing this post.
Interested in gigging with Sunday Funny Sunday?
Copy Paste and fill in this form- we'll try to get to you as soon as we can...
https://docs.google.com/forms/d/e/1FAIpQLSfS5e7MmKC-CkrjVGUCTtun7CPEsx0VhY7lBo9iUCdgE3UUJQ/viewform?usp=pp_url
Provisional Line Up
Alex J Byrne
Madeleine Mumford
John Joe Jacob
Jess Collins
Craig Moran
Padraig Ormsby
Ciaran McMahon
Turjo
Anna Humphrey's
Tiny James
Gary Cahill
Taran O'Sullivan