DRAG out the weekend with our Sunday Funday Drag Show. Its an entertaining and high-energy experience at the Garage at R.House in Remington
About this event
There's a chill in the air and things are getting a bit spooky in Remington.
Join us on Sunday, October 18th for an ominous evening of fun with award-winning performers and specialty cocktails hosted by Baltimore's very own drag housewife, Pariah Sinclair. Enjoy a casual nightcap with r.bar and dinner or dessert with one our food hall stalls. This show is for 18+.
PERFORMANCES BY:
Pariah Sinclair - Baltimore's Drag House Wife
Evon Michelle - Baltimore's 2020 Drag Queen of the Year
Druex Sidora - The Dancing Doll of the DMV
Washington Heights - Baltimore's 2018 Drag Queen of the Year
* Please note, line up is subject to change
This show is sponsored by r.bar, Jack Daniel's®, and the Garage at R.House
We highly encourage tipping our performers. If you like what you see, let us know by spreading the love to their Venmo, Paypal, and CashApp links! We will have a printed program for ease of reference ready at your table!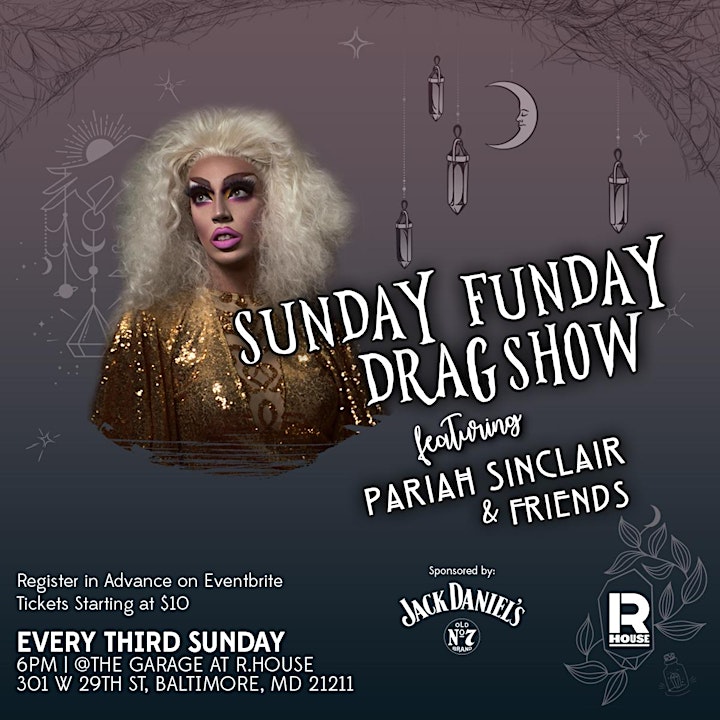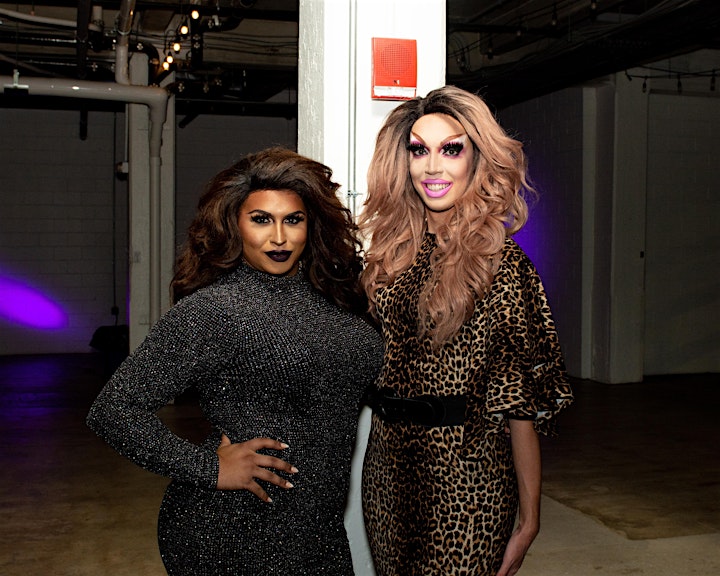 TICKET TYPES
Tickets Cost More Day of the Show!
- $75 VIP Table Seating for Up to 6 People
We're offering only TWO exclusive VIP tables for our Halloween Edition of our Sunday Funday Drag Show.
- $60 Reserved Table Seating For Up To 6 People
- $40 Reserved Table Seating For Up To 4 People
- $20 Reserved Table Seating For 2 People
- $10 Individual Reserved Seating
Please note our seating is arranged in compliance with all Baltimore, Maryland, and CDC guidelines for social distancing.
So long as the weather permits, we will keep the large Garage door open.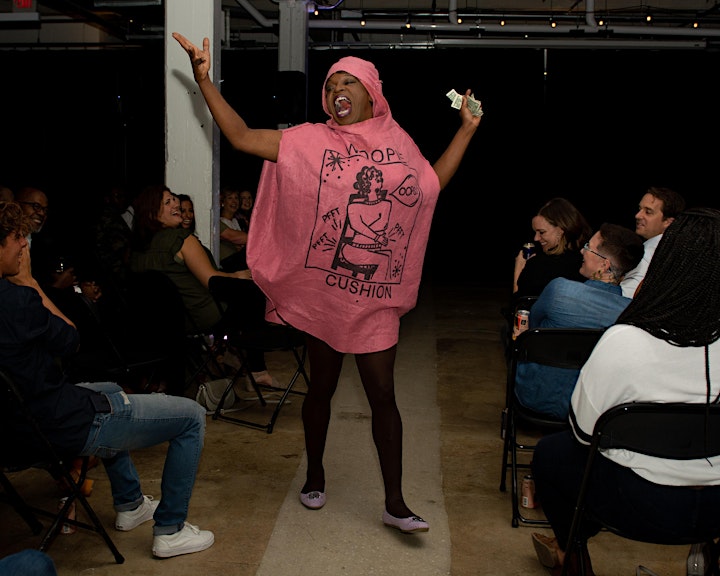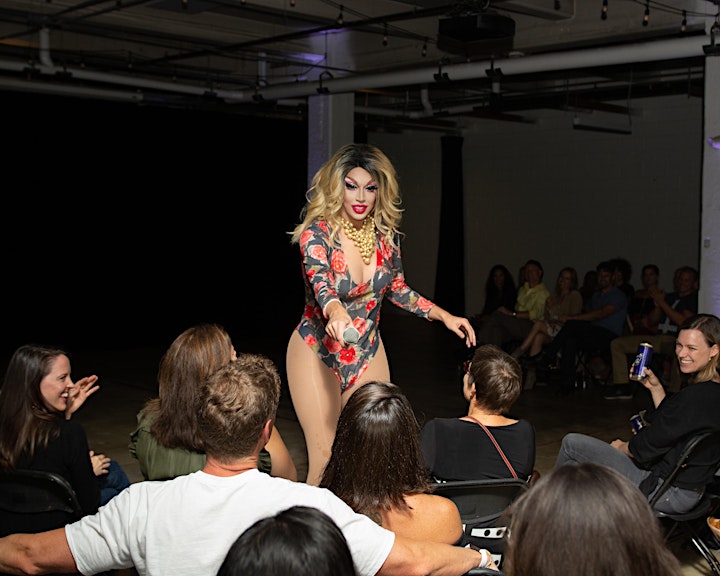 Subscribe to our email list for first access to events & tickets: http://bit.ly/RHouseEmails
ABOUT JACK DANIEL'S: Jack Daniel's®, the world's best-selling whiskey, comes from North America's oldest registered distillery, the Jack Daniel Distillery. The Distillery, founded in 1866 by Mr. Jack Daniel in Lynchburg (pop. 361), Tennessee, is one of the most well-known producers of whiskey in the world. Jack Daniel's Tennessee Whiskey is made with the finest corn, rye and barley malt. Its distinctive character is a result of natural fermentation, careful distillation, and use of the Distillery's iron-free water from the Cave Spring that runs at a constant 56° F.
ABOUT R. BAR: To take a seat at r.bar is to take a chance on a new spirit, to take a chance on meeting a new friend, and to take the chance you won't leave 'til last call. r. bar features stellar cocktails, craft beers from Baltimore and beyond, and wines to pair with each stall. Pick your potion, and we'll serve it up — or on the rocks. Welcome to your bar, my bar, r. bar.
ABOUT THE GARAGE @ R. HOUSE: "The Place to Come Together in the Heart of Baltimore." The Garage at R. House is a 6,500-square-foot industrial-chic style space perfect for private and public events of up to 350 people (pre-COVID). With exclusive r. bar beverage service and endless production possibilities, The Garage promises a memorable event setting.
Flyer Design by Studio Creative Group
Photography by Studio No. 5 Baltimore
Organizer of Sunday Funday Drag Show - The Halloween Edition
Welcome to R. House, Baltimore's launchpad for outstanding food and creating community. R. House is the place to come together. It's a food hall and event space, but more than that, it's a community. We believe in being neighbors, not guests; we see possibilities, not limitations. This is your gathering place, your kitchen table, your office, and your front stoop. This is your house, our house, R. House.

Our new style of food hall was built within a 50,000-square-foot historic warehouse in the middle of Remington. Imagine 15-foot tall windows with roll-up garage doors and 12,000 square feet of wide open seating.