Sunday Evening Prayer and Communion at Grace North Church

Weekly Event - Every Sunday: 5:00 PM to 6:00 PM (PDT)
Event Details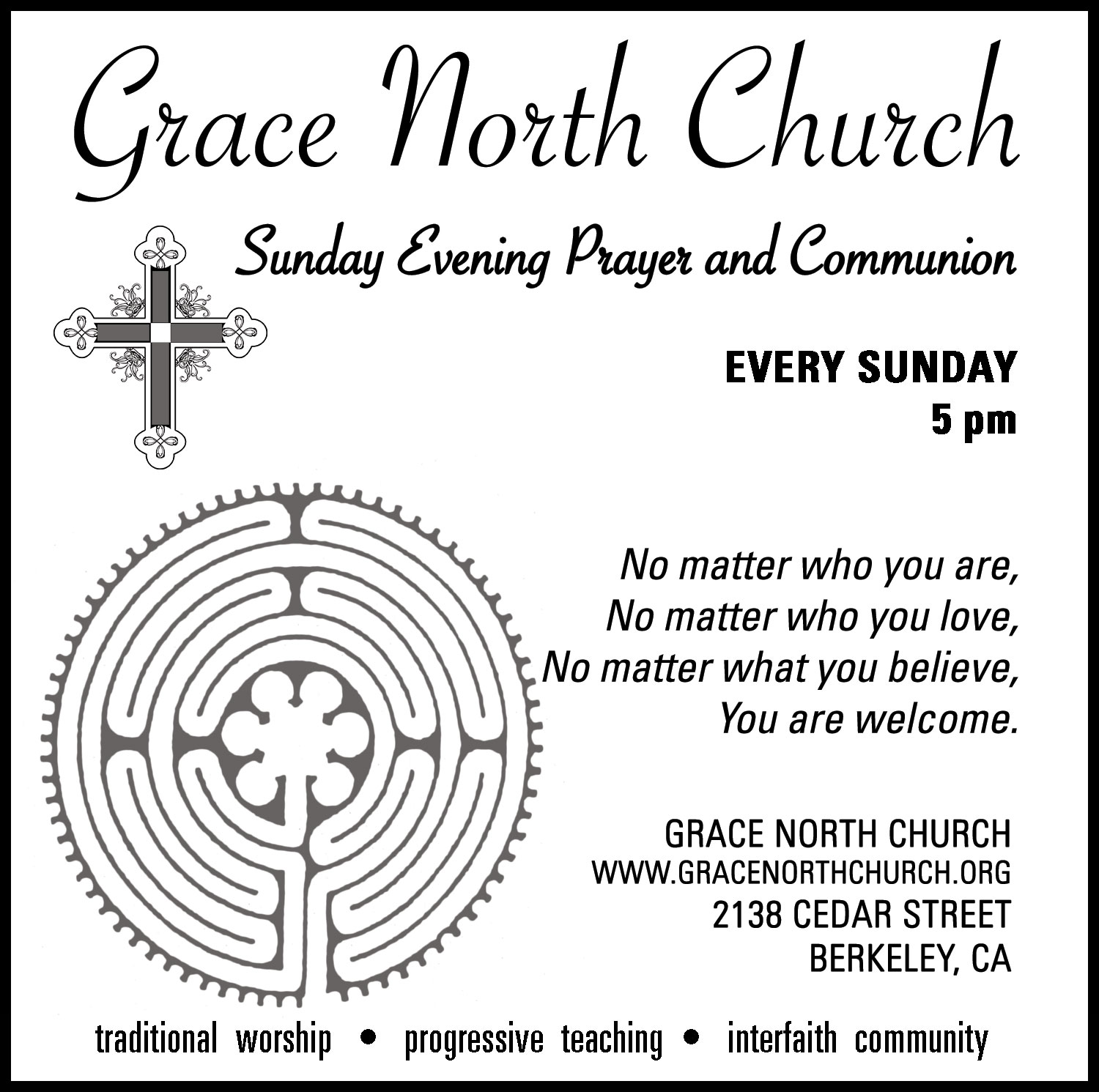 Sunday Service
at 5pm
Drop-in any Sunday 

Please join us for our weekly service of Sunday Evening Prayer and Communion. We worship in a friendly and informal fashion, rooted in the Christian tradition, but with an appreciation for the wisdom of other religious traditions. Live folk music blends beautifully with the great acoustics of this historic building. 
All walks of life and faiths are welcome to attend, receive communion, and participate in all levels of membership, service and leadership.
We look forward to meeting you!
Where Grace North Church is located at 2138 Cedar Street, Berkeley. (corner of Walnut and Cedar Streets at Christ Church)--just one block east of Shattuck Avenue in the "gourmet ghetto" neighborhood of North Berkeley.

Other Community Events  Grace North Church presents exciting events that bring the community of all walks of life and faiths together, including the monthly free Labyrinth Walk and Concert.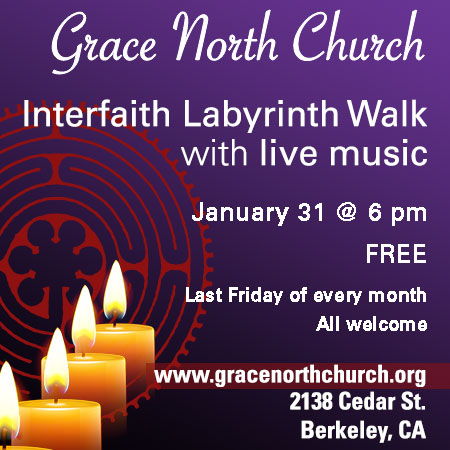 For more information visit our website at www.gracenorthchurch.org or call us at
(510) 548-2153.
About the Pastor   We are pleased to welcome the Rev. Carol Barriger, who will lead the Interfaith Labyrinth Walk, and who is our Guest Pastor during Dec 15, 2013 to Mar 15, 2014. Reverend Carol Barriger is also an adjunct faculty member at Pacific School of Religion in Berkeley. She is guest pastoring, while the Rev. Dr. John Mabry is on sabbatical in India on a pilgrimage to Walk in the Footsteps of Buddha. Rev. Mabry has been pastoring at Grace North Church since 1993. He also teaches world religions, spiritual guidance, and pastoral ministry at several Bay Area schools. He is the author of several books on spirituality and interfaith ministry, including Growing Into God: A Beginner's Guide to Christian Mysticism.
Grace North Church
Traditional Worship l Contemplative Practice l Progressive Teaching l Interfaith Community
Where

Grace North Church
2138 Cedar St
Berkeley, CA 94702


Weekly Event - Every Sunday: 5:00 PM to 6:00 PM (PDT)
Add to my calendar
Organizer
Grace North Church
Grace North Church is a progressive Christian community that welcomes anyone, regardless of who you are, what you've done, who you love, and what you believe or don't believe. Come join us for a worship celebration that is formal and friendly at the same time, ecstatic and thoughtful, and meet folks who are diverse and caring. Our music is folky and original and we are GLBT friendly—and dog-friendly, too! (Yes, you can bring your dog. Really.) 
Sunday Evening Prayer and Communion at Grace North Church