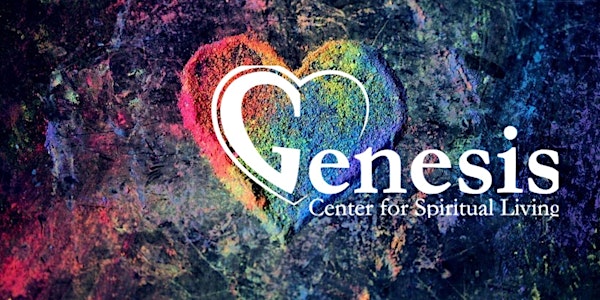 Sunday Celebration Service
Genesis CSL Sunday Celebration Service
When and where
Location
Studio 620 207 Southwest 153rd Street Burien, WA 98166
About this event
Join us at Studio 620 in Burien, WA - or -via Facebook Live: https://www.facebook.com/genesiscenterforspiritualliving/ Celebration Service 10 am – 11:15 am. Stay for community gathering and light refreshments.
Find us at Genesiscsl.org and YouTube at: https://www.youtube.com/c/GenesisCenterforSpiritualLiving
Feb. 5, 2023- "Love As Attraction" With Rev. Eric
Divine Love is the Glue that holds the Universe together. It's the Tie That Binds. This is why the Law of Attraction works.
Musicians: Rick Houle, Julio Jauregui, Frank (guitarist)
Feb. 12, 2023- "Love as Purpose" with Rev. Eric
Love is our reason for being. When love is missing, purpose is missing. To rediscover what we love is to regain the will to live.
Musicians: Christina Brewer (vocalist) and Jal Feldman (pianist)
Feb. 19, 2023- "Tough Love" with Rev. Eric
Sometimes the highest and most effective expression of love requires patience, sacrifice, and silence.
Musicians: Chris Sullivan (vocalist) and keyboard player TBD
Feb. 26, 2023- "Agape Love" with Rev. James Kress
Talk Description TBA
Musicians: Sheila Kay (vocalist) and Jal Feldman
If you are searching for a spiritual community in your life, join us for our Sunday Celebration Service.
We are a community that takes what we believe, what we teach, and what we advocate into our daily lives. Being Real! Rising Up! Reaching Out!
We provide HOPE, we build FAITH, and we celebrate MIRACLES