Description
PITA Productions presents
An intimate afternoon with world music recording artist, RebbeSoul
Doors open at 2:30pm
Concert at 3pm
Reception follows
FOR MORE INFO and TICKETS: Click the "ATTEND EVENT" or "GET TICKETS" Button!
Seating limited to 30 people, so get your tickets early!
$25 in advance per person for admission, AND a CD download card for a RebbeSoul recording of your choice, pending availabilty. Reception included. Children 12 and under - FREE

$30 at the door, also includes CD download card and reception.
More download cards and CDs will be available and for sale at the event
---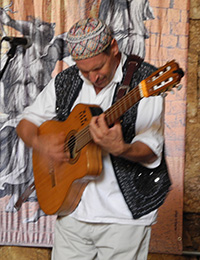 The music of RebbeSoul has been described as "World Fusion stemming from the Jewish Diaspora, a mix of ancient and modern, and a blend of East and West." It highlights Russian balalaika, electric and acoustic guitars, hip-hop rhythms, and Middle Eastern percussion.
RebbeSoul has been featured on CNN International and on the cover of Billboard Magazine as the quintessential and original producer of Jewish Roots and World music. His groundbreaking 1995 album , "Fringe Of Blue," has become one of the the biggest selling Jewish music albums of all time. His "Change The World With A Sound" album was #1 on the CMJ (college radio) World Music charts.
VIDEOS:
Cuando el rey Nimrod, RebbeSoul plays a Ladino classic at the Center For Spiritual Living.
The Many Faces of Jerusalem, RebbeSoul plays Reb Shlomo Carlebach's "V'Shamru"
VISIT:
Organizer of Sunday Afternoon Solo Concert With RebbeSoul