Saturday afternoon line dancing in Stern Grove with Sundance Saloon!
About this event
IMPORTANT NOTICE: We are now able to include some limited parter dancing at this event, between attendees who are fully vaccinated for Covid-19. We are collecting information about vaccination during the registration process. You do not need to be vaccinated or reveal your status to participate in this event.
____________________________________________________
We've been line dancing in Stern Grove in San Francisco since September, 2020! This Saturday, June 12, will be our last day here. Please join us for our farewell dance at one of the most special locations from the past year.
We're on the same stage as used for the Stern Grove Festival. The stage has a wonderful, flat, wood plank floor, and it's large enough to allow for 21 dancers with plenty of social distancing. The location is beautiful!
A special message for new folks: We are a primarily LGBT organization, but all are welcome to attend. If you are new, you'll have a better time if you are familiar with at least a few of the line dances that we do. We have live-streaming online and in-person lessons every Sunday, and all the lessons from the past year are archived for your review.
The main entrance to the park is at Sloat Blvd & 19th Ave. While there is limited parking inside the park (Stern Grove Entry Rd. or Vale Ave.), it may be full on a weekend. There should be ample parking along Sloat Blvd. or 19th Ave. It's about a 1/4-mile walk down to the meadow (follow the green lines on the map into the park). Map
There are public restrooms at the Trocadero Clubhouse.
Attendance is limited, and we have strict infection control policies in place. Masks are still required at all times at our Stern Grove event. You will need to agree to adhere to our policies during the registration process. (There is no longer a separate Memorandum of Understanding to complete.)
For more information please visit http://sundancesaloon.org/ggp.html.
TICKET INFORMATION
If we are sold out, place yourself on the waiting list. Cancellations are common. Since this is our last day here, we won't be able to offer wait-listed folks a spot the following week.
There is no fee to register. However, we encourage tax-deductible donations to the Sundance Covid-19 Relief Fund.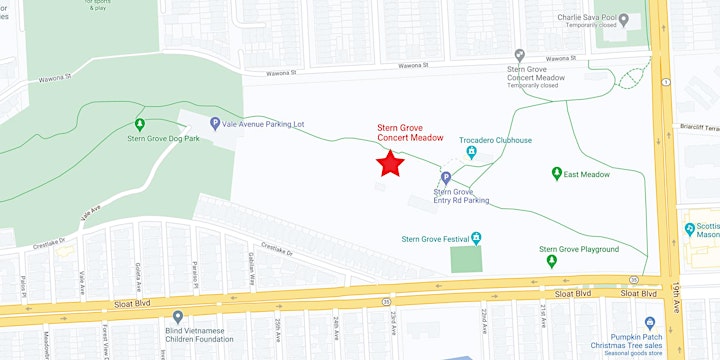 Organizer of Sundance In The Grove - Saturday, June 12, 2021
The Sundance Association for Country-Western Dancing is a 501(c)(3) nonprofit corporation dedicated to the promotion of country-western dancing through instruction, performance and the presentation of public dance events, without discrimination based on gender identity or sexual orientation.