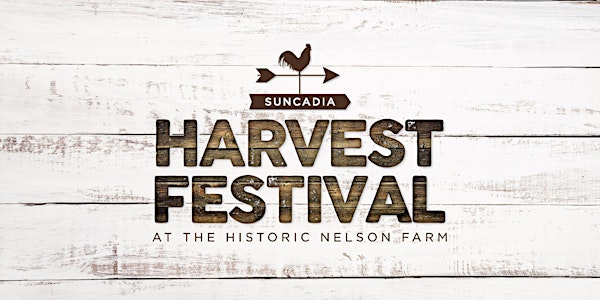 Suncadia Harvest Festival Vendor Registration
Held at the Historic Nelson Farm, the 16th Annual Harvest Festival offers two weekends of seasonal events and activities to celebrate the ar
When and where
Location
2141 Swiftwater Dr 2141 Swiftwater Drive Cle Elum, WA 98922
About this event
Dates: October 1st-2nd and 8th-9th, 2022
Time: 10:00am-4:00pm
Address: 2141 Swiftwater Dr, Cle Elum, WA 98922
Vendor Terms & Conditions:
Selling Time: Vendors are required to stay until closing unless they have received advance permission from the event manager. Vendors who sell out early should post a sign letting customers know that they have sold out and should not leave their stall/space and possessions unattended.
Set-up/Tear Down: All vendors must be at the event and ready to sell at least 30 minutes before the event starts. Vendors will load up unsold merchandise, take home all belongings and clean area/space/stall used and vacate the event site no later than 2 hours after event ends. Vendors are required to maintain their individual selling space in a clean, safe, and sanitary manner. All vendors are responsible for hauling away any trash or garbage that may be generated and provide their own receptacle. Vendors cannot use Suncadia receptacles to dispose of trash, waste, or unused products. Spaces will be assigned based on categories and power needs.
Vendor cancellations/refunds: Vendors must submit in written format (via email) any cancellation requests to receive a refund and all requests are subject to approval. The deadline for refunds is 14 days prior to the start of the event, requests made after this date will not receive a refund. It may take up to 4 weeks for a refund to be processed.
Signage: All vendors will post a legible sign, identifying the business/brand and where it is located. Regulations: Signs should not be smaller than 24 inches wide by 12 inches tall and cannot be taller than six feet by 2 feet wide – or be taller than the height of tent or truck. Vendors will have their signs display before sales begin. Clearly marked price signage.
Selling Space: Vendor Sales Area must not extend beyond the allotted boundaries/space.
Vendor Vehicles, Loading/Unloading: Authorized vehicles are only allowed in designated areas of the Nelson Farm. Vendors must get permission to drive their vehicle to their unloading and loading location from the event manager. The majority of vendors will load and unload in designated round-about or parking lot. If vendor receives permission to use vehicle in nelson farm, it must be removed by 9:30am.
All vendors agree to follow Suncadia Code of Conduct pertaining to but not limited to; Proper attire (No divisive statements or vulgar artwork on any article of clothing), proper customer service etiquette, and cleanliness.
Vendors must have proof of General Liability Insurance.
Food Vendors - READ THE FOLLOWING:
Food Truck or Food Tent Not permitted in Kittitas County
1 week in advance notice/contact to Lucy Garcia lucy.garcia@co.kittitas.wa.us or 509-933-8262.
Categories of Food Trucks/Tents:
Low Risk – cold holding, pre-packaged items. 1 Date: $130, Multiple Dates: $460
Moderate Risk – Minimal food prep, salad, sandwiches, etc. 1 Date: $265, Multiple Dates: $460
High Risk – Cooking Raw Meat. 1 Date: $330, Multiple Dates: $530
Permitted with the Kittitas County Heath Department (Local Food Trucks/Vendors) | Copy of Kittitas County Permit.
Out of Kittitas County Food Trucks who are wanting to do multiple dates can get copies of their plan review from their county and submit to Lucy to become full permitted in Kittitas County for multiple dates and locations | Options available from Kittitas County Contact listed above.