Description
Ready to skate and grind for some SICK prizes? Come over and show us your moves at the first annual Sunbasket Skate Tournament! We'll have music, prizes, and, of course, some awesome skating!
REGISTRATION IS FREE! GENERAL ADMISSION IS FREE!
1. Make sure you register on Eventbrite. To register, just click on the green tickets button and fill out your info.
2. Show up to sign in an hour early at 11AM, and we'll sign you in to compete!
3. If you're registering at the door, it's still free!
This tournament is for skateboarding ONLY. All skill levels are welcome to participate! We have two divisions, one for intermediate and below, the other for experts. Anyone is welcome to choose which division they compete in, but we'd say intermediate and below is for about 3 years or less of experience, and expert is for about 4 years or more of experience.
Sign in for competitors begins at 11AM. The tournament will start at 12PM and last until 5PM. Online registration ends on November 24th!
Skate at your own risk! You are free to participate in our tournament, however we are not responsible for any injuries that may occur due to participating in our tournament.
For sponsorship opportunities, please contact us at jpyouthcouncil@gmail.com. Prices and benefits can be negotiated!
---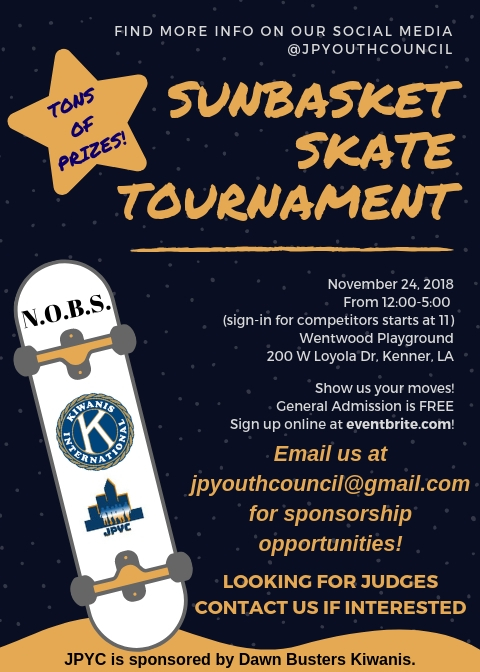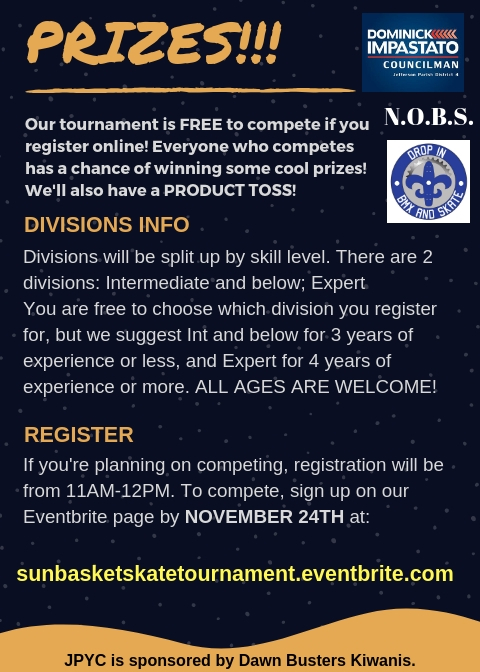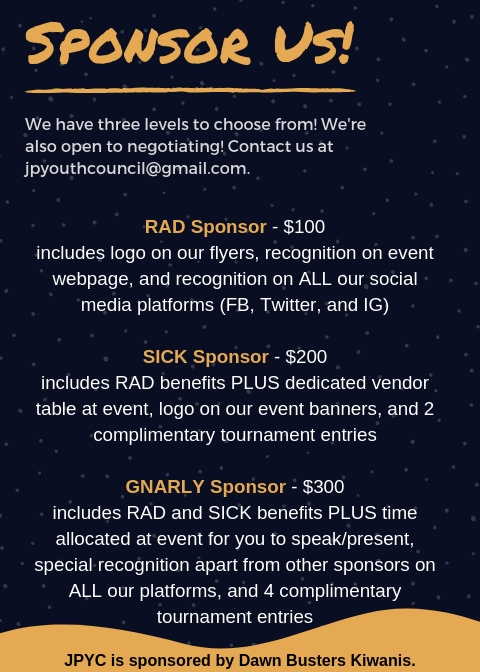 ---
Special thanks to our sponsors!
Dawn Busters Kiwanis
New Orleans Bike Shop
Drop In BMX and Skate Shop
Dominick Impastato, Councilman, District 4
Don't forget to follow us on all platforms @jpyouthcouncil!