SUN YA BUNZ is Republic's Summer Concert Series at White Sands Volleyball complex and we're BACK AGAIN with Two Friends on Saturday, 11/13!
About this event
It's the season finale of SUN YA BUNZ, Republic's Summer Concert Series, Volleyball Tournament, and immersive beach experience, culminating on 11/13/21 at White Sands Beach Volleyball complex! We're going all out with our biggest headliner to date; don't miss high-energy genre-defying dance-pop party-rocker duo, TWO FRIENDS!!! Known for their award-winning Big Booty mixes and popular remixes, TWO FRIENDS is the perfect act to close out the series! Local support by Concourse, PasstheJeffrey, Kidd Love, No Friends, and DJ G! Scoop your tickets now!
All previously bought tickets will be valid for this new date! If you are unable to make this rescheduled date, please request a refund on Eventbrite by Friday, October 1st! 
SUN YA BUNZ
We had to work our BUTTS off to make this happen, but we're so excited to announce that Republic's annual outdoor monthly summer concert series is BACK for our 4th year; bigger, badder, and more BOOTYLICIOUS than ever … this one is by far our favorite concept to date … introducing, the super fun and slightly scandalous … SUN YA BUNZ … a monthly volleyball tournament and electronic concert series, with all the retro beach vibes – Sun Ya BUNZ features the very best in feel-good sing-along dance music by some of the biggest touring DJs in the country performing on a fully-equipped stage at the pristine White Sand Volleyball Complex! So, start your day by rocking your most scandalous swimwear, skip on over to the massive stage, dig your toes into the sand, and enjoy festival quality production including premium sound with extra subs, tons of moving lights, a full size LED video wall, and so much more! Full lineup coming soon. But, whatever you do, always remember; SUNS OUT BUNS OUT! 
SUN YA BUNZ BASICS
Saturday 11/13/21 • 4pm - til ||| White Sands Beach Volleyball Complex • 1001 N Al Davis Rd, Elmwood, LA 70123 ||| 18+ ||| Volleyball Tournament 12pm-6pm • Live Music Performance 4pm-til
VIP tickets gets expedited VIP entrance, an exclusive VIP bar, premium front-stage viewing, and kiddie pools! 
TWO FRIENDS - Matt Halper and Eli Sones, the young masterminds behind Two Friends, have quickly grown from high school bedroom producers to one of the most promising dance-pop acts of 2021. Known for their viral remixes of classics such as "Mr. Brightside" and "I Miss You", the millions of streams on their award-winning Big Bootie Mixes, original offerings such as "Looking At You", "Take It Off" and "Emily", and a knack for creative social media antics, the duo has become a staple of the American electronic scene and show no signs of slowing down.
White Sands Beach Volleyball Complex 
White Sands is a premiere outdoor beach volleyball complex with adjoining Seeger's Sandbar bar & grill in Elmwood, LA, just 10-15 minutes from downtown New Orleans, featuring 40,000 square feet of white sand over 6 premium volleyball courts! White Sand hosts leagues and tournaments year-round, including the morning of and as part of SUN YA BUNZ! White Sands will be releasing details about the tournament (doubles, quads, man, female, co-ed, levels, costumes, etc) very soon. Stay tuned for more info. The tournament will feature some of the best volleyball players in the region on the two farthest nets from the stage, and will run from approximately 10 to 3. In the true spirit of SUN YA BUNZ, this will absolutely be a BUNZ OUT tournament that you DO NOT WANT TO MISS.
Republic's Annual Outdoor Summer Concert Series 
This is Republic's fourth year producing an outdoor Summer Concert Series. Each year, we host the series at a new, unique venue to keep the experience 100% fresh for our guests. The series has seen great success at each of the past venues: The Drifter Hotel (Pool Party), The YNot Dock at Southshore Harbor (Dock / Waterfront / Marina), The Chateau Hotel (Courtyard / Pool Party), and now, our biggest and best off-site venue to date, the inviting, pristine, beach vibes from the one and only, White Sands Beach Volleyball Complex! 
General Policies, Terms, and Conditions
NO REFUNDS. RAIN or SHINE. White Sands is a non-smoking venue. Those aren't the BUTTs we want to see in the sand! Also, don't be an ASS; please throw your trash in a dedicated recepticle! We appreciate it!
COVID Policies
The health and safety of all patrons and staff is our very highest priority. As such, various safety measures will be taken to comply with and exceed all city and state guidelines. If you don't feel safe returning to public spaces and/or bars, we completely understand; we hope that each of you use your best judgment; and we hope to see you whenever you feel it's the right time for you! Ultimately, enter at your own risk. If you're not 100% sure you can comply with all guidelines and procedures, please DO NOT COME TO WHITE SANDS / SUN YA BUNZ. If you can't follow the rules, these just aren't the right events for you. Good vibes only. We'll get through this if we work together for the common good. Thank you so much for understanding … and complying! We're so excited to be partying with you again!
THANKS TO OUR PARTNERS
White Sands, Seeger's Sandbar, Axiom Productions, Main Stage Productions, BeKeim Rewind, Catastrophic Events, BUNZ of every shape and size.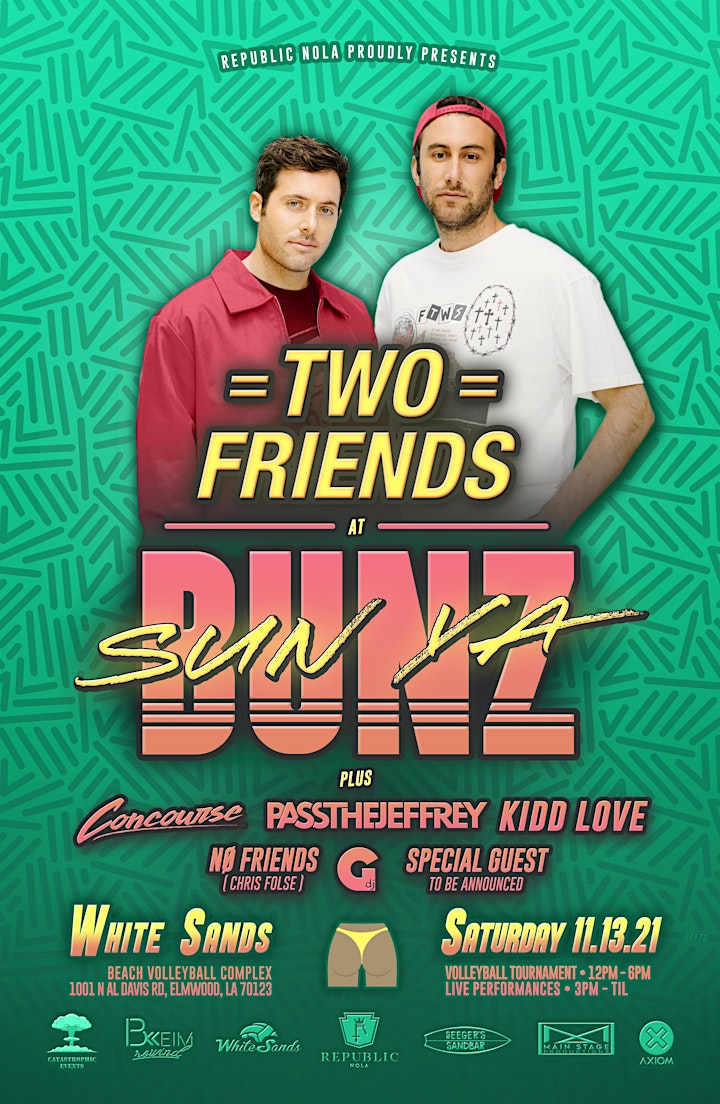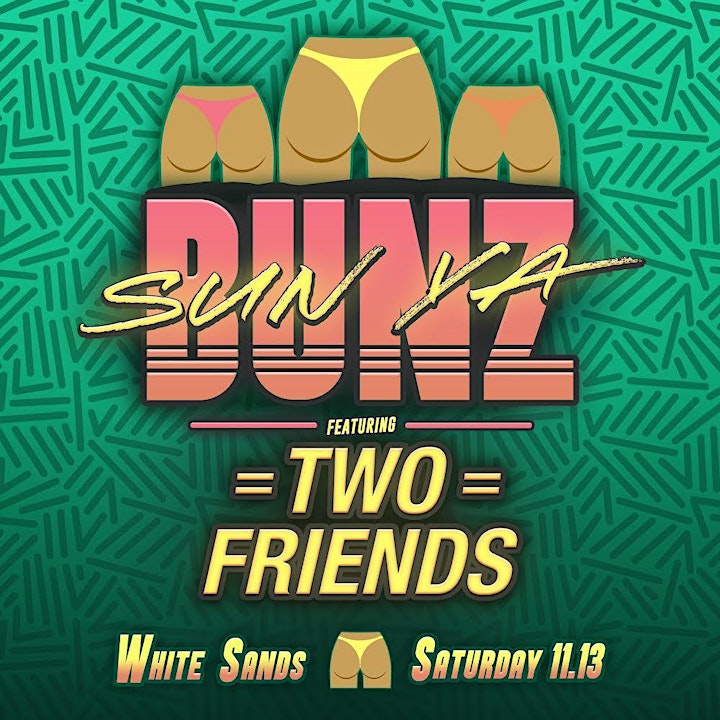 Performers
Date and time
Location
Refund policy
Organizer of SUN YA BUNZ ft Two Friends at White Sands