Join the Sun Valley Chapter of Jack and Jill of America Inc. for their Grand Rising Gala on November 7, 2021 at the Scottsdale Plaza Resort.
About this event
Join us for the Grand Rising Gala of the new Sun Valley Chapter of Jack and Jill of America, Incorporated as they thank community partners who made an impact on the work they do to enrich the lives of youth, families and the surrounding community.
This fundraiser is an evening to celebrate, raise revenue and acknowledge those who contribute to the betterment of our communities. The evening will include a cocktail hour, dinner, dancing and recognition ceremony. Attendees will have the opportunity to participate in a silent auction and raffles throughout the evening, the proceeds of which will benefit the Jack and Jill of America Foundation in continuing its philanthropic efforts.
This is a black tie event, so come dressed to impress and ready to enjoy an evening of elegance and fun at its best!
Early Bird tickets include (1) drink ticket. Get your tickets by September 30th to take advantage of this special offer!
COVID-19 SAFETY GUIDELINES:
All attendees will be required to show proof of vaccination and wear a mask. Thank you for your support and cooperation as we seek to keep our community safe.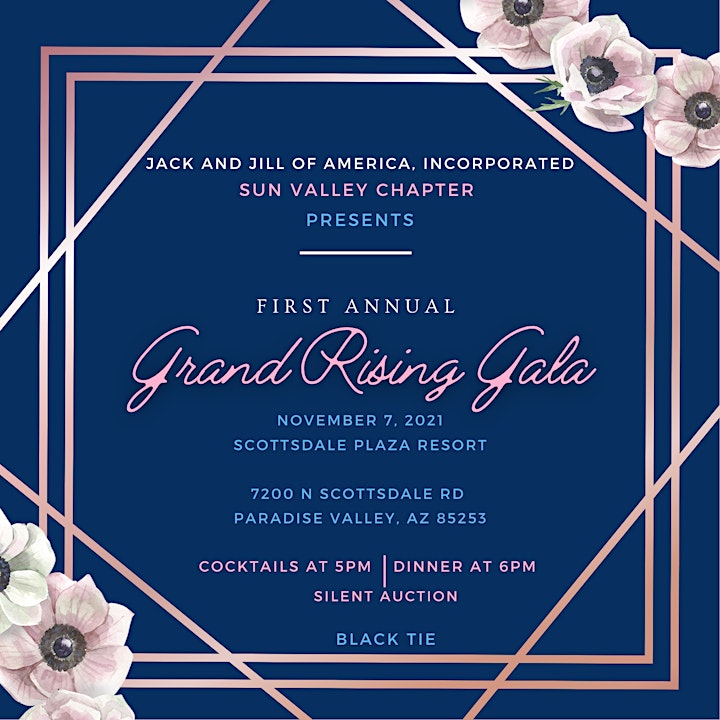 Please view the sponsorship levels below and consider donating to our silent auction.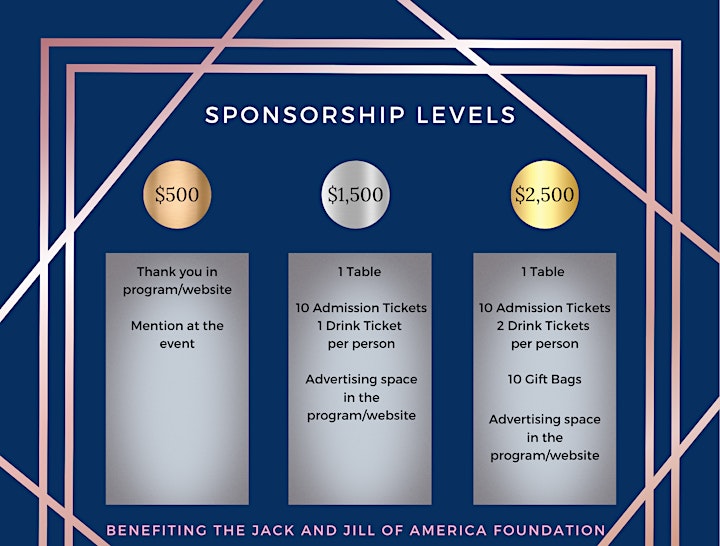 Thank you in advance for your support! If you have questions, please contact our Foundation Chair, Dr. Tamika Sanders at jackandjillsvc.foundationchair@gmail.com.
To donate to the silent auction contact Erica Tatum-Sheade at jackandjillsvc.chaplain@gmail.com.
More About Jack and Jill of America, Inc
Since Jack and Jill of America, Inc., was founded in 1938, it has evolved into a strong national organization of over 250 chapters across the U.S and more than 40,000 family members. Our founder, Marion Stubbs Thomas, had a simple idea of bringing together children in social and cultural relationships, and this idea avalanched into a strong national organization.
Our story of growth is one of compassion and connection. As new members are welcomed and new chapters are formed, the aims and ideals of Jack and Jill have strengthened, always with our children and civic service as the focal points.
To learn more about the Sun Valley Chapter of Jack and Jill of America and how you can support our efforts, please visit our website at https://www.jackandjillsunvalley.org/.
Organizer of Sun Valley Grand Rising Gala