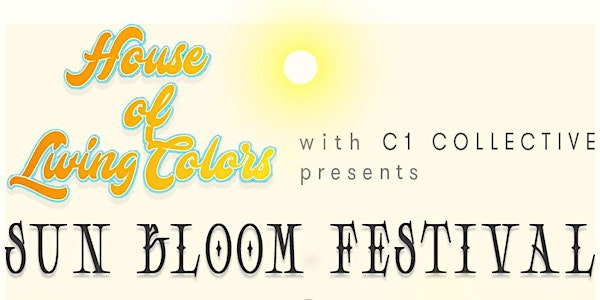 Sun Bloom Festival
Sun Bloom Festival is a night of panels, live concerts, drag and performances closed with a DJ line up curated by the House of Living Color
When and where
Location
SO36 Oranienstraße 190 10999 Berlin Germany
Refund Policy
Contact the organizer to request a refund.
About this event
The sun illuminates and it's golden rays shine upon the land, as the landscape ascends to meet the rising sun as a proud child rises to their parent. It's bright light reveals the many textures and crevices it's body holds, uncovering all that was hidden in the darkness. Uncovering a hug of yellows, hues of amber, tints of bisque and scents of truth as It's warmth slowly melts away the morning dew from your eyes. The terrain erupts with sounds of jubilee, as the heat thaws away all the scars and dirt, burning through to emancipate you from all that was unseen. A luminous revelation to let healing begin. The season has come for you to come alive and let the sun bloom.
House of Living Colors and c1 collective presents: The Sun Bloom Festival, an evening of panel talks, live concerts, breathtaking drag and performance acts closed with a DJ line up that no hips can lie to. Curated by the House of Living Colors, the first and only BIPOC focused (Black-Indigenous-People of color) drag & performance art collective of Berlin and awarded for the second year by the Tag der Club Kultur, the shapeshifting house is once again writing history with mic dropping critical thinking, otherworldly performance acts and BIPOC musical excellence hosted by the iconic SO36.
Join us for an evening of healing, joy, happiness and entertainment as a last exhale before the winter.
Location: SO36 (Oranienstraße 190, 10999 Berlin)Location: SO36 (Oranienstraße 190, 10999 Berlin)
Timetable
18h - 19:30h: Arrival Time
19:30 to 21h: Introductions + Film Screenings (curated by Lina Bembe)
21h to 21:15h: BREAK
21:15 to 23:00: Performances
Line-up includes: IXA Psyborg, Blazeyy, Jordan Chanetsa, AKA Kelzz, Lola Rose, Brown Sugar Biscuit, Selma Bodie and more!
23:00 to 23:15: BREAK
23:15 to 04:30: PARTY (DJ Lineup)
With DJ sets from: Bad Puppy, Kursiv, Auco, Aries Hand Model, c1 collective and more!