Location
Camp Indianola
10635 Northeast Shore Drive
Indianola, WA 98342
Sales Have Ended
Ticket sales have ended
Oh no! Registration for SUMYT 2019: The Sweet Life has closed. Sign-up for the waitlist or contact sumyt.ministries@gmail.com for more information.
Description
SUMYT IS SOLD OUT!
As of 02/24/2019 at 7:37 AM SUMYT 2019: The Sweet Life is SOLD OUT!
If you're still interested in the retreat, be sure to sign-up for the waitlist! Each year we're able to offer a few spots to folks on the waitlist on a first signed-up / first served basis!
What makes you smile? Maybe it's holding a puppy, giving a good hug, reading a book or that first scoop of ice cream. Maybe it's helping someone out, watching the city lights or that perfect playlist. Happiness is a great gift to share and the best present to receive! In a world where we are busy with families, church, school, sports, clubs, jobs and homework, we can get so busy we forget to stop and enjoy the little gifts God puts in our lives. God wants us to be happy and to share that joy with others, so c'mon! Let's go to Camp Indianola for: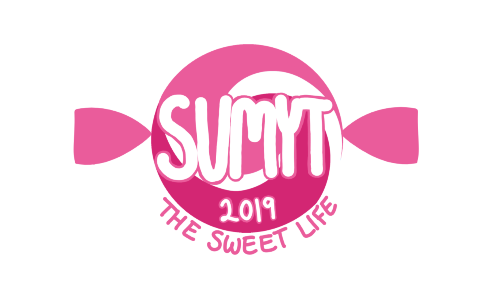 Come out for a weekend celebration of smiles, laughter, and fun! Camp Indianola offers beautiful views of the Puget Sound, amazing food and the chance to catch up with friends you've known forever and new ones you haven't met yet! Kristina Thorsen will be our keynote speaker, sharing stories from the Bible about how life, love and happiness are gifts God wants us to have and share!
WHO CAN ATTEND SUMYT?
All youth in grades 6 - 12 (and their adult chaperones) are invited to SUMYT!
DANCE & NOT-THE-DANCE
Be sure to pack your most comfortable, grey, white or black outfit for the Greyscale dance! Youth and adults are encouraged to show off their favorite monochromatic outfit at the SUMYT dance!
Dances not your thing? No worries! There will be games and other activities during the dance, so you'll still have something fun to do!
SUMYT STORE
The SUMYT store is stocked with drinks, snacks (healthy and not-so-healthy), games, mystery bags and other awesome souvenirs you'll love! Be sure to bring some cash so you can pick-up your favorites (small bills, please!). Supporting the SUMYT store supports local youth ministry! A portion of the funds raised in the store go towards SUMYT scholarships. This makes it so no youth misses out on the retreat due to financial hardship. That $1.00 candy bar or that $5.00 SUMYT water bottle can make a real difference for youth in our area! SUMYT also donates a portion of the store proceeds to the Youth Service Fund (YSF). The Youth Service Fund is a unique ministry because it is run completely by, with and for youth. Youth contribute the money, they decide what projects receive the money, and the projects supported are youth-designed, youth-led, and youth benefited. Check out youthservicefund.org for more information about this awesome ministry!
WHAT TO PACK
Sleeping bag (or blankets), pillow, clothes for chilly and potentially wet weather, waterproof jacket, sturdy shoes, dance costume, towel & washcloth, shampoo, toothpaste, soap and other personal care items, flashlight, spending money for the SUMYT store, positive attitude and a friend to share SUMYT with!
CANCELLATION POLICY
If you're unable to attend SUMYT 2019, please email sumyt.ministries@gmail.com no later than Saturday, March 2, 2019 to receive a full refund. Refunds will NOT be issued for cancellations received after Saturday, March 2, 2019 At that time, the planning team will have paid deposits and made other arrangements for you or your youth to attend SUMYT.
LIMITED SCHOLARSHIPS AVAILABLE! SUMYT will match scholarships provided by your local church, up to half the cost of the retreat. Scholarships are awarded on a first come, first served basis and must be requested on or before 02/01/2019.
QUESTIONS? NEED TO TALK WITH SOMEONE ABOUT SUMYT?
The SUMYT adults would love to talk with you! You can reach us by emailing sumyt.ministries@gmail.com or visit our team website at www.sumyt.wordpress.com to find out how you can reach us!
INFORMATION FOR THE LOCAL CHURCH
In order to honor conference Safe Church policies, local churches are asked to send one adult chaperone (minimum age 23) for every six youth of each gender. Chaperones must have a background check on file with the conference office no later than 03/08/2019 that is less than two years old.
Looking for promotional material for SUMYT? Click HERE for a flyer perfect for the youth room bulletin board and to pass out at church!
Would a paper registration form be helpful for registering your entire youth group at one time? Click HERE for a printable registration form. **IMPORTANT** Registration is not confirmed until the order is placed online.