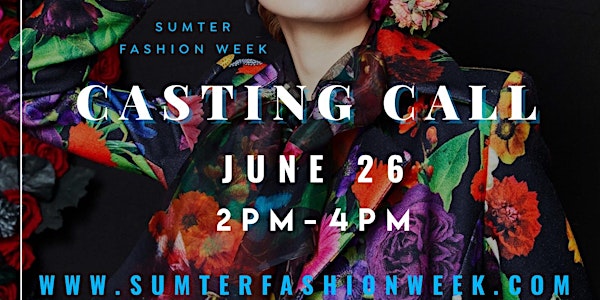 SUMTER FASHION WEEK CASTING CALL 2021
Sumter Fashion Week Casting Call
When and where
Location
527 N Guignard Dr 527 North Guignard Drive Sumter, SC 29150
Refund Policy
Contact the organizer to request a refund.
Eventbrite's fee is nonrefundable.
About this event
Sumter Fashion Week will be engineering the global fashion experience and attracting industry influencers with a passport to arts, culture, fashion, and entertainment. The destination is fashion with a journey through art and an encounter with style. Sumter Fashion Week ​is bridging the gap and connecting continents through fashion! Fashion is more than just the clothes on one's back. It's a movement, a feeling, and an expression. Sumter Fashion Week and encourages established and up-and-coming designers through numerous industry and networking events.
Sumter Fashion Week will have 2 runway shows, Sumter Fashion week Fashion Panel, Pop up Shop Vendor Event, Meet the Models and designers event, A fashion panel and the Who's Who of Sumter's Celebrity Kickoff.
This is Sumter's 4TH Annual Fashion Week
COME BE APART!!!!!
www.sumterfashionweek.com
SUMTER FASHION WEEK CASTING CALL 
SATURDAY, JUNE 26, 2021at Freed School of Performing Arts 527 N Guignard Dr. Sumter, SC 29150Age 4 years  and Up - 2pm to 4:00pm
Castings Requirement - outfit to be black form fitted clothing, black leggings, black skinny jeans, a black tank or t-shirt, and a good pair of black shoes (male models) black or nude heels (female models). 
KIDS 8 AND UNDER CAN DRESS IN THERE BEST OUTFIT THAT BRINGS OUT THERE PERSONALITY.
Female/Girl Models attend with natural makeup, natural nails or natural polish on nails, if open toe shoes a fresh pedicure is requested with natural polish or look. Hair in ponytail, if 
Male/Boy Models attend clean and well groomed
Modeling Audition Tips
Do Your Research. Watch videos on a runway walk. When walking, your back should be straight, core tight, but relaxed. As you walk, your arms should swing slightly and you should keep your hands relaxed. This will help you keep a strong pace. Don't move your hips too much, they should stay straight. 
Pose at the end of the runway at least 6 seconds, not more than 8 seconds. 
Dress the Part.  
Arrive 10 Minutes Early.
Be Ready to Take Direction. 
Be Polite.
Remember, have fun and enjoy the journey
If you Register for a photo shoot please make sure you bring an out fit to do your shoot. We will be doing the shoot Down Town Sumter.