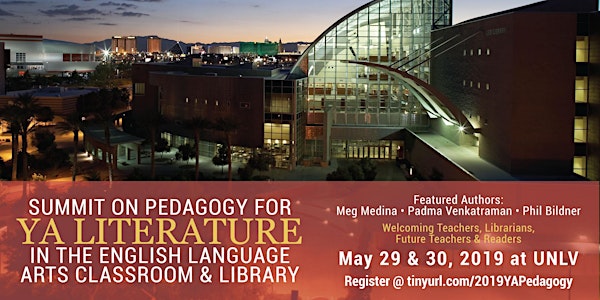 Summit on the Pedagogy for Young Adult Literature in the English Language A...
Event Information
Location
University of Nevada, Las Vegas
4505 South Maryland Parkway
Las Vegas, NV 89154
Description
Aimed towards teachers, Librarians, future educators, and readers, this conference provides two in depth days of interactive breakout sessions to discuss teaching Young Adult Literature in Middle Level and High School classrooms. Are you interested in supporting reading and readers? Then this is for you. Earn 1 PDE from Clark County School District.
For a more detailed description visit Dr. Bickmore's YA Wednesday Blog: http://www.yawednesday.com/2019-summit-on-teaching-ya.html
Featured Authors:
Meg Medina
Phil Bildner
Padma Venkatraman
A full conference schedule to be released as date approaches.
CCSD teachers, administrators, and librarians will receive reimbursement of their registration fee after completion of both days of the YA Summit. Payment is due in advance to UNLV, and paperwork will be provided during the conference in order to receive the reimbursement of the conference fee. When registering, please be sure to use your CCSD gmail account/AD login, along with your current school placement. Please contact Amy Raymer at raymeaj@nv.ccsd.net for questions regarding the reimbursement procedure.
Additional Conference Information:
*Please note that no refunds will be given after purchase, only substitutions within the same organization can be made after purchase by emailing Sheila Bray at Sheila.Bray@unlv.edu.*
**Please note that if you are a UNLV employee and using departmental funds, you may not use UNLV P-Cards through this site. Please contact Sheila Bray at Sheila.Bray@unlv.edu to register and to coordinate registration payments via workday.**
Sponsored by the UNLV College of Education
Date and time
Location
University of Nevada, Las Vegas
4505 South Maryland Parkway
Las Vegas, NV 89154
Refund policy