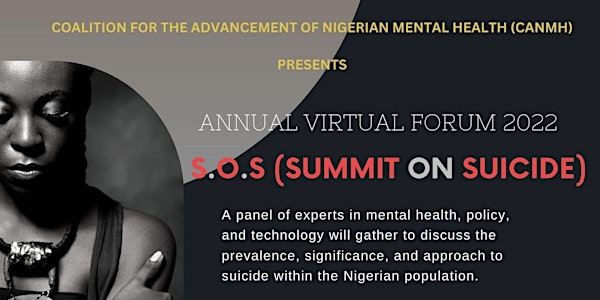 Summit on Suicide (S.O.S): A Conversation about Suicide in Nigeria
A panel of experts in mental health, policy, and technology will gather to discuss the prevalence and significance of suicide in Nigeria.
Refund Policy
Contact the organizer to request a refund.
Eventbrite's fee is nonrefundable.
About this event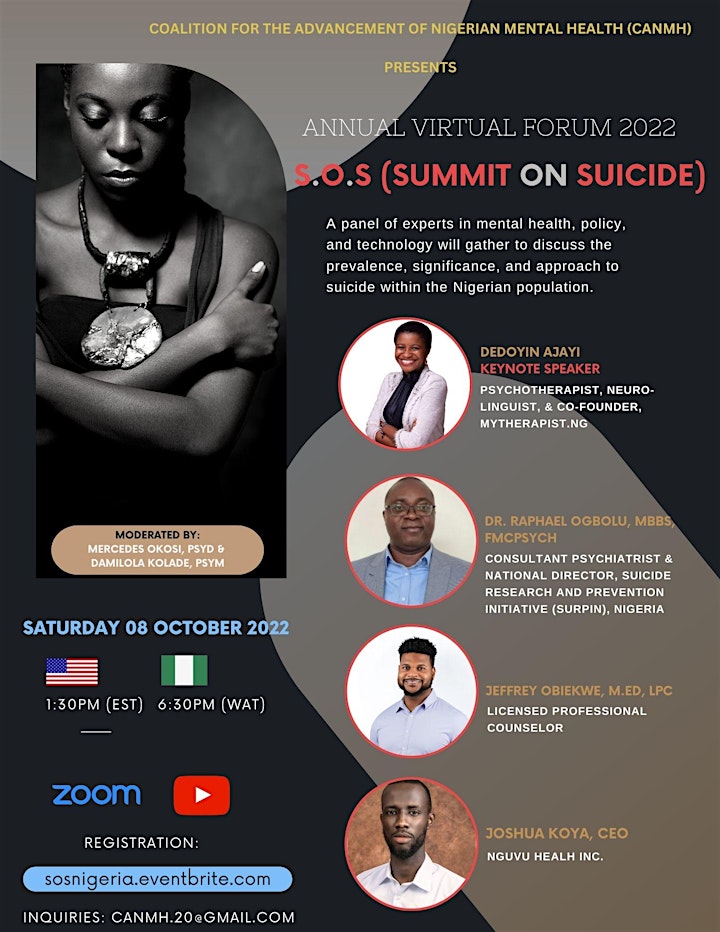 Keynote Speaker:
Dedoyin Ajayi, Co-Founder, Mytherapist.ng
Dedoyin Ajayi, close friends call her Mama Dee, is a psychotherapist with a specialty in Emotional Health and a diploma in Professional Counselling. She is also a certified Neuro-linguistic practitioner from the Academy of Modern and Applied Psychology. She has a thriving counseling practice with an average of twenty two hours per week, vested into both virtual and physical counselling sessions. She is also a consultant therapist for two schools and one company. Dedoyin specializes in helping individuals with suicide ideations, depression, childhood trauma, existential crises and personality disorders. She is also badass with relationship issues (winks). She is married to her partner in crime and they have two adorable darlings that they sometimes wanna give away.
MyTherapist.ng is a mental healthcare startup that connects you to vetted therapists as well as resources for your emotional needs in Nigeria. MyTherapist.ng was founded by young Nigerian entrepreneurs with the goal of providing affordable, accessible, and quality mental health care to everyone who needs it. Our vision is to make therapy available everywhere and as easy as booking an Uber or ordering from Amazon Prime!
Panelists:
Dr. Raphael Ogbolu, MBBS, FMCPsych, National Coordinator of the Suicide Research and Prevention Initiative (SURPIN)
A Consultant Psychiatrist of over a decade, and supervising consultant in Consultation-liaison psychiatry unit, department of psychiatry, LUTH and the coordinator of the Suicide Research and Prevention Initiative (SURPIN), which is the most structured suicide prevention initiative in Nigeria, and provides hotlines for suicide crisis situations, amongst other services. Currently an Acting Consultant Psychiatrist with the Lancashire & South Cumbria NHS Foundation Trust, UK.
A fellow of the National Post-graduate Medical College of Nigeria, Faculty of Psychiatry (FMCPsych 2008), and during his residency training was awarded the best candidate in the May Part One Psychiatry fellowship exam of the National Post-graduate Medical College of Nigeria. He is an alumnus of the Administrative Staff College of Nigeria.
Dr. Ogbolu has been a teacher and trainer to many doctors who are now psychiatrists excelling in different parts of the world, and he continues to mentor a number of them. He has several research publications in fields covering suicide, sleep and others.
He has vast management experience having successfully owned and ran a private psychiatric clinic for over a decade, taking ownership of the facility at a time when private psychiatric practice was not deemed lucrative.
Jefferey Obiekwe, LPC
Jeff is a Licensed Professional Counselor in NJ with extensive experience working with adolescents, adults and families in diverse levels of care and treatment settings. Jeff is also a certified Cognitive Behavioral Therapist. As a therapist Jeff provides a safe supportive space for individuals to process their thoughts and feelings. Jeff seeks to empower his patients, foster self-awareness so that they can accomplish their goals and live healthier lives. Jeff holds a master's in clinical Mental health Counseling from William Paterson University and his bachelor's in public health science from Montclair State University. Jeff currently works as an assessment Clinician at an outpatient clinic and a staff therapist in private practice. Areas of interest include clinical assessments and evaluations, cognitive behavior therapy, dialectical behavioral therapy, structural family therapy, chemical dependency, trauma informed care, BIPOC, cross cultural therapy and relationship codependency. Jeff is a member of the American counseling Association and National Certified counselor. When he is not working, Jeff enjoys exercising, playing basketball and spending time with his friends and family. He loves to cook different ethnic dishes and enjoys developing treatment curriculums for pilot mental health programs.
Joshua Koya, CEO Nguvu Health
Joshua Koya 'JFK' is the CEO of Nguvu Health. With fingers in many pies, JFK's entrepreneurship experience cuts across sectors such as food, trade and commerce, tourism, media, fleet management, community development and non-profit organisation. He also likes to teach about business and communications, and he is passionate about blockchain technology. JFK truly wears a lot of hats.
Nigerian startup Nguvu Health is providing on-demand online therapy sessions to Africans anywhere in the world via their smartphones.Founded in March 2020, Nguvu Health utilises Android and iOS apps to connect users with licensed therapists via in-app messaging or video call, in order to provide easy access to affordable therapy sessions. Users register and complete a short assessment before being matched with a mental health professional, who has to go through a rigorous onboarding process before joining the company's panel of therapists. Sessions can be conducted in both English and Swahili, and Nguvu has grand plans to onboard 10,000 users and 1,000 therapists by the end of 2021.