Summit on AI in a Democratic Society
Description
[12 CLE Credits Available]
We are witnessing the rise of artificial intelligence in every aspect of our society and its institutions. Increasing technological capabilities are leading to a growing belief that the world needs a set of norms for governing AI. From warfare to welfare, and from the boardroom to the courtroom, intelligent machines make decisions that affect the life, liberty, well being and right to opportunity of human beings.
The NYU Center on Civil Justice and The Future Society are convening a two-day summit bringing together a distinguished cohort of judges, lawyers, business executives, NGOs, academics, and other experts to examine the ethical and societal dimensions of AI, with an emphasis on its implications for the rule of law and social justice. The summit is aimed at identifying frameworks that could support a set of actionable ethical principles, policy frameworks, new codes of conduct, and regulations, to help society benefit from technological advancements while mitigating their risks.
SPONSORED BY:

SPEAKERS INCLUDE: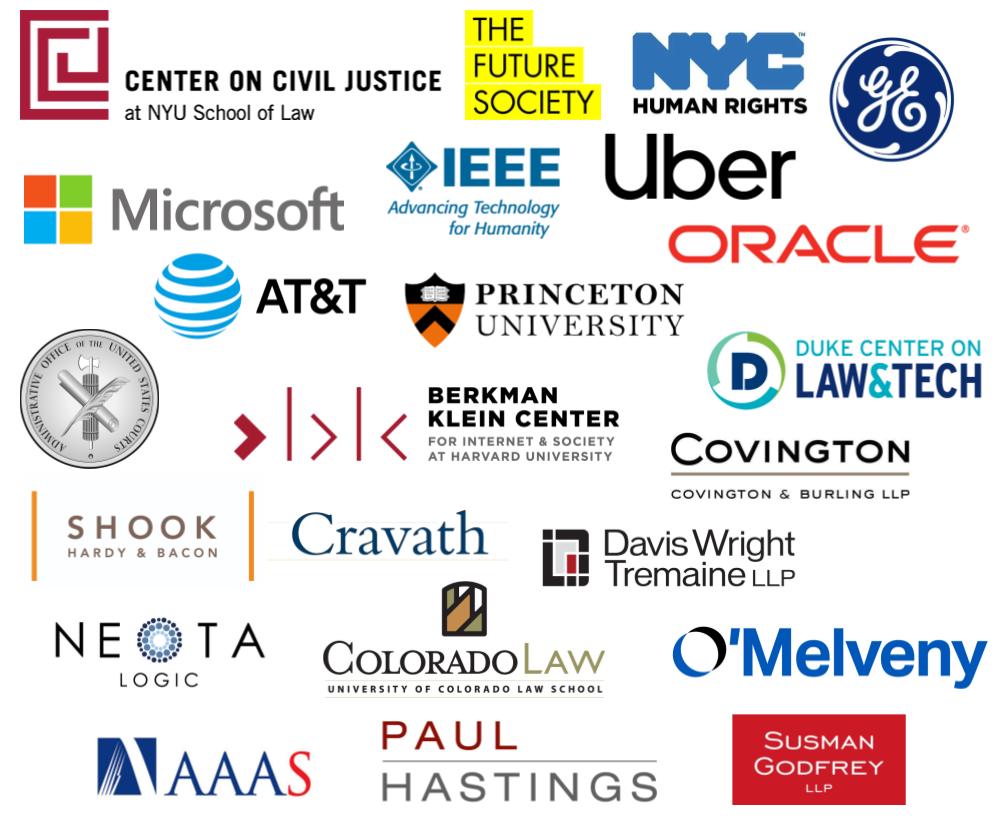 AGENDA
Day 1
8:30 – 9:00am.....Breakfast
9:00 – 9:10am.....Opening Remarks
9:10 – 10:25am... Panel 1: Where are we now?
What is AI? Does it matter how it is defined? What kinds of AI already exist, and what kinds are in development? What are the key ethical issues involved? Why does AI bring up ethical issues that other technologies do not? What practical and regulatory issues are involved, and how are our laws, regulations, and rules of professional ethics equipped to handle the rise in AI? What is happening in terms of international endeavors and cooperation?
10:30 – 11:45am...Panel 2: Automation in Daily Life
As headlines draw our attention to some more transformative uses of AI (e.g., self-driving cars), other uses have permeated society with less fanfare, but arguably more pervasive impact (think Alexa and Spotify.) This panel will discuss automation in daily life, its impact on social interactions, perceptions, and privacy.
11:50am – 1:05pm...Panel 3: Innovation and Governance in Business
How are corporations developing artificial intelligence? What are the best practices and corporate governance methods currently in use, and are they adequate to address the growth of data-driven and automation-driven technology? How are corporations interacting with citizens, lawyers, judges, and policymakers in the AI and legal tech spaces?
1:05 – 2:20pm... Lunch & Keynote
2:20 – 3:35pm...Panel 4: An Idea on Trial: The Lessons of State v. Loomis
AI is entering into the courtroom, with serious implications for the dispensing of justice. Of particular import is the impact on due process, as raised in the recent case State v. Loomis. Loomis challenged the State of Wisconsin's use of proprietary, closed-source risk assessment software in the sentencing memo presented by the prosecution. Loomis was not permitted to interrogate the software to learn its biases. We will organize a mock trial, highlighting some of the key issues of raised in Loomis, which ultimately held that judges may use a closed-source risk assessment algorithm in its sentencing considerations.
3:40 – 4:55pm...Panel 5: The Legal Perspective
How will AI impact the practice of law? From new technologies available to lawyers to new technologies available to clients, AI and automation is changing the day-to-day life of lawyers and the issues they work on. How will the legal community -- often slow to change -- cope with these advances??
4:55 – 5:00pm... Day One Closing Remarks

+++


Day 2
8:30 – 9:00am..... Breakfast

9:00 – 9:10am.....Opening Remarks
9:10 – 10:25am...Panel 6: A "New Order" in the Court: AI Meets the Judiciary
Is Loomis the new normal? What new issues will the judiciary face in the practice of law? How are the litigants measuring up? Are AI and technology enhancing court administration?
10:30 – 11:45am.. Panel 7: The Role of Government: Laws and Regulations
If AI is reshaping society, what role should policymakers have? Is the potential impact on social justice impacting conversations in the halls of Congress and reverberating in the offices of regulators? Should their actions be proactive or reactive? And is AI poised to change the government itself?
11:50am – 1:05pm..Panel 8: Where do we go from here: a holistic approach
What are the requisite elements of proper governance? What laws, guidelines, and self-regulations need to be developed to define what would be "successful" uses of the technology? This panel will synthesize the thoughts of previous panels and look towards future projects to help encourage the ethical development, governance, and deployment of AI.
1:05 – 1:15pm...Day 2 Closing Remarks
Organizer of Summit on AI in a Democratic Society

About the Center on Civil Justice
The Center on Civil Justice at New York University School of Law is dedicated to the study of the civil justice system in the United States and how it can continue to fulfill its purposes. The Center will draw on the unmatched strengths of the NYU Law faculty in the fields of procedure and complex litigation, as well as on a Board of Advisers consisting of leading practitioners and Judges, to identify the problems that most deserve further investigation and engagement, and to fill a void in scholarly and policy analysis.
About The Future Society

The Future Society (TFS) is an independent 501c3 non-profit think tank originally founded at the Harvard Kennedy School of Government with a mission to advance the global governance of artificial intelligence and other emerging technologies. We leverage an extensive network in Paris, London, Brussels, Washington D.C., New York, Silicon Valley, and Dubai to convene policymakers, technologists, academics, civil society, and business leaders in an effort to establish globally-recognized norms for the ethical development and deployment of technology across our societies.