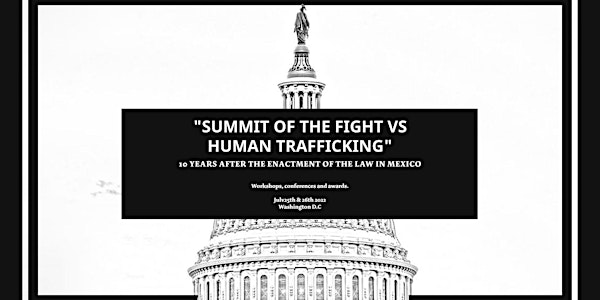 SUMMIT OF THE FIGHT VS HUMAN TRAFFICKING
Location
Tower Club - Tysons Corner
8000 Towers Crescent Drive
#Suite 1700
Vienna, WA 22182
10 YEARS AFTER THE GENERAL LAW ON TRAFFICKING IN PERSONS: ADVANCES AND ACKNOWLEDGMENTS
About this event
On June 14, 2012, the General Law on Trafficking in Persons was enacted in Mexico, this year marks the 10th anniversary of this fact.
The advances that have been achieved in the Mexican State as a result of the entry into force of this Law have been notorious, for which we are pleased to invite you to participate next July 25 and 26, of the present year to the event called:
"10 YEARS AFTER THE GENERAL LAW ON TRAFFICKING IN PERSONS: ADVANCES AND ACKNOWLEDGMENTS"
Senators, deputies, mayors, governors, attorney generals, anti-corruption prosecutors and judges will participate in this event. In addition, those who have participated in favor of the implementation of this Law will be recognized.
Because what happens in Mexico affects the US considerably with the border with women, girls, and even boys brought across the border to the US to continue their exploitation, this issue greatly affects the US as well.
In the same way, a qualitative and quantitative diagnosis of the results of the Law will be presented, carried out in collaboration with magistrate Juan José Olvera and magistrate Marisol Castañeda, President of the Mexican Association of Women Judgers.
I would like to invite you to offer comments on the importance of the US and Mexico working together on trafficking or on the importance of handling trafficking in general. The event will be held from 10am-5pm and we could accommodate your schedule and work the presentations around your availability. We would greatly appreciate your stopping by and meet Mexican Congressional members and Attorneys Generals of several of our states and offering us your thoughts on this issue.
We look forward to your kind presence.