Summit Business Network Dinner Series (with Guest Speaker Kathryn M. Tack)
Description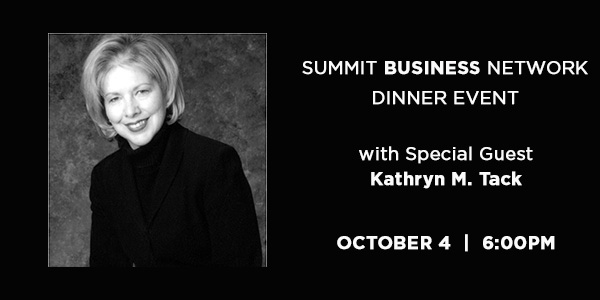 The Summit Business Network will be hosting our fall dinner at the beautiful facilities of Drinker Biddle and Reath at 191 N. Wacker. We are excited to announce our guest speaker for the evening: Kathryn Tack.
Kathryn M. Tack is an executive coach who partners with CEO's, senior executives and leaders to help them realize higher levels of productivity and fulfillment in their roles. She launched a major entrepreneurial effort in 1983 when she purchased and developed a 12 restaurant and management services company in the hospitality industry. For 15 years, Kathryn was president and CEO of Good Times Concepts, Ltd., an enterprise with a staff of 350 employees.
Kathryn is a graduate of Coach University, the largest coach training company in the world, and the Executive Coaching Institute, designed to train coaching professionals. She has served as Chair of the Executive Committee and as Chair of the Women Presidents Organization, committed to helping women gain financial equity and support in their roles. Her blend of experience as a CEO, executive coach, wife and mother brings a profound depth of wisdom and practical application. She has as dual role as wife and mother of three grown children.
Meet with other professionals committed to impacting the Chicago Loop business community.
Join us for dinner, followed by a talk from Kathryn Tack.