About this Event
HAPPY TO BE OPEN AGAIN WITH YOUR SAFETY IN MIND
Tickets are recommended but not required to visit gallery shows at Summit Artspace on East Market in Akron during public hours.
Artists with studios in the building will each have their own open hours and guidelines.
All visitors are welcome to stop by without a ticket to check on open gallery times.
Summit Artspace will be following state directives for social distancing. Visitors may choose to register for a timed, ticket here at Eventbrite. Please choose a date and time and complete the registration. Tickets are free. Your ticket is for 1.5 hours but feel free to stay longer and see the amazing local artwork. Thursdays from 12 to 3 p.m. are reserved for vulnerable populations. If you have questions or are experiencing difficulty, call our office at 330-376-8480.
DONATE TO KEEP THE SHOWCASING OF LOCAL ART VIBRANT
Please also consider a donation to Summit Artspace, a non-profit arts organization serving Summit, Portage, Medina, Stark and Cuyahoga counties. We support artists through galleries that showcase local art, education programs and making affordable studio space available to artists.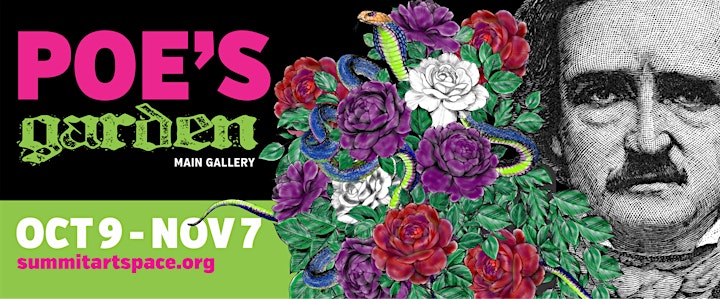 POE'S GARDEN JURIED ART EXHIBITION
Oct. 9 - Nov. 7, 2020 | Main Gallery
Edgar Allan Poe—his writings, his mystique, his life and his death—has inspired visual art across the globe for over a century. Summit Artspace often sees the fascination among local artists with the mysterious, the unearthly, fantasy of the unknown and the distortion of the known. Back for a second year, Poe's Garden showcases high quality, local art that leads the imagination to pull back a curtain from the darkness and investigate the unsettling and fantastic places our minds can go.
Poe's Garden opens at noon, Friday, Oct. 9, 2020. Artist awards will be announced by our juror, artist Andy Tubbesing of Seville, on Summit Artspace social media--Facebook, Twitter and Instagram--starting at 7 p.m. on Thursday, Oct. 8. See the winners on this page after Oct. 9: https://www.summitartspace.org/21428/poes-garden-2020.
Poe's Garden is a place where the deliberate, wide-ranging variety of visual art will thrill, astonish, create dread and awaken and provoke the viewer with images, imagined worlds and artistic technique. The accepted work will be the artists' creation of new, mysterious or secret realms or the exploration of past, present or futuristic realities through a creative yet skewed lens. Art will be judged on its power to sustain mystery, leaving the garden gate open to imagination, wonder and even a little fear.
Andy has earned a number of awards in Summit Artspace juried shows.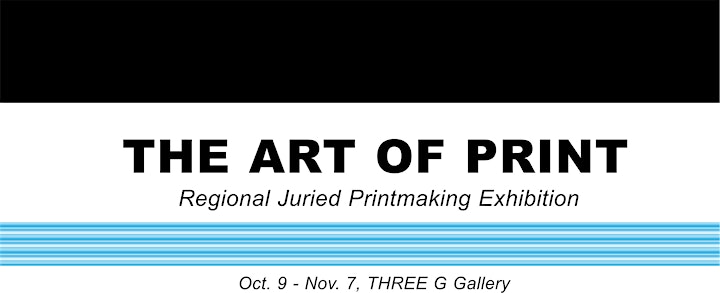 THE ART OF PRINT Regional Juried Printmaking Exhibition
Oct. 9 - Nov. 7, 2020 | THREE G Gallery
The art of printmaking, with its long and enduring history, has continued to develop and diversify well into the twenty-first century. Artists are using the multiplicity and accessibility of print media to comment on relevant issues and promote change. In addition, the printmaking process is incredibly experiential, allowing for artists to engage with the medium and communicate their personal interests and concerns. Printmaking encompasses a wide range of techniques including etching, monotypes, screen printing, lithography, stenciling, and countless others as well as combinations. all of which are welcome in this exhibition.
Summit Artspace in partnership with the Kent State University School of Art presents The Art of Print. The juror is J. Leigh Garcia, Print Media and Photography Professor at Kent State University. https://www.jleighgarcia.com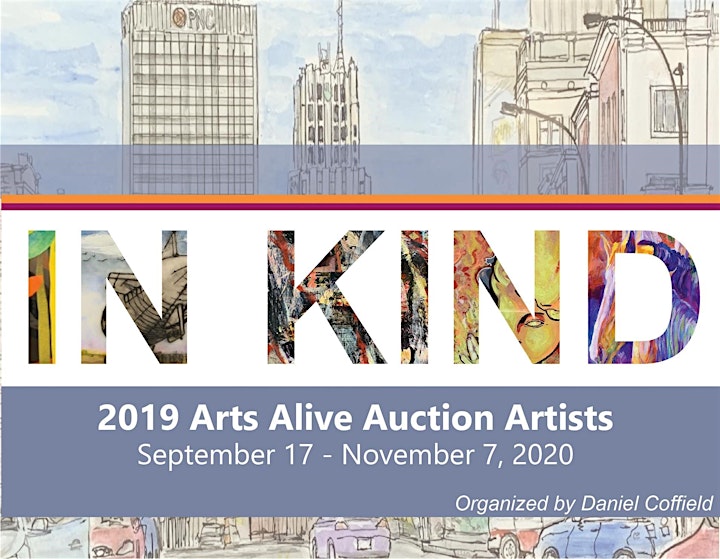 IN KIND: 201 ARTS ALIVE AUCTION ARTISTS
Sept. 17 - Nov. 7, 2020 | Transition Gallery
Artists who excel in the art of generosity! See the work of the following in the new show, In Kind: 2019 Arts Alive Auction Artists, in the Transition Gallery. These artists donated last year to our annual auction and now they have their own show! Thanks so much to them.
Thank you to Alex Morrison, Taylor Clapp, Care Hanson, Linda Murphy, Jacqui Sukie, Susan Yingling, Jennifer Worden, Susie Lilley, Laurel Winters, Corbett Teeter, Joan Colbert, Janean Ray, Norman Mallard, Andre Pace, Anita Burgess and Diane Pribojan.

CREATIVITY DURING A CRISIS
Oct. 1 - Oct. 31, 2020 | 2nd Floor Gallery
Creativity During A Crisis is an in-kind show produced by the University of Akron students and alumni, supported by Summit Artspace. Exhibited work was created during the time of pandemic and each work purchased allots 10% of the proceeds to an organization assisting a population 'in crisis.' CDC, or Creativity During A Crisis is a glimpse into motivated studio practices and continued efforts of sharing art during personal, political and populated 'crisis.' While the term crisis may be open ended, the work portrays the stamina and motivation to succeed through best efforts and intention.
ARTWALK CELEBRATES FALL WITH ART, SHOPPING IN AKRON
Nov. 7, 2020 | 5-8 p.m. | Summit Artspace on East Market
Artwalk is an art/retail event organized by Summit Artspace on East Market in downtown Akron on the first Saturday of the month, from 5-8 p.m.
What you'll find at the Artwalk locations–
Summit Artspace on East Market: Galleries, artist studios, pop-ups and more
Zeber-Martell Studio and Gallery: See the exceptional functional and decorative ceramics by the artists, as well as a large selection of jewelry and much more to delight shoppers!
Northside Cellar: Check out what they have in the shop plus Art 4 Artwalk.
Bluff Blue Door Gallery: Visit the galleries in this unique setting.
Sweet Modern: Fine vintage mid-century furniture and decor
Akron Soul Train: Akron Soul Train is an artist residency village connecting and empowering the community and artists by granting fellowships that provide resources for all creative disciplines to foster a more vibrant downtown Akron.
Gallery C: A new location at East 66 Cuyahoga Falls Ave., open for Akron Artwalk
Head to our website for links to our Artwalk partners.

MARKET ON MARKET: HOLIDAY EDITION
Nov. 21 & 28, Dec. 5 & 12, 2020 | 12-5 p.m. | Summit Artspace on East Market
Market on Market: Holiday Edition is an in-person, socially-distanced Holiday Artisanal Market that showcases local artists and their handmade work.
DATES on Saturdays, 12-5 p.m.:
November 21
November 28
December 5
December 12
Join us for open studios, pop up vendors on three floors and open galleries. Support local artists and be HERE for Small Business Saturday!
AGING IS AN ART FORM
Opens Sept. 5, 5 p.m. | Online at summitartspace.org
Service and cultural organizations are thrilled to present Aging is an Art Form Virtual Art Exhibition, the artistic result of a collaboration this past summer to provide older adults with opportunities to create, connect and celebrate the arts. The online show includes photography and poetry.
A series of digital classes were hosted by Direction Home Akron Canton Area Agency on Aging & Disabilities and taught by Summit County artists Yoly Miller and Greg Milo. Aging is an Art Form was an exciting new initiative aiming to change the narrative around what it means to grow older. The classes were free for adults 60+ and their caregivers.
"Our 60 and over population are valuable, vibrant and creative people in our communities, yet also at a higher risk for social isolation, especially in today's environment," said Lori Smith, training coordinator for Direction Home Akron Canton Area Agency on Aging & Disabilities. "Aging is an Art Form will provide stress relief, connection with other older adults, and an opportunity to showcase creativity, even while physically distancing."
Partners of Direction Home include ArtsNow, Summit Artspace, and Summit Metro Parks, thanks to support from Akron Community Foundation.
ARTIST STUDIOS WELCOME YOU BACK
With re-entry to Summit Artspace on East Market, you can also check out the artists studios. Artists have been back at their studios for several weeks and many of them have continued to create new works that you'll be able see and purchase. They will be determining their own reopening schedules and guidelines for visiting their spaces.
GALLERY HOURS
THURSDAYS: 12-7 p.m. with 12-3 p.m. reserved for vulnerable populations
FRIDAYS: 12-7 p.m.
SATURDAYS: 12-5 p.m.
ARTWALK: First Saturday of the month, 5-8 p.m.; upcoming date is Nov. 7, 2020
Below are the guidelines for visiting Summit Artspace locations.
Visitors MUST wear masks.