SummerTASTE: Vintner Registration

Multiple Dates
Event Details
SummerTASTE 2013
This summer we host eight events throughout Los Angeles
JUNE - OCTOBER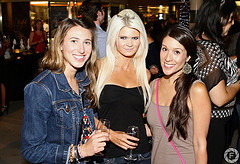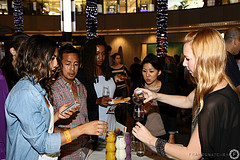 To see pictures from past SummerTASTE events: Click Here
(Photo Credit: Andrew Hong / FRAMESNATCHER website)
WINERY INVITE AND SIGN UP PAGE
FACTS:
    •    SummerTASTE is in its 6th year!
    •    We host up to 200 consumers - All 6 events last year sold out!!!
    •    Events run 6:30 to 9:00pm Nightly - set up is at 6pm sharp
    •    Locations: FIGat7th, Downtown LA &/or Space 15 TWENTY, Hollywood.

Our SummerTASTE Schedule:

• June 26 WINES OF SUMMER - Rose, Bright Whites, Elegant Reds at Space 15 TWENTY, Hollywood
All wineries welcome to show their summer releases.
Too warm for wine?  Absolutely not!

Prosecco, bubbles of all types

Roses

Pinot Noir

Grenache

Zinfandel

and Blends for the BBQ

All wines welcome from all regions of the world.
• July 10  BLENDED - multi varietal wines  at Fig@7th, Downtown
Paso is going wild on BLENDS

Santa Barbara has a few things in store

Rioja will be in the house - blends of history

Syrah blends, Grenache blends, Zin Blends, Cab Blends, White Blends.

All blends welcome from all regions of the world.
• July 24 OLD WORLD vs NEW WORLD - at Space 15 TWENTY, Hollywood
Classic wines of Europe - typically known as Old World

Modern New World examples

Lets taste, explore and discuss the styles and presentations.

All varietals welcome
• Aug 7 BIG RED DARK AND INKY at Fig@7th, Downtown
Bold statements in winemaking, complex, age worthy, sinister?

Statements of quality, pedigree, and effort.

All varietals welcome.
• Aug 21 LOCAL WINE  at Space 15 TWENTY, Hollywood
Wineries of the South Coast Appellation

Anchored by "Wines of Temecula" your winery is welcome to join them in celebrating the diversity that is The South Coast Appellation - Malibu, Los Angeles, Temecula, San Diegio and areas in between.

• Sept 4 CALIFORNIA CLASSICS at FIG@7th, Downtown
Statesman, dignitaries, brands of wisdom, identifiable, recognized for wisdom, and seniority.

Classic is not a bad word, its a word that means you were good enough to thrive while others came and went.

Classic means your strong enough to be recognized and have meaning… let us help further that understanding and discus.

All wines welcome, all varietals.
• Sept 18 Anything PINOT at Space 15 TWENTY, Hollywood
Pinot Gris, Pinot Noir, Pinot Blanc, Pinot Grigio, Pinot Red, Pinot White, Pinot Bubbles Pinot Pinot Pinot.

And wines that pinot wineries like to make that compliment pinot noir… also welcome.
• Oct 2  BRANDS TO WATCH at Fig@7th, Downtown
New brands, reinvented brands, re-imagined - be in the know and the now… these are great wines worth exploring.

Beekeeper

La Fenetre 

Gentleman Farmer

Buttonwood

Riverbench

All price points welcome
SummerTASTE  - The summer season calls for fun night time tastings that promote our amazing So Cal lifestyle!  We use a multitude of channels to provide heavily marketed with top-tier marketing partners! This years SummerTASTE event series will use a variety of top LA landmark locations and marketing partners like 89.9 KCRW, LA Weekly, LA Times, and LearnAboutWine's own 50,000 consumer reach!  Our events are fun, and draw an amazing demographic of wine consumer and we encourage you to capture wine sales direct from your tasting room.  

NEW THIS YEAR - AN ADDED BENEFIT:  (MUST SIGN-UP BEFORE JUNE 1 AS A PARTICIPANT)  Ian Blackburn, learnaboutwine founder/operator will help you with scheduling a productive day in the market. Ian will talk to you about your wines, your prices, your distributor (need one?), your placements in LA, and your goals and custom design a list of accounts and proposed schedule - even help you find a hotel to stay in that keeps you on time and on budget!!! We will give you the account names and you can call them and tell them we sent you! The good-will we are generating here will help you make your appointments and help you sell in your wines! Note, this business needs to be managed well in advance of your visit, so please do not wait until days before you visit to try to set up your visits… they will not work.  

WE SUPPORT CHARITY - our events are not charity events, but wine marketing events that support charity.  The distinction is that we attract wine lovers… and not charity participants… and you get more for your investment.
• Our Charity Partner -

T.J. Martell Foundation

 - Raising Money for Children's Cancer Research at Children's Hospital Los Angeles - Life to date, LearnAboutWine is approaching $300,000 dollars in Charitable donations!  
• Maximum 200 guests / Approx 10 Different Wine Tables - 20-40 Wines!
• KCRW Music played by one of today's top DJ talents, Dan Wilcox.
• Our richer summer series will be cross marketed in more places - giving you more branding and thus brand awareness!
    Studies show that our clients are:
    •    a.  34-38 years of age
    •    b.  Female (65%)
    •    c.  Degree 88% - 2 Degrees 44%
    •    d.  Income >$140K per year
    •    e.  10x more likely to visit or winery than the general population!
Come and establish a relationship with the LearnAboutWine Audience and increase sales at your winery!
**Winery sign-ups are first-come-first-serve for the events and limited to 10 wineries per event (after you sign up, we will send out event day logistics as the tasting approaches)
WINERY COMMITMENT :
1.  AUCTION ITEM:  Silent Auction Wine Item ($100+ in wine please - Magnums are best!) for charity: T.J. MARTELL FOUNDATION - Children's Cancer Research at Children's Hospital Los Angeles  
2.  TABLE FEE:  $95 winery registration / table fee - covers necessary out of pocket costs and marketing efforts.
3.  WINE NEEDS:  The quality of this event requires a commitment to maintain an adequate wine supply (200 consumers) for the entire 2.5 hour duration of this event. (about two cases total for the night)
4.  MARKETING:  We ask that you post our event on your event calendar, and post your participation in all areas social media - including Facebook, Twitter - and cc @Learnaboutwine
File Under: Social and Educational tasting, Marketing Event, 10 producers sampling 200 consumers at a top tier land mark locations (TBA) (Trust Us to Make it Great)
**Limit to 2 SummerTASTE event sign ups per winery please**
What do you get for $95?  
We provide:  Glassware, Dump Buckets, Ice, Table, Table Cloth, Signage, Brochure, Charity Silent Auction, Marketing, Social Media, and Energy… for your brand!