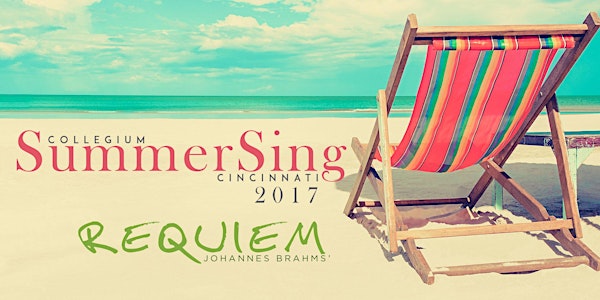 SummerSing 2017
When and where
Location
Christ Church Cathedral 318 East 4th Street Cincinnati, OH 45202
Description
Collegium Cincinnati presents
SummerSing 2017
Hot nights, cold beer, electric music-making.
The summer choral festival where YOU'RE the star!
What: A one-week choral festival, in which participants from around the city are invited to sing in a performance of Brahms' Ein Deutsches Requiem.
Who: The musicians of Collegium Cincinnati, a surprise cast of guests soloists, and YOU!
When: July 23-29, 2017
Where: Christ Church Cathedral | 318 East Fourth Street Cincinnati, OH 45202
How: http://www.collegiumcincinnati.org/summersing2017.html
Collegium Cincinnati is pleased to invite you to join us for SummerSing – Cincinnati's newest participatory choral festival! Cincinnati has a long and rich history of choral singing; at SummerSing, singers from all over the country are invited to join together for a week of rehearsals and social activities that will culminate in a performance of Brahms' incredible Ein Deutsches Requiem.
The mission of the SummerSing is to bring together choristers of all backgrounds to build connections with each other through great musical performances. SummerSing is a celebration of all the many singers that participate in other choirs during the year, or who are looking for a one-time event to round out the summer season.
In addition to making great music together, one of primary components of the SummerSing is the social time we get to spend together. After several of the rehearsals, we have social activities planned for singers to eat, talk, and build connections in our community. There is, of course, a great closing party as well!
Singers will have the opportunity to perform the work with the musicians of Collegium Cincinnati, under the direction of Artistic Director Christopher Eanes, and will be offered the opportunity to take private voice lessons, learn singer's diction, and, most importantly, have fun!
SummerSing 2017 will be hosted at Christ Church Cathedral, where Collegium Cincinnati serves as Ensemble-In-Residence. Interested singers should visit the Collegium Cincinnati website for more information.
Brahms' incredible Ein Deutsches Requiem is one of the most significant works of the nineteenth century and is the longest work that Brahms composed. Unlike traditional Requiem settings, its text is in German instead of Latin; Brahms wrote it as he grieved for his late mother and in remembrance of his dear friend Robert Schumann. The work will be performed in German in its chamber version.
Any person (aged thirteen and over, unless accompanied by a parent) may sign up to sing. Attendance is required at all rehearsals.
As we gear up for the festival, we'll be throwing several Sing-Outs. A Sing-Out is an opportunity for you to grab a score, pull up a beverage, and, with the aid of some fabulous pianists, sing through the work in a fun, friendly, and festive atmosphere.